Top 10 best used electric cars 2022
Secondhand electric cars are becoming more widely available on the market in the wake of numerous new models being launched. Here are some of the best-value choices out there...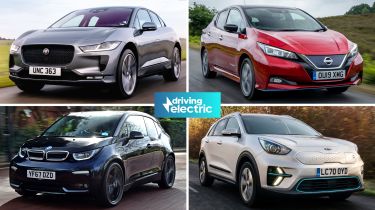 Electric cars have been part of the mainstream for more than a decade now, and while this may make you feel a bit older than you'd like, there's a big upside. The choice of used models is now excitingly large, and our list of the UK's best used electric cars has expanded to make electric motoring a more realistic prospect for more drivers.
With new electric cars still commanding a higher price than their petrol and diesel counterparts (although this gap is dropping), it's likely that a lot of people's first electric cars will be used ones. The secondhand market is now big enough to offer something for everyone, ranging from small city cars to big big SUVs.
You shouldn't worry too much about range: lithium-ion batteries are proving to be much more durable than was initially thought, and manufacturers typically offer long warranties on their electric cars' batteries. This means a lot of used electric cars will still be protected under warranty, giving you the ultimate peace of mind.
Here, we've put together a list of the best used electric cars out there right now. As is the case with any secondhand car, make sure you do background checks and insist on a test drive before parting with cash...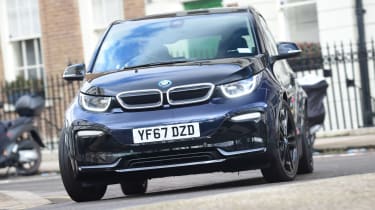 BMW i3 (2014-2022)
The BMW i3 offers great interior space for its size, as well as futuristic design cues, quality construction and a great driving experience. In its original form, the electric i3 was powered by a motor making 168bhp, which is enough for a sprightly 0-62mph time of 7.2 seconds; range is around 80 to 100 miles. In 2017, a battery upgrade gave the car a range of 114 miles, while another update for 2019 boosted that to 160 miles. As of mid-2022, you can pick up a high-mileage early example for under £15,000, but we'd aim in the middle of the market for a good-condition, low-mileage car priced around £18,000. Read our full buying guide here.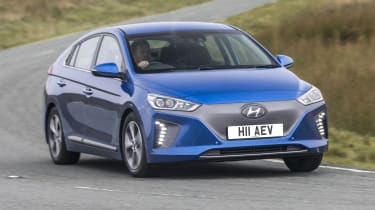 Hyundai Ioniq Electric (2016-2022)
The Ioniq is a practical hatchback that comes in hybrid, plug-in hybrid and fully electric form. While it isn't the prettiest electric car you can buy, its unusual styling is in fact functional, as the Ioniq is highly aerodynamic. Thanks to this, the relatively small 38kWh battery can deliver a decent 193 miles of range in ideal conditions. A 2020 facelift upgraded the Ioniq's infotainment system and interior, but older examples (priced from around £18,000 as of mid-2022) make most sense secondhand. Equipment is generous whichever you go for: 16-inch alloys, Android Auto, Apple CarPlay, a reversing camera, LED lights, adaptive cruise control and sat nav are all standard. Read our review of the Ioniq Electric here.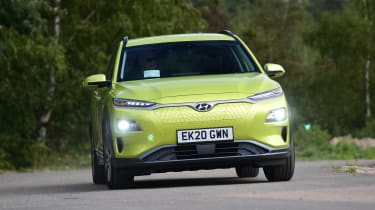 Hyundai Kona Electric (2018-present)
Like the Ioniq above, the Kona has been offered with a range of powertrains, including petrol, hybrid and diesel engines, but once again we're focusing on the fully electric model. It has sold well since its 2018 debut, so there's a reasonably good supply of secondhand examples to choose from; as of mid-2022, prices started from around the £25,000 for the earliest examples. Both 39 and 64kWh batteries have been offered in the Kona; the latter is best if you intend to do long journeys, but the 39kWh will be more than sufficient for urban commuter duties. Read our full Kona Electric review here.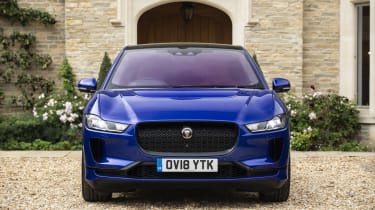 Jaguar I-Pace (2018-present)
If you've got a bigger budget to play with, you might want to consider an I-Pace. The SUV was introduced in 2018, and immediately impressed with its excellent straight-line acceleration and wonderful handling through corners. Fitted with a 90kWh battery, the I-Pace should achieve some 230 miles of range in the real world. At the car's maximum charging speed of 100kW, an 80% top-up should take around 45 minutes, which isn't bad going either. As of July 2022, around £40,000 is the starting point for the earliest examples of the Jaguar, many of which have less than 30,000 miles on the clock. Read our full review of the I-Pace here.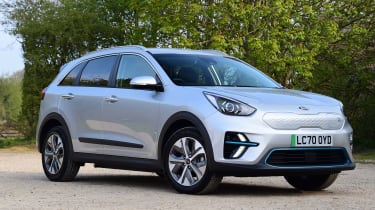 Kia e-Niro (2018-2022)
Kia's e-Niro is a close cousin of the Hyundai Kona Electric mentioned above. Like that car, it has sold in big numbers in the UK, and been offered with both 39 and 64kWh batteries. Strong demand means you'll be doing well to pick up a used example for less than £30,000 as of early 2022, but this is one of the most efficient electric cars to date, so you'll get more miles per kilowatt-hour of energy than many rivals. If you're looking at the e-Niro, you could also consider the Soul EV, which uses essentially the same motor and battery setup in a more stylish, if slightly less practical, body. Read more about the e-Niro here.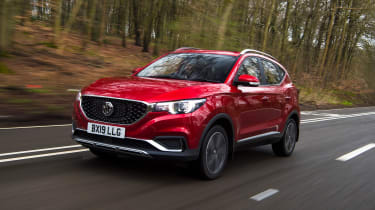 MG ZS EV (2019-present)
The ZS EV is among the cheapest electric cars to buy new, but instead of being a dinky little city car, it's a practical family SUV. Three years since launch, examples can be found secondhand from around the £20,000 mark. Driving excitement isn't high on the agenda and there are some obvious low-cost materials, but if you're after a straightforward zero-emissions family car, then the MG is hard to beat. A range of 163 miles from the modest 44.5kWh battery should prove fine for most daily use and luggage space is good, too. Read our full review of the MG ZS here.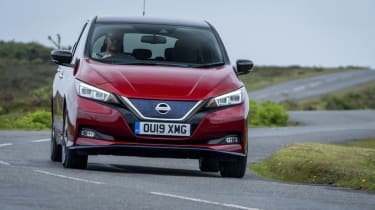 Nissan Leaf Mk2 (2017-present)
Unveiled in 2017, the second-generation Nissan Leaf followed on from the best-selling electric car in the UK and Europe, and used examples are plentiful. Performance is much better than the previous generation – 0-62mph takes less than eight seconds – and two battery options are offered. Even the 40kWh version manages more range than its predecessor, at 169 miles, while the larger 62kWh e+ model is good for 239 miles. As of mid-2022, prices range from around £18,000 for an early example with the smaller battery, rising to around the £28,000 mark for a newer one with the larger battery. Read our full review of the Nissan Leaf here..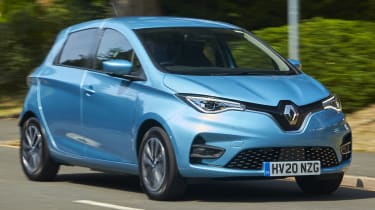 Renault ZOE Mk2 (2019-present)
The second-generation Renault ZOE was introduced a couple of years ago, but left the styling pretty much as it was. The major changes occurred under the metal, with a new 52kWh battery enabling a 245-mile range – more than double that of early first-gen examples. There's no battery lease option any more, so newer ZOEs can look expensive, but you don't face an extra lease payment on top of the finance agreement. Used examples started from around £20,000 as of mid-2022, but if you're happy with reduced range, Mk1 ZOEs start from under £8,000. For more on this model, read our used ZOE guide for details.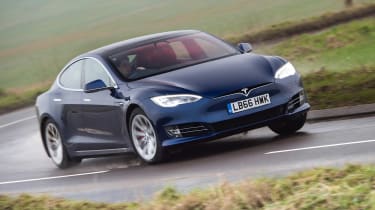 Tesla Model S (2014-present)
The fastest and probably most famous car on this list, the Tesla Model S was the first mainstream effort from the disruptive US manufacturer. An electric answer to the BMW 5 Series and Mercedes E-Class, the Model S was so far ahead of its time that other manufacturers are only just getting round to offering credible rivals.
It has been on sale in the UK since 2014, with incremental upgrades and higher-performance versions added along the way. Tesla has also added four-wheel-drive versions, increased safety kit and the controversial 'Autopilot' system. Unlike the majority of cars featured here, even the basic Model S has a range of around 250 miles and a 0-62mph time of just under six seconds.
Generally, range and performance increase in line with the number after the car's name (indicative of the battery size in kilowatt-hours) on earlier examples, but Tesla has since dropped these numbers in favour of its 'Long Range' and 'Performance' nomenclature, which is worth remembering if you're after a newer car.
As of mid-2022, used prices started from around £32,000 for the entry-level 75 and 85 versions, but you'll probably need at least another £10,000 for the range-topping 90 or 100, with 'Ludicrous' mode, a 300-mile range and sub-three-second 0-60mph time. Read our full guide to buying a used Tesla Model S here.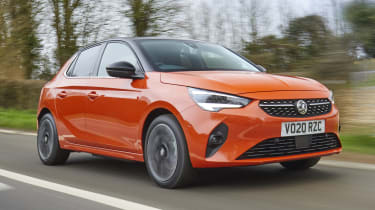 Vauxhall Corsa-e (2020-present)
The current Vauxhall Corsa can now mix it with the supermini frontrunners, and the option of an electric powertrain means it leaves the Ford Fiesta and Volkswagen Polo far behind when it comes to low running costs. Its 50kWh battery is good for over 200 miles on a charge (expect around 170 in mixed driving) and 100kW rapid charging allows the battery to jump up to 80% charge in less than half an hour. The well equipped Corsa-e uses the same powertrain as the Peugeot e-208, but used examples of the Vauxhall are slightly cheaper, so it's the one we'd pick. An early example costs from around £23,500. Read our full Corsa-e review here.
Top 10 best electric SUVs 2023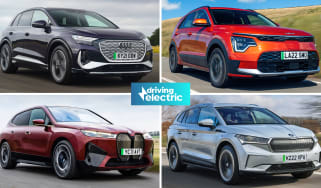 Top 10 best electric SUVs 2023
Top 10 best electric family cars 2023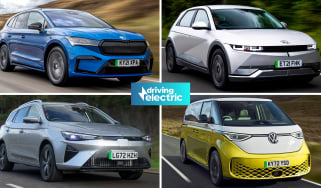 Top 10 best electric family cars 2023
New 2023 Hyundai Kona Electric gets bold new design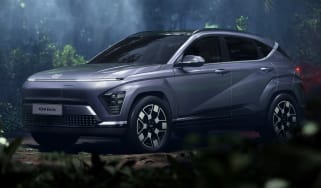 New 2023 Hyundai Kona Electric gets bold new design
Polestar 2 now with 395-mile range and faster charging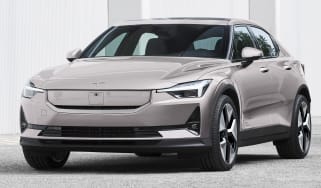 Polestar 2 now with 395-mile range and faster charging
The Tesla Model 3 rival gets major updates for the 2024 model year; order books open now, with prices starting from £44,950
New Peugeot e-3008 electric SUV to offer 435-mile range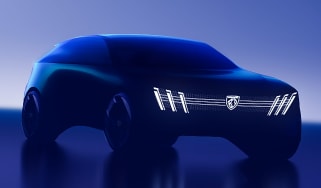 New Peugeot e-3008 electric SUV to offer 435-mile range
Peugeot's first bespoke EV will be available with all-wheel drive and is due to be revealed later this year
First look at new Ford electric SUV ahead of 2023 reveal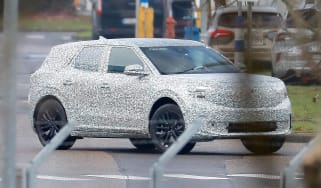 First look at new Ford electric SUV ahead of 2023 reveal
The as-yet-unnamed EV is expected to debut in March and will be built on the same platform as the Volkswagen ID.4 SUV