Used Volkswagen Golf GTE buying guide
All you need to know about buying a used VW Golf GTE, produced between 2015 and 2018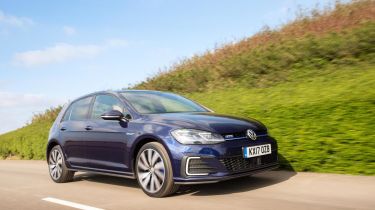 Ever since the first Volkswagen Golf arrived in 1974, this conservatively styled German hatchback has become synonymous with quality and desirability.
With its efficient engines and user-friendly design, the Golf is very easy to live with, and although Volkswagen isn't always seen as the most innovative carmaker, it's much less conservative with its engineering than you might think.
Take the Golf GTE for example, which was introduced at a time when plug-in hybrids were few and far between, especially in the small family hatchback class. But in typical Volkswagen fashion, the Golf GTE is very well thought-through, even if it's not for everyone.
History
October 2012: The Volkswagen Golf Mk7 goes on sale in the UK.
March 2014: The Golf GTE is unveiled at the Geneva Motor Show.
January 2015: The Golf GTE goes on sale, priced at £28,035 once the government grant has been deducted. Only a five-door hatchback is available, with all cars getting a six-speed DSG automatic transmission as standard. The GTE is powered by a 148bhp 1.4-litre TSI petrol engine backed up by a 100bhp electric motor, although peak power is pegged at 201bhp.
March 2015: The first Golf GTEs are delivered in the UK. Each one comes with four driving modes, ranging from pure electric to petrol-only. In between are modes that allow the battery to be recharged with maximum regenerative braking, although the effect of this can be increased or reduced.
March 2017: A facelifted Golf GTE goes on sale. Compared with the previous model, the price is cut by £3,420 and a range of new technologies are fitted either as standard or as extra-cost options. The former includes new digital instrumentation called Active Info Display, while the latter includes Traffic Jam Assist and a new 9.2-inch infotainment display with gesture control. There are also now two trim levels: GTE and GTE Advance.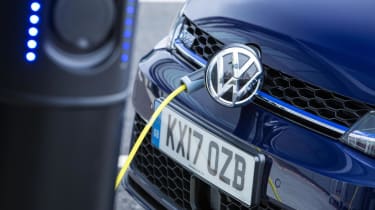 Which one should you buy?
Volkswagen initially kept the Golf GTE range simple, as it was a trim level in itself, but from the 2017 facelift there was a higher-spec Advance model offered.
At the outset the standard equipment included 18-inch alloy wheels, LED headlights, dual-zone climate control, a 6.5-inch display with DAB radio, privacy glass and sports suspension. Although there was only one trim level, there were standard and Nav editions, the latter getting a bigger (eight-inch) screen and extra functionality.
When Volkswagen then split the range into standard and Advance models, the former came with 17-inch alloys, whereas the latter got 18-inch items, along with privacy glass, heated front seats, upgraded multimedia and heated windscreen washer jets.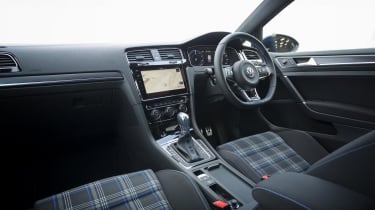 Alternatives
The closest rival to the Volkswagen Golf GTE is the Audi A3 e-tron, which is essentially the same car underneath. The Audi's interior is even more inviting than the Volkswagen's thanks to the use of even higher-quality materials throughout, and like the Volkswagen, the e-tron comes in five-door hatchback form only.
The BMW 330e and Mercedes C 350 e are two more premium plug-in hybrids; the former is available only as a four-door saloon, while the latter comes in saloon or estate forms. As you'd expect, they're not cheap to buy, but they're very well thought through so they're comfortable, easy to live with and potentially very frugal.
If you really need hatchback practicality, the Toyota Prius is another alternative that's worth a look. It's as dependable a family car as you'll get, it's very roomy, cheap to run, distinctively styled and easy – if not especially enjoyable – to drive. You can buy one in hybrid or plug-in hybrid forms and there's even a seven-seater version available, called the Prius+.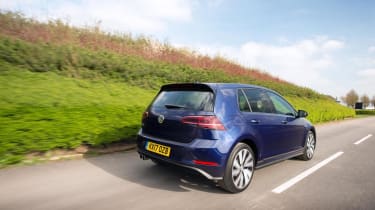 Verdict
Compared with its more conventionally powered siblings, the Golf GTE has sold in relatively small numbers, so if you've decided that this is the car for you, the hurdle may well be finding a suitable example.
It can be worth seeking out a Golf GTE, though, as this is a genuinely enjoyable car to drive; it sits among VW's other Golf 'GT' models, which include the GTI and GTD.
When our sister title Auto Express ran one on our long-term test fleet, it said: "If you're a true car enthusiast, the Golf GTE can't help but be intriguing, even if it isn't the last word in high-performance hot-hatch motoring.
"The most impressive part of all is how smoothly the electric technology is integrated with the car's conventional drivetrain. The GTE is expensive, but it works a treat".
Checklist
- The Golf GTE is a plug-in hybrid, so it has a bigger battery pack (8.8kWh) than a regular hybrid. As a result, it can travel up to 31 miles in electric-only mode.
- A full charge of the GTE is claimed to take three hours and 45 minutes from a standard domestic socket, or two hours 15 minutes from a wallbox.
- The Golf GTE should come with a pair of charging cables, so make sure they're there. One is to charge from a domestic socket, while the other is to charge from a wallbox.
- The GTE is given away by its blue accents across the radiator grille as well as on the seats, steering wheel and gear gaiter.
Recalls
June 2015: Some cars were delivered with poorly manufactured front wheel-bearing housings, which could fail.
June 2016: Faulty child locks mean the door could be opened from the inside, even with the lock engaged.
January 2017: The lights could fail because of a software fault wihin the electronic control module.
March 2017: The airbags and seatbelt pre-tensioners could fail to work in the event of a crash.
June 2017: The anti-lock brakes and electronic stability programme could fail to intervene because of a faulty earth connection.
November 2017: Poorly manufactured rear wheel-bearing housings were fitted to some cars, which could fail.
March 2018: Some Golfs were fitted with brake discs that were too thin. As a result they could crack.
May 2018: Some head restraints were fitted with faulty locking bars, so the restraint wouldn't fit securely into place.
December 2018: The rear bench seat was welded incorrectly so the head restraint wouldn't lock into place.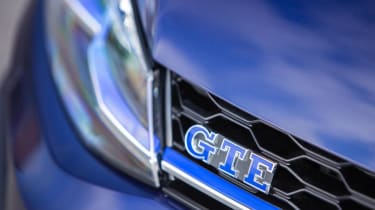 Running costs
Insurance groups: 25-26 (GTE), 26 (GTE Advance)
Average mpg: 166mpg (GTE), 157mpg (GTE Advance)
CO2 emissions: 38-39g/km (GTE), 40g/km (GTE Advance)
Golf GTE owners can opt for fixed or variable servicing. The former means maintenance is due every 12 months or 9,000 miles, with services alternating between minor and major. At the time of writing (October 2019) these were priced at £143 and £195 respectively.
Golf GTEs on a variable servicing schedule can go for up to three years and 36,000 miles before the first service is due, then after that the maximum between visits to the garage is two years or 24,000 miles.
The Golf GTE's 1.4-litre TSI petrol engine is fitted with a cambelt that has to be replaced every five years, with no set mileage limit. We'd advise an inspection at every service, though, to check that the belt hasn't deteriorated.
Volkswagen Golf eHybrid: specs, prices and on-sale date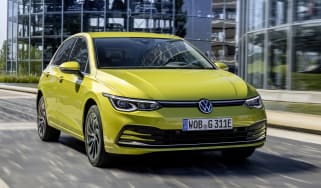 Volkswagen Golf eHybrid: specs, prices and on-sale date
New 2020 Volkswagen Golf GTE: price, specifications and on-sale date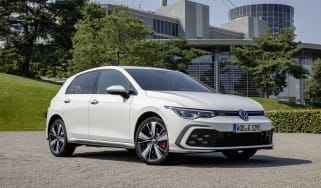 New 2020 Volkswagen Golf GTE: price, specifications and on-sale date
Complete guide to the BP Pulse (formerly Polar Plus) charging network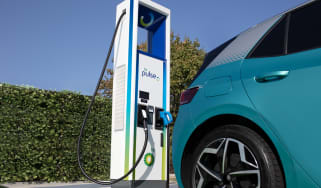 Complete guide to the BP Pulse (formerly Polar Plus) charging network
This is how to charge your electric or plug-in hybrid car on the BP Pulse public charging network (formerly known as Polar Plus)
Complete guide to BP Pulse (formerly Chargemaster) home chargers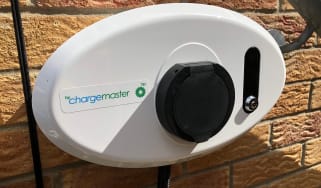 Complete guide to BP Pulse (formerly Chargemaster) home chargers
Everything you need to know about BP Pulse (formerly known as BP Chargemaster) home wallbox chargers for electric and plug-in hybrid cars
Electric car loans and grants in Scotland: a complete guide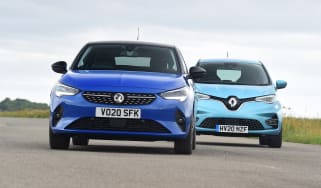 Electric car loans and grants in Scotland: a complete guide
If you live in Scotland and are looking to buy an electric car, there are a number of government schemes to help out