Best plug-in hybrid SUVs 2021
A good plug-in hybrid SUV should combine low running costs with excellent practicality. These are some of the best on sale right now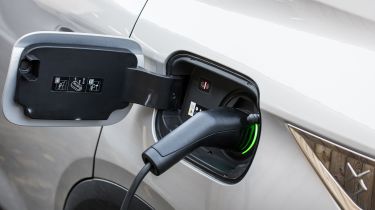 SUVs used to be associated with high running costs, poor fuel economy and excessive emissions. But now, thanks to plug-in hybrid technology combining electric and internal-combustion power, buyers can continue to get the generous interior space and raised driving position they want, while cutting down on their monthly motoring costs. 
Plug-in hybrid SUVs like the BMW X5 xDrive45e or Volvo XC60 Recharge contain a battery that's charged from a domestic socket or charging point, giving a sizeable pure-electric range. When the battery runs out, a petrol or diesel engine steps in to drive the car as normal.
This means you could complete shorter journeys without burning any fuel, potentially saving a lot of money over the course of a year. However, you'll experience none of the range anxiety that can be associated with pure-electric cars, which are entirely reliant on being charged. So which plug-in hybrid SUV should you buy? Below, we've rounded up some of our current favourites for your consideration...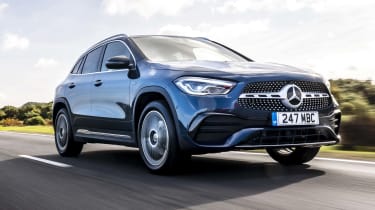 Mercedes GLA 250 e
The Mercedes '250 e' plug-in hybrid engine impressed us in the A-Class executive hatchback, so it's not surprising to find that it works well in the A-Class-based GLA family SUV, too. It's one of the better-engineered plug-in hybrid solutions we've tried, boasting a strong pure-electric range, punchy performance when the power sources are combined and smooth transitions between the two.
The petrol engine can get a little noisy when pushed, but there's no doubting its efficiency – which is good news for both private owners and company-car users. Mercedes' claim of just under 202mpg is a decent chunk ahead of most rivals' and its 32g/km of CO2 also undercuts the competition. Read our full GLA 250 e review here, and also check out Mercedes' larger GLC and GLE plug-in hybrid SUVs.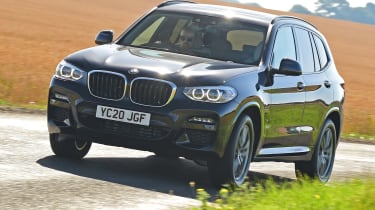 BMW X3 xDrive30e
The BMW X3 is one of the best mid-sized premium SUVs you can buy and it's particularly impressive in plug-in hybrid guise. Using broadly the same drivetrain as the BMW 530e saloon, the X3 combines strong economy, 29 miles of electric range and low emissions that equate to great company-car tax costs. It's not just a fleet special, however: it's not much more expensive to buy than an equivalent diesel model. Read our full review here.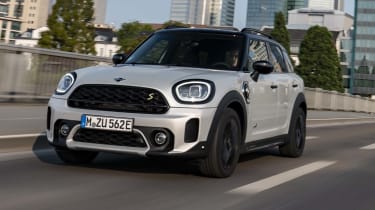 MINI Countryman Cooper S E ALL4 hybrid
Updated for 2020, the MINI Countryman hybrid is a stylish, well built SUV with an electric range of up to 31 miles, strong fuel economy and low CO2 emissions. But aside from its competitive statistics, the MINI is one of the best-driving plug-in SUVs around. With punchy performance, accurate steering and a genuine level of sportiness dialled into its chassis, this is the plug-in SUV to pick if you love to drive. Read our full review here.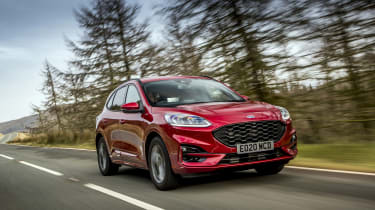 Ford Kuga Plug-In Hybrid
Good-looking, practical and with very impressive on-paper figures, the Kuga makes a good case for itself in what is becoming a very busy segment of the market. It's good to drive too, retaining much of what makes the standard car feel sharp on the road. Company-car users will welcome the low CO2 emissions, while families will be happy with the Kuga's large interior and good-sized boot. Read our full review here.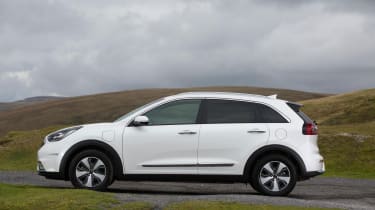 Kia Niro PHEV
Officially, the Kia Niro PHEV will do 30 miles on battery power and hit a combined fuel-economy figure of over 200mpg. Of course, these numbers are difficult to reach in the real world, but even the more realistic figures are at the upper end of what you can expect from a good plug-in hybrid SUV. The 324 litres of boot space on offer is handy if not class-leading, but an abundance of standard equipment makes the Kia ideal for family duties. Read our full review here.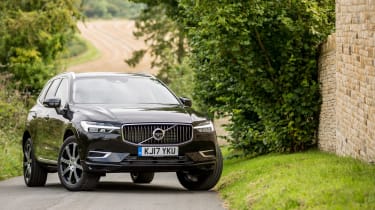 Volvo XC60 Recharge
Volvo might not strike you as a performance brand, but its XC60 Recharge plug-in hybrid SUV is rapid by any measurable standard. Acceleration from 0-62mph takes 5.5 seconds en route to a top speed of 140mph, thanks to 385bhp from an electric motor and 2.0-litre petrol engine that's both turbo and supercharged. Speed credentials aside, the XC60 Recharge can see close to 123mpg over short distances, with an electric range in the region of 25 miles. The only drawback is the steep starting price, although it's still less expensive than the Audi Q7 and Range Rover Sport hybrids. Read our full review here.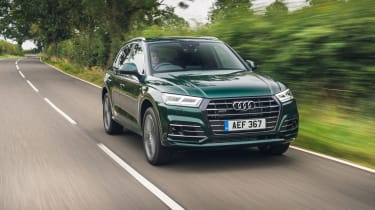 Audi Q5 TFSI e
The Q5 is one of a wave of Audi plug-in hybrids launched in late 2019 and early 2020, all carrying the 'TFSI e' designation (e-tron is now reserved for Audi's pure-electric cars). Like the other cars on this list, it mixes comfort, speed and low running costs to great effect, and boasts the typical handsome styling and ultra-high-quality interior we've come to expect from modern Audis. It'll do a shade over 25 miles in electric mode and could return over 100mpg if you charge it up regularly. Read our full review here.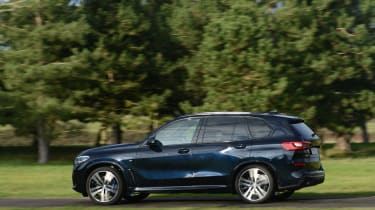 BMW X5 xDrive45e hybrid
In the 2020 DrivingElectric awards, we named the BMW X5 xDrive45e our best large plug-in hybrid vehicle. The headline figure is its official electric range of 54 miles, which should cover the daily journeys of a large proportion of buyers, but it's also massively quick, covering 0-62mph in 5.6 seconds. Handling is impressive for such a large and heavy vehicle, too, so as long as you can swallow the big purchase price, there are few downsides. Read our full review here.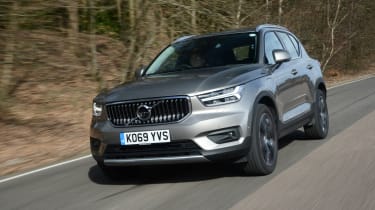 Volvo XC40 Recharge
It took a while to arrive, but the plug-in hybrid version of Volvo's stylish small SUV was worth the wait. Powered by a 1.5-litre three-cylinder petrol engine paired with a 10.7kWh battery and electric motor, the XC40 Recharge T5 sends a total of 262bhp to its front wheels (a less powerful T4 is also available).
The result is a swift SUV that, while not overly inspiring to drive, is quiet around town and relaxed at a cruise. The petrol engine can feel a little thrashy and the suspension is on the firm side, but the XC40 remains the great small SUV it always has been – albeit with a very useful 28-mile electric range and claimed 141mpg fuel economy. Read our full review here.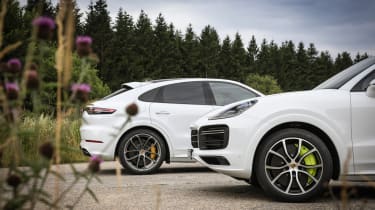 Porsche Cayenne e-Hybrid
The Porsche Cayenne is renowned for combining SUV practicality with sports-car power and handling and that formula remains intact with the addition of a plug-in hybrid drivetrain. Two versions will shortly be available: a fast E-Hybrid and an even faster Turbo S E-Hybrid, with a choice of regular or 'coupe' bodystyles, too. Note that the Porsche is strictly a five-seater, in contrast to the seven-seat Volvo XC90, but it's still an impeccable choice for families after a swift and cheap-to-run form of transport. Read our full review here.
Complete guide to the Ecotricity Electric Highway charging network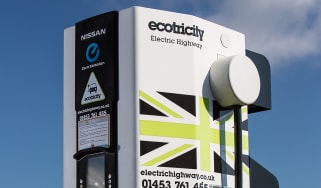 Complete guide to the Ecotricity Electric Highway charging network
Need to charge your electric vehicle on the Ecotricity Electric Highway network? Here's how it works, how much it costs and how to pay
New 2021 Kia EV6 electric SUV: details, pictures, price and on-sale date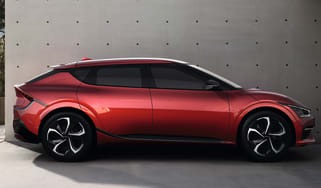 New 2021 Kia EV6 electric SUV: details, pictures, price and on-sale date
Kia's flagship electric car is capable of up to 316 miles on a single charge and recharging from 10-80% in just 18 minutes; available to order in the …
Complete guide to the IONITY charging network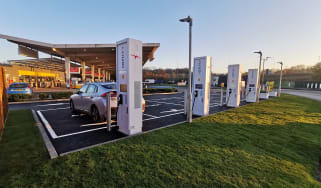 Complete guide to the IONITY charging network
The manufacturer-backed IONITY rapid-charging network is expanding across the UK and Europe – here's all you need to know