Electric cars vs plug-in hybrids vs hybrid cars
Electric, plug-in hybrid and hybrid cars all have their pros and cons, but which is right for you?
Figuring out whether a fully electric car, a plug-in hybrid or a full hybrid is the best option for you can seem like a daunting task, as each has its own pros and cons. There's also not a one-size-fits-all answer to the question of which one suits you best, because of the variety of factors that need to be considered.
For example, electric cars and plug-in hybrids need to be charged regularly, so if there's nowhere nearby where you can top up, perhaps a full hybrid is the better option for you right now. You also need to think about the type of driving you do, whether you do a lot of long journeys, and maybe even what you can afford.
So, to give you a hand traversing the jargon and various options in the world of electrified motoring, we made this comprehensive guide to the differences between electric cars, plug-in hybrids and full hybrids. And if you scroll down to the 'Which should I buy?' section, we've laid out some things you'll need to consider when deciding whether an EV, a PHEV or a hybrid will best suit your needs.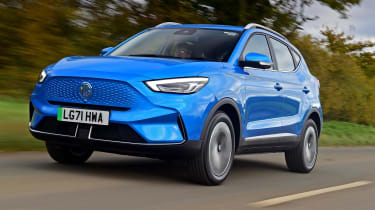 What is an electric car or EV?
An electric car runs solely on electricity. That's it. No added complications or footnotes here, it really is that straightforward. They are sometimes referred to as battery electric vehicles (BEVs) or just electric vehicles (EVs), but they mean the same thing. What's more, things have moved on quite a bit since the early days of EVs, so there are now a plethora of electric cars of all shapes and sizes – from compact city cars to seven-seater MPVs.
Every electric car comes with a high-voltage battery – the capacity of which is measured in kilowatt-hours (kWh) – which powers one or more electric motors. Most electric cars feature one electric motor for either front or rear-wheel drive, but those with dual motors offer all-wheel-drive. Efficiency and fuel economy in an electric car is measured in miles-per-kilowatt (mi/kWh), similar to mpg in your average petrol or diesel model.
When it comes to charging electric cars, the simplest solution is a 'home wallbox' charger, which allows you to top up an EV whenever you want – and if you do so overnight, you can wake up each day to a fully-charged battery. If you don't have a driveway or garage though, don't fret, as there are some charging solutions for city-dwellers or those without off-street parking – which you can read more about here. 
You may also have heard of 'rapid charging'. Charging points like these can be found all over the place now from supermarket car parks to motorway service stations, and are much, much faster than a domestic socket or home wallbox. They're also more expensive to use than charging at home, so rapid chargers are best suited for longer journeys when you need a quick top up – or if you're running desperately low on juice.
All things considered, electric cars are easy to recommend because they're quiet, more relaxing to drive than their petrol or diesel-powered equivalents, they make great town runabouts, offer instant performance, and are cheap to run. However, electric cars are often more expensive to buy, and if you do lots of miles every day, you may find the range of an EV doesn't quite work for you just yet. That's where hybrids come in.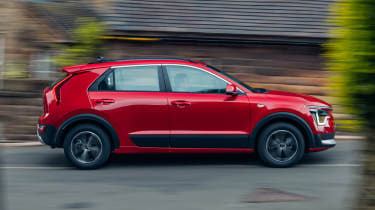 What is a full hybrid, or 'self-charging' hybrid?
There are a few different types of hybrids out there, but perhaps the most common are full hybrids. They are sometimes referred to as 'self-charging' hybrids by certain manufacturers, but don't worry, they're exactly the same.
Partnership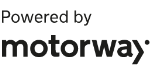 Need to sell your car?
Find your best offer from over 5,000+ dealers. It's that easy.
These pair a engine with an electric motor that's powered by a much smaller battery than those found in EVs – often between one and two kilowatt hours. The smaller battery means a full hybrid can only run on electric power for brief periods – a mile or two at most. But the beauty of this technology is that it will cleverly turn the engine off whenever it can, like when you're manoeuvring at low speeds or even when coasting on the motorway.
The other benefit of choosing a full hybrid is that you don't have to plug it in, as they are charged by the engine and a regenerative braking system, which recouperates energy from the motor while you're slowing down. In some full hybrids, the engine never or rarely powers the wheels directly, instead acting as a generator to keep the battery topped up, which in turn powers the motor. 
Therefore, if there aren't any charging points near you and you can't install a wallbox where you live, a full hybrid may be the better choice for you over an electric car or a plug-in hybrid. The latter especially because, on longer journeys, full hybrids can also be more economical than plug-in hybrids, since the smaller battery often makes the cars much lighter.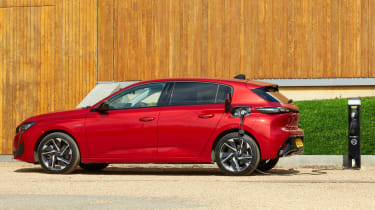 What is a plug-in hybrid car or PHEV?
A plug-in hybrid electric vehicle (often called a PHEV) builds on the full hybrid technology we just mentioned with a bigger battery that – just like an electric car – can be charged using a plug. The smallest plug-in hybrid batteries are around seven kilowatt hours in size, with the largest providing capacities of over 30kWh.
As a result, while a regular hybrid can only switch to electric power only for very short periods, plug-in hybrids are capable of travelling much further on electric power alone. Lots of the latest models will do between 40 and 70 miles without using a drop of petrol or diesel, which means you could commute to work and enjoy the low running costs of an electric car, without any 'range anxiety' when making longer journeys.
Some PHEVs even have a setting that allows you to use the engine on its own, preserving or holding electricity for when you enter a low-emission zone or a congested area. But because plug-in hybrids are carting around an engine and electric motor, they're pretty heavy, and once the battery in a PHEV runs out, you're often just driving a normal petrol car with a load of extra weight. 
This will cause your fuel economy to plummet, which is why it's vital to make sure your PHEV is kept plugged in whenever possible. Some plug-in hybrids will, under certain circumstances, also run the engine as a generator to keep the battery topped up, rather than having it directly power the wheels. We wouldn't recommend this though, as this will again use extra fuel and ruin your mpg.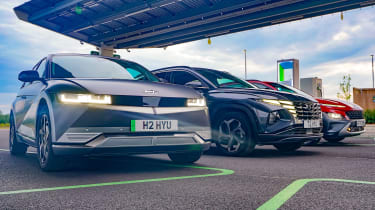 Which should I buy?
The benefits of an electric car are varied, with exceptionally low running costs arguably offering the most appeal. Electric cars are currently exempt from VED (road tax) and the London Congestion Charge, too, and should cost considerably less to maintain than a petrol or diesel car. Company car drivers will also find the 2% Benefit-in-Kind (BiK) tax rates that apply to all EVs very attractive, compared to the around 10% tax rate for PHEVs and 30% for most hybrids. You can also save money when it comes to fuel, if you charge an EV primarily at home overnight.
But, if you don't have a driveway or a private off-street parking space where you can install a home wallbox charger, you need to carefully consider how and where you'll top up an electric car. Range is also a big factor to bear in mind. Depending on the model, you could have anything from 100 to 400 miles at your disposal, which in turn regulates how often you'll need to charge, and how long a charge will take.
For example, a small city car like the MINI Electric – with a real-world range of around 100 miles – might serve you well for things like the school run and the weekly shop, but it's not ideal for long journeys. Plus, even if your daily commute is around 20 miles both ways, you'd need to top up your battery every other day, which isn't the most convenient. However, plenty of electric cars can easily manage 200 or 300 miles on a charge – such as the Hyundai Ioniq 5, Kia Niro EV, Tesla Model 3 and Volkswagen ID.3.
If on reflection an electric car won't work for you on a day-to-day basis right now, full hybrids and plug-in hybrids are the next best thing. A plug-in hybrid especially could save you a lot of money if you're switching from diesel – so long as you can charge the car's battery at home or at work, and that the majority of your journeys are either short or medium distance to make the best use of that electric-only range. However, they're often more expensive than standard petrol or diesel cars, so you'll need to charge regularly to recoup money through low running costs.
If you're a very regular long-distance traveller or can't charge your car frequently, then you'll feel the benefits of a plug-in hybrid less often than those doing lots of short drives. In that case, a full hybrid would be your best bet: you'll get the benefits of lower emissions at low speeds, but without the hindrance of a plug-in hybrid's extra weight on longer journeys.
Has the UK given up on EVs? New government 'Plan for Drivers' says no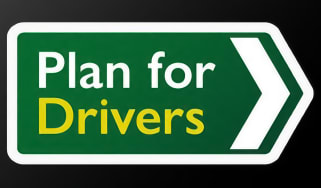 Has the UK given up on EVs? New government 'Plan for Drivers' says no
We've had a ride in the new electric MG Cyberster and it's NOT what we first thought…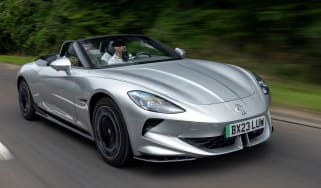 We've had a ride in the new electric MG Cyberster and it's NOT what we first thought…
The MG Cyberster is due to go on sale next year with up to 536bhp and scissor doors – and we've already had a ride in it
Has the UK given up on EVs? New government 'Plan for Drivers' says no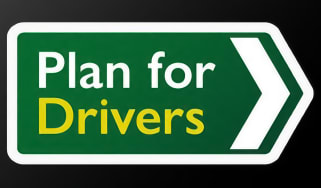 Has the UK given up on EVs? New government 'Plan for Drivers' says no
UK government has announced a new 30-point manifesto which, in part, focuses on electrifying Britain's roads