Best electric company cars 2021
We round up 15 of the most desirable and efficient electric cars for business users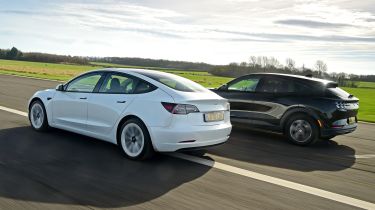 Company-car drivers have never had it so good when it comes to the range of electric cars available to them, although with somewhat limited action below the £30,000 mark, you need to be a decently well rewarded employee to enjoy one as a perk.
Doubtless things will change as the price of electric technology and batteries come down, meaning increasing numbers of employees will be able to take advantage of the clean driving, low running costs and superb company-car tax rates offered to EV drivers.
Thanks to the government's drive for electrification, the Benefit In-Kind (BiK) tax rate for zero-emissions vehicles is just 1% during the 2021/22 financial year, rising to 2% for the 12 months after. While that's great news for drivers who may previously have paid thousands of pounds in BiK per year, it's also a win for companies, which pay much lower National Insurance Contributions on their employees' behalf.
To give you an idea of the potential savings, an employee driving a petrol-engined car such as the entry-level BMW 520i might face an annual BiK tax bill of around £5,500 under the current regime. Simply by switching to a zero-emission Tesla Model 3, that bill drops to less than £200 per annum. No wonder company-car drivers are clamouring to make the switch.
It seems the electric-car market is expanding almost exponentially as new models are launched by companies and brands – some of which may be relatively unfamiliar to drivers used to making more traditional company-car choices. To help you get a handle on the wide range of choices that make lots of sense to company-car drivers, we've rounded up a list of 15 of our current favourites, covering everything from family-focused SUVs to swishy executive models and even a cost-effective estate car for traditionalists.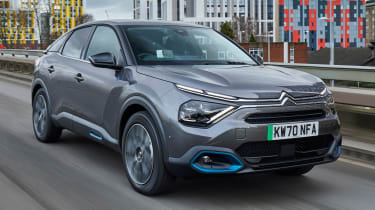 Citroen e-C4
The e-C4 is a practical and affordable family car designed to take on rivals such as the Volkswagen ID.3 and Nissan Leaf, although with its tough SUV/crossover style cues it's certainly more 'on trend'. It brings a fresh new character of its own, and in spite of that rakish roofline at the rear, the e-C4 is also spacious and practical.
Shared technology with the Peugeot e-2008 and DS 3 Crossback E-TENSE means it's pleasant to drive, with a 0-62mph time of under 10 seconds and a very comfortable ride. While a 217-mile range isn't especially impressive these days, the e-C4's 100kW rapid charging capability means you can get an 80% battery boost in just 30 minutes when you need to. The company-car tax bill could be as low as £67 for a 20% taxpayer in 2021/22, or just £133 at 40%, which is a major draw, too. Read our full review.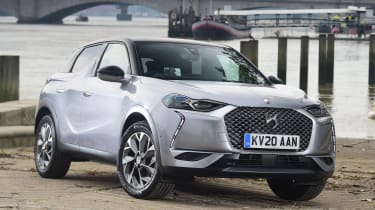 DS 3 Crossback E-TENSE
Although the DS 3 Crossback is related to the Citroen e-C4 (above) under the metal and offers a very similar driving experience, it's an even more style-focused proposition. The tradeoff is reduced practicality, but if you're looking for a chic urban runabout that doesn't need to be quite so family-friendly, the E-TENSE fits the bill.
Partnership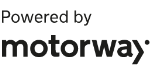 Need to sell your car?
Find your best offer from over 5,000+ dealers. It's that easy.
It's definitely more practical than rivals such as the MINI Electric or Honda e, which can't match the DS 3's 199-mile quoted range. Like the e-C4, the DS 3 is capable of 100kW rapid charging. The E-TENSE has a cabin that's even more quirky than its exterior. However you can't fault the quality and materials used, and the car is super-quiet and comfortable on the motorway as befits the DS brand's premium ambitions. BiK tax starts at less than £70 a year for a 20% taxpayer, or £140 for a 40% earner. Read our full review.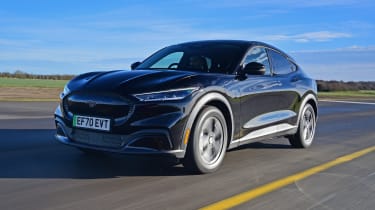 Ford Mustang Mach-E
Ford's latest 'pony car' makes its petrol-slurping V8 muscle-car stablemate look like a dinosaur, thanks to advanced technology, great performance and up to 379 miles of range from the biggest 88kWh battery option. That drops a little if you spec four-wheel drive, but even the smaller 68kWh battery will take you an impressive 250 miles according to official testing, making the Mach-E one of the leggiest electric cars this side of a Tesla. All models feature rapid charging, too, so you can top up those big batteries from 10-80% in 40 minutes when needed.
With sporty performance and great handling for a weighty SUV, plus a high-tech and well equipped interior, Ford's first foray into the mainstream electric-car market is a winner. Especially when company-car drivers enjoy freedom from road tax and annual BiK from just £83. Read our full review.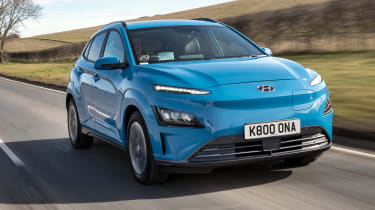 Hyundai Kona Electric
Hyundai hit the ground running with its Kona SUV, which has been available since 2018 in petrol, hybrid and fully electric guises. It has always been pretty good on range, and the latest has either a 39 or 64kWh battery, offering 189 or 300 miles of range respectively.
The Kona is a fashionable and practical SUV, too, with a generous level of equipment, and although it's not a thrill-a-minute to drive, it's competent and comfortable. Other SUVs have bigger boots and are more entertaining behind the wheel, but the Kona probably makes the most sense with the smaller battery for company-car drivers looking to maximise the bang of a limited budget. That's reflected in an annual BiK charge of just £61 for 2021/22, but with all electric cars benefitting from the 1% BiK rate, the Kona's advantage there is marginal. Read our full review.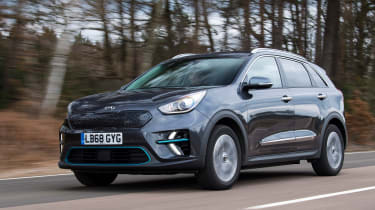 Kia e-Niro
We've billed the e-Niro as our favourite electric family car and the Kia lives up to that accolade with its practical and pleasing SUV design, a spec list stuffed with goodies and a very usable range of 180 to 282 miles depending on battery size. The Kia is built on the same platform as the Hyundai Kona Electric (above), so shares all of its advantages with the added benefits of more space for rear-seat passengers and a bigger boot. In that respect, it's almost as practical as a conventional petrol or diesel SUV like the Renault Kadjar, which makes the e-Niro a terrific choice for everyday family use.
Even the entry-level e-Niro comes with part-leather seats and an eight-inch touchscreen, plus adaptive cruise control and lane-keeping assistance. With 17-inch alloys, roof rails, privacy glass and a rear camera, you definitely won't feel like a second-class citizen in the company car park – you'll be too busy feeling smug about your £66 annual BiK tax bill. Read our full review.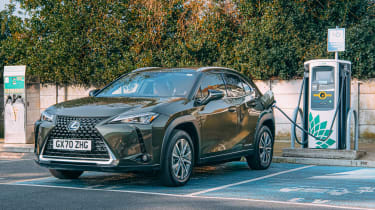 Lexus UX 300e
If you're looking for a small electric SUV with a premium feel, the Lexus UX offers one of the most refined and luxurious drives around. Sporty driving characteristics aren't part of Lexus' DNA, but you can't fault the fit, finish or build quality, and the UX boasts a cabin that's as pampering as anything else in the class.
You get a 54kWh battery and 201bhp electric motor giving strong performance and decent range: 0-62mph in 7.5 seconds and 196 miles being the official claims. Stopping at a motorway rapid charger will top you up from 10 to 80% in 50 minutes, which isn't as quick as some, but does allow time for a civilised business lunch. Compact dimensions affect practicality, but while the boot is smallish, there's comfortable seating for four passengers and the equipment level is generous, too. Annual BiK liability starts at just £88. Read our full review.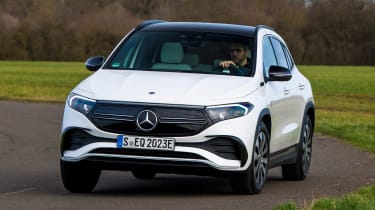 Mercedes EQA
It's hard to beat the feel-good factor of a three-pointed star on your bonnet, and the Mercedes EQA delivers plenty of the former and looks pretty good value, too. The electric version of the German firm's small SUV starts at £45,000, which isn't exactly cheap, but it  does feel every inch a 'proper Mercedes'. The exterior is handsome if a little conservative, while inside the EQA has a show-stopping dashboard with a pair of eye-grabbing 10.25-inch screens giving the cabin a contemporary feel.
Performance is solid, too, with decent get-up-and-go even from the least powerful 250 model, while the flagship 350 will do 0-62mph in six seconds dead. Range is a respectable 250-260 miles depending on trim, and with 100kW rapid charging ability, you can get an 80% top-up in less than 40 minutes. BiK liability for the entry-level model is £81 or £162 a year for 20% and 40% earners respectively. Read our full review.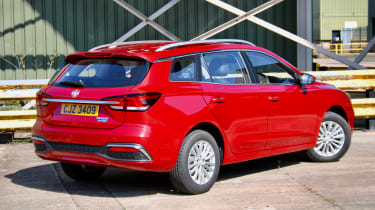 MG 5 SW EV
If you want a practical family-focused electric estate car with an annual BiK bill less than most people spend on a tank of petrol, the MG 5 SW EV is it. With prices equivalent to the Renault ZOE or Honda e city cars, nothing this side of an SUV can touch the MG for luggage space, and it comes with decent kit, too. 
As such, it looks like fantastic value as an unpretentious company load lugger, with loads of room for the average family plus dog at the weekend. It may be cheap, but the 214-mile range from a 52.5kWh battery should easily meet most needs, while 50kW charging means you can get back to 80% capacity in 50 minutes. A standard wallbox will give you a full charge in eight and a half hours. Performance is peppy and although the MG 5's ride and handling is some way off the best, that shouldn't matter to value-conscious owners. Annual BiK starts at just £55. Read our full review.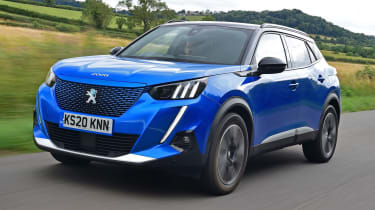 Peugeot e-2008
The latest Peugeot designs have proved to be winners in the petrol and diesel market, and the way the e-2008 looks is sure to give this compact SUV a boost on company-car lists too. The crossover is a roomier, off-road-themed version of the e-208 hatchback, and as such competes with the Hyundai Kona Electric, Kia e-Niro and MG ZS EV.
While it may lead on style, it can't match its Korean rivals for range, although the Peugeot's 191-206 mile maximum is decent enough – especially as it's able to rapid charge at 100kW at suitably equipped sites. The cabin is nicely trimmed, comfortable and attractive, with plenty of room for passengers and luggage, while the e-2008's pleasant driving manners are icing on the cake. BiK rates starting at just £55 per year are the cherry on top. Read our full review.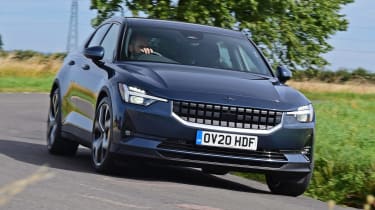 Polestar 2
Polestar is Volvo's high-end, zero-emissions spinoff brand, and the 2 was designed to be a premium electric car that competes directly with the Tesla Model 3 – and by implication anyone with a BMW 3 Series or similar looking at their electric options. The four-door-coupe style is on the money for ambitious executives, while a 78kWh battery and 402bhp twin motors mean 0-62mph comes up in under five seconds in the range-topper. More affordable 64kWh battery/single-motor options are available to order, too.
Meanwhile, the 402bhp version offers a 292-mile range and a sophisticated level of quality, luxury and agile handling that makes it a genuine alternative to the premium executive establishment, especially when you factor in the ridiculously good-value BiK rates, starting at just £80 a year. Read our full review.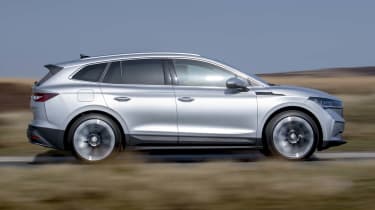 Skoda Enyaq iV
Skoda's first bespoke electric car is a cracker – perhaps unsurprisingly given it shares its engineering with the Volkswagen ID.4. It's a roomy SUV purpose-built from the ground-up with an electric drivetrain, and while Volkswagen isn't routinely commended for forward-thinking design, the Enyaq iV is arguably even more conservative than the ID.4 when it comes to looks.
But not everyone needs to flash their eco credentials with funky fashionable styling, which makes the Enyaq iV a superb choice for company drivers with more conservative tastes. With a 300-mile range, one of the roomiest and most practical interiors around, plus high- quality fit and finish with lots of advanced technology, the Enyaq iV is definitely a thoroughly grown-up company-car choice. BiK is from £69 per year for a 20% taxpayer. Read our full review.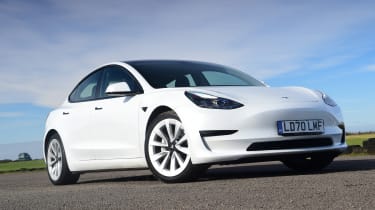 Tesla Model 3
As it's aimed squarely at the BMW 3 Series, it's no surprise that Tesla's Model 3 has already made a name for itself as one of the best electric cars on the market. It offers hugely impressive range, a classy cabin dripping with technology, strong performance and decent driving dynamics to boot. Even the entry-level Standard Range Plus model will do almost 270 miles on a charge, while the Long Range variant can manage a cool 360 miles between Supercharger station visits.
Or maybe the Performance is more your thing, with its jaw-dropping 3.1-second 0-60mph time and 162mph top speed. Even the Standard Range Plus needs only 5.3 seconds for the benchmark sprint, and with autonomous 'Autopilot' driving available as an option, any Tesla is still as much a conversation-starter as a commuter. Especially with its 1% BiK tax rate. Read our full review.
Vauxhall Mokka-e
The electric drivetrain in Vauxhall's Mokka-e has already made several appearances in this list, as it's the same one fitted to the Citroen e-C4, DS 3 Crossback E-TENSE and Peugeot e-2008. So it's a given that performance and the driving experience are pleasant but not especially engaging, yet the Mokka's compact SUV body is both stylish and practical. The interior is very similar to that of non-electric Mokkas, but most models get a pair of big digital displays – a 12-inch one for driver information and a 10-inch 'Pure Panel' infotainment screen.
The Mokka isn't the most spacious of the small SUV pack, but if you like the style there's lots to recommend about Vauxhall's take on a small electric car. With 201 miles of range on a charge, plus the potential for 100kW rapid charging, it's ideal for shorter commutes and urban driving. BiK starts at £66 per year. Read our full review.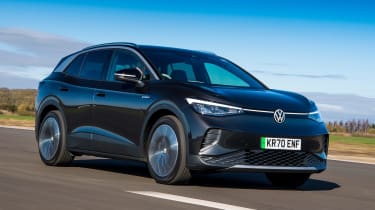 Volkswagen ID.4
Like its Skoda Enyaq iV stablemate (above), the ID.4 is a medium-sized SUV that's a little bigger than the diesel-powered Tiguan. Volkswagen's designers have added swoopier styling cues, which give the ID.4 a more fashionable feel than the Skoda, although it has a less steeply raked tailgate. On the road, the ID.4 is punchy and smooth, with a comfortable ride and relatively lean-free cornering. The attractive interior has a genuinely high-tech feel, and equipment levels are high, too. 
Prices are a little steeper than for the Enyaq iV, but not by much, and you get two battery options, giving you a range of 211 or 323 miles on a charge. The ID.4 is also compatible with rapid chargers up to 125kW, allowing 200 miles' range to be added in 30 minutes. BiK rates start at £81 and £163 for 20% and 40% earners respectively. Read our full review.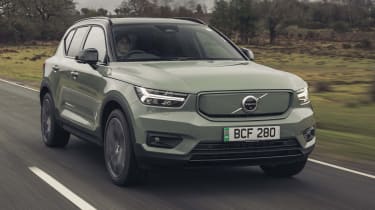 Volvo XC40 Recharge P8
The XC40 also comes in hybrid and petrol-engined guises, but that doesn't diminish its appeal as a full electric car. The good-looking SUV gets a 78kWh battery and twin electric motors giving scintillating performance – 0-62mph in under five seconds – and up to 257 miles on a charge. Those numbers put the XC40 in contention with rivals such as the Ford Mustang Mach-E, Tesla Model 3 and Mercedes EQA, but the XC40 costs nearly as much as the more premium Jaguar I-Pace, at £53,000.
With a welcoming and well equipped interior, great ride quality and impressive infotainment, the XC40 makes an excellent long-distance motorway muncher, while doubling up as desirable family transport at the weekends. BiK costs start at £106 and £212 for 20% and 40% taxpayers respectively. Read our full review.
Hybrid vans explained: top models, running costs, pros and cons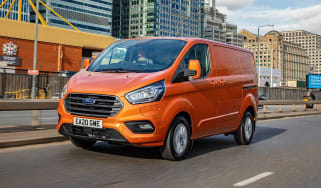 Hybrid vans explained: top models, running costs, pros and cons
Top 10 best hybrid company cars 2023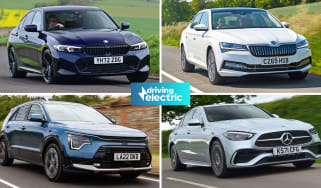 Top 10 best hybrid company cars 2023
How much is the Benefit-in-Kind company-car tax on an electric car?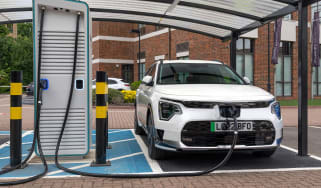 How much is the Benefit-in-Kind company-car tax on an electric car?
New electric cars coming in 2023 and beyond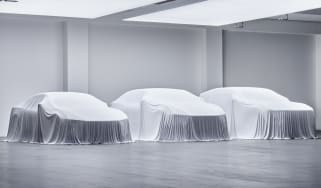 New electric cars coming in 2023 and beyond
With electric cars making up an ever-increasing proportion of sales, the industry is working flat out to launch new models – here's what's on the way …
New Toyota battery tech to deliver 500-mile EVs by 2026; 750-mile ranges to come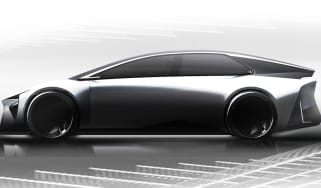 New Toyota battery tech to deliver 500-mile EVs by 2026; 750-mile ranges to come
Toyota has revealed details on its latest battery technology, set to underpin its next generation of EVs
New Fiat 600e SUV prices announced: £3,000 cheaper than a Jeep Avenger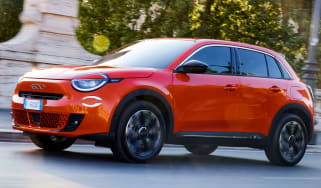 New Fiat 600e SUV prices announced: £3,000 cheaper than a Jeep Avenger
The larger sibling to the Fiat 500e gets a stylish SUV-like design and a 249-mile range