Hybrid vans: all you need to know
Hybrid vans can bring significant fuel and tax savings for your business, but are they right for you and your company?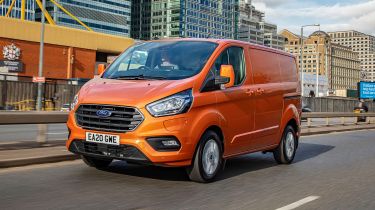 It's no longer just cars that are getting the electrification treatment; an increasing number of vans are now available with a fully electric or hybrid drivetrain. Electric vans are designed to excel at last-mile deliveries, but if you need to cover longer distances in a day, frequently needing to charge an electric van might not be the best solution. Instead, a plug-in hybrid van may be your best choice for reducing emissions and fuel consumption, without compromising usability or range. 
Today, that most iconic of British vans, the Ford Transit Custom, is available as a plug-in hybrid in both panel-van and Ford Tourneo Custom minibus form, while London taxi maker LEVC has launched a light commercial vehicle of its own, the VN5. Read on to find out the benefits of hybrid vans, and why the industry is slowly moving towards them.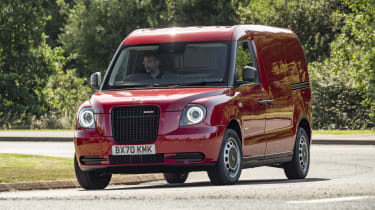 What is a hybrid van?
Much like a hybrid car, a hybrid van (or hybrid light commercial vehicle) is driven by two different types of motor. Most often this is a combination of a petrol engine and an electric motor – the latter drawing its power from a battery. Currently, manufacturers are focusing on range extenders and plug-in hybrid models. Here, the petrol engine is either solely used to recharge the batteries, or acts as a back-up to drive the wheels when the battery runs out of power.
The Transit Custom and Tourneo Custom PHEV models mentioned above use Ford's 1.0-litre three-cylinder EcoBoost petrol engine as a range extender for the lithium-ion battery that sits between their front and rear axles. The engine is there solely to boost the car's battery. Ford says the Transit PHEV has an electric range of 31 miles on electric power alone, which is boosted to 310 miles when the petrol engine is used to recharge the batteries.
The Transit Custom PHEV was the first plug-in hybrid light commercial vehicle from a volume manufacturer. Before it was put into production, Ford conducted a 12-month trial by loaning 20 examples to various businesses in UK urban areas. Companies and organisations that took part included parcel delivery firm DPD, utility British Gas, Transport for London (TfL) and even the Metropolitan Police.
Another firm that builds a plug-in hybrid, range-extender electric van is LEVC (the London Electric Vehicle Company). Its VN5 van is based on the LEVC TX taxi, using the same 1.5-litre three-cylinder petrol engine sourced from Volvo, with an additional electric motor used to power the rear wheels.
The van has a 61-mile pure-electric range, which is boosted to 300 miles by the 1.5-litre petrol engine acting as a range extender. That translates to claimed average fuel economy of over 300mpg and official CO2 emissions of just over 20g/km, while LEVC reckons the VN5 will be able to perform a day's work for almost any operator without needing to be refuelled or recharged.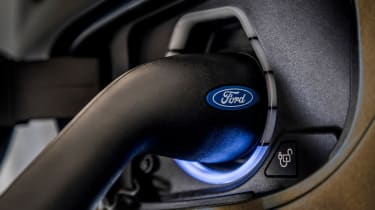 What are the benefits of a hybrid van?
London alone sees over 250,000 commercial journeys made every day, partly thanks to the growth in online shopping. In congested cities with a lot of stop-start traffic, a hybrid van is ideal, as braking helps recharge the batteries, thus saving fuel. They also improve the local air quality in city and town centres.
Hybrid vans also benefit from the Government's plug-in van grant. At the time of writing, this stands at up to 35% of the van's purchase price, with a ceiling of £2,500 per vehicle for small vans and £5,000 for large vans. Hybrid vans generally have a higher payload than fully electric vans, as they have smaller batteries. This means they're able to transport more goods, and need to make fewer trips than their fully electric counterparts.
Triple test: BMW i4 vs Tesla Model 3 vs Polestar 2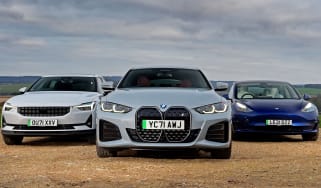 Triple test: BMW i4 vs Tesla Model 3 vs Polestar 2
Top 10 best hybrid company cars 2022
Top 10 best hybrid company cars 2022
How much is the Benefit-in-Kind company-car tax on an electric car?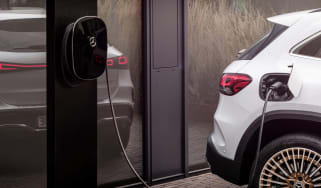 How much is the Benefit-in-Kind company-car tax on an electric car?
Where can I buy hydrogen and where is my nearest hydrogen filling station?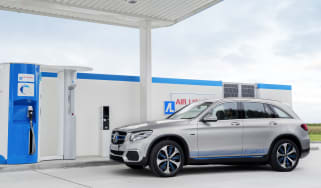 Where can I buy hydrogen and where is my nearest hydrogen filling station?
A guide to where you can find UK hydrogen fuel stations for filling up a hydrogen fuel-cell car
Tesla Supercharger network: complete guide to Tesla charging stations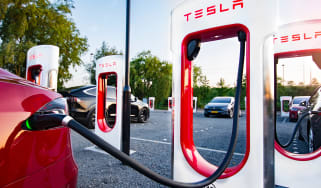 Tesla Supercharger network: complete guide to Tesla charging stations
The Tesla Supercharger network is expanding fast, providing reliable rapid charging throughout the UK to Tesla and non-Tesla owners alike
Top 10 best electric SUVs 2022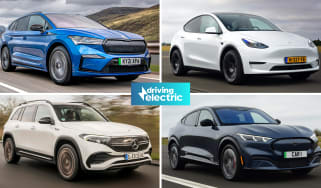 Top 10 best electric SUVs 2022
Electric SUVs combine style and practicality with low running costs, making them a very popular choice in the UK. Here are our top 10 favourites to bu…