Best hybrid car lease deals UK 2022
Thinking about leasing a hybrid car? We've rounded up the best hybrid lease deals from brokers and manufacturers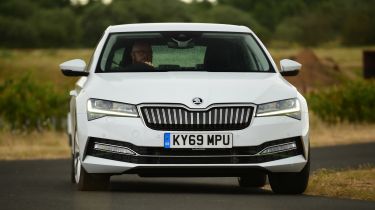 Most new cars are still bought on Personal Contract Purchase (PCP) finance deals, but an increasing number of private customers are turning to the leasing market instead. And with hybrids and plug-in hybrid availability increasing, too, there are a huge variety of hybrid car leasing deals available.
Both PCP and lease (sometimes called Personal Contract Hire, or PCH) deals require you to make an initial payment and then a number of monthly payments. Both come with yearly mileage limits and charges if you give the car back with higher mileage or damage. PCP deals give you the option to buy the car at the end, while there's no ownership option on a lease. You simply hand the car back and, should you wish, start a new lease on another car.
But leasing deals often have cheaper monthly payments than PCP deals, and that'll be the primary factor for many customers. PCH deals also typically include road tax, but not usually regular maintenance.
Leasing a hybrid or plug-in hybrid car is a great way to lower your emissions and fuel costs. Hybrids are usually cheaper, but if you can regularly recharge at home or work, a plug-in hybrid will offer much lower running costs. Plug-in hybrids are especially good if you do lots of short journeys or want to see if the electric lifestyle is for you.
Lease prices are adjusted all the time, so treat our figures as representative examples. We've selected lease deals from brokers and manufacturers, and have included a few business contract hire (BCH) deals for company users, too. All BCH deals exclude VAT and are over a 36-month contract unless otherwise stated.
UK hybrid car lease deals from brokers - Personal Contract Hire (PCH)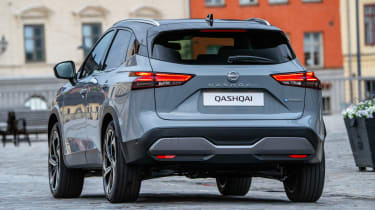 The Qashqai now comes with a hybrid engine that Nissan calls e-POWER. With the electric motor driving the wheels, it feels more like an electric car to drive than a petrol one. You can look forward to smooth acceleration and fuel economy of over 50mpg without needing to plug in. On Leasing.com, you can pay £302 per month after a £2,722 initial rental. It's a 48-month contract with a 6,000-mile annual mileage allowance.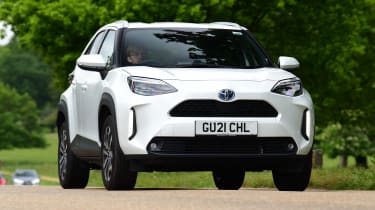 Already proving popular, the Toyota Yaris Cross is a jacked-up version of the Yaris hatchback. It isn't the most spacious car in its class, but its funky styling and refined, frugal engine are tempting customers. Currently, you can lease one for £234 per month for four years. The £2,106 initial rental payment is reasonable, as is the 8,000-mile cap per year.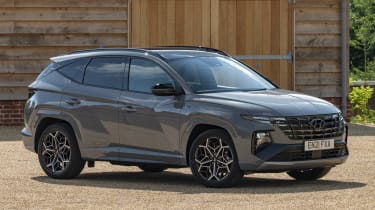 The latest Tucson is one of the best family SUVs on sale; it's huge inside, packed with tech and offers multiple hybrid options. There's a plug-in hybrid Tucson for the first time which, in sporty N Line guise, can be on your driveway for £357 per month on a three-year deal from Leasing.com. You've got a decent 8,000-mile allowance each year, and the initial rental comes in at £3,218. For comparison, Hyundai charges £200 more per month on a PCP deal with similar terms.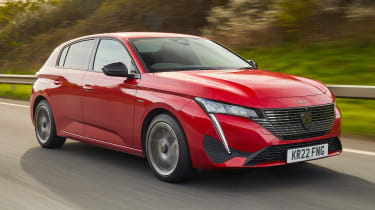 A stylish alternative to the Volkswagen Golf, the latest Peugeot 308 also introduces plug-in hybrid power to the model for the first time. Put down an advance payment of £3,386 and you'll pay £376 per month for 48 months. Speaking of the Golf, the 308 gives you a good 8,000-mile annual limit; a Golf costing at the same per month has a 5,000-mile yearly cap.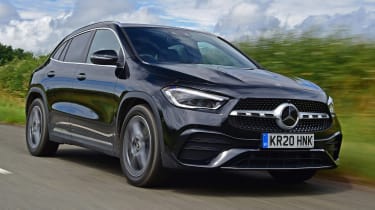 For a posh SUV to make the neighbours' curtains twitch, the Mercedes GLA is ideal. You also get a fantastic interior and more space than the previous model. A GLA in Exclusive Edition spec costs £394 for 48 months once you've paid a £3,548 advance rental. That's if you're happy to stick to 8,000 miles a year; a 10,000-mile limit only increases the payments to £402.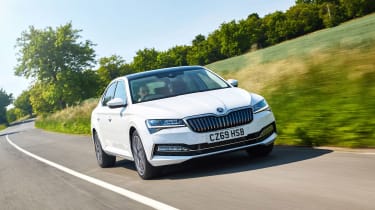 Even with a large battery pack reducing space, the Skoda Superb is absolutely vast inside. It's well equipped and quiet, not to mention very family-friendly. According to Leasing.com, you can lease a Superb iV in SE L spec for £462 per month. There's an 8,000-mile limit in each of the four years you'll have the car, while the initial rental stands at £4,165.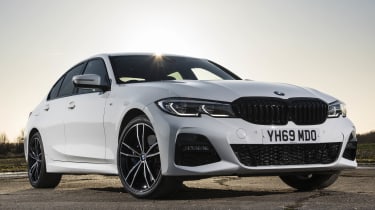 The 330e is an excellent option for anyone who wants a plug-in hybrid. It boasts a long real-world range, great performance and a sophisticated interior. There's also an estate version if you need a bigger and more versatile boot space. The saloon in M Sport trim comes to £511 per month for 48 months. You can travel 8,000 miles a year and the initial payment is £4,604.
UK hybrid car lease deals from manufacturers – personal contract hire (PCH)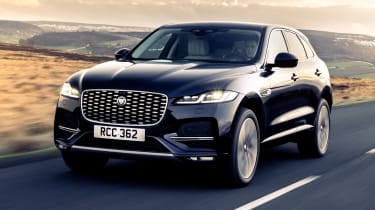 The Jaguar F-Pace is a comfortable and spacious SUV that's also targeted at keen drivers. That's still true of the P400e plug-in hybrid model, despite a little of the handling verve being blunted by the weight of the hybrid powertrain. Jaguar's finance calculator returns a monthly payment of £772 for an R-Dynamic version, after a £9,264 initial rental. Once your three years are up, you'll be charged if you've exceeded 30,000 miles – and note that Jaguar's 21p per mile charge will quickly add up.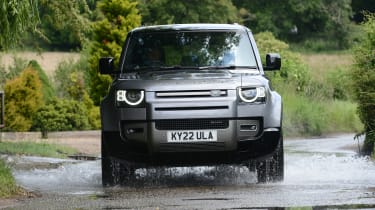 Perhaps you'd like your plug-in hybrid SUV to be a bit more rugged and capable over any terrain. In which case, the Land Rover Defender 110 plug-in hybrid will cost you £904 per month after an £8,133 upfront payment. Like the F-Pace, you get a 10,000-mile annual limit (across a four-year deal) and the excess mileage charge is even more hefty.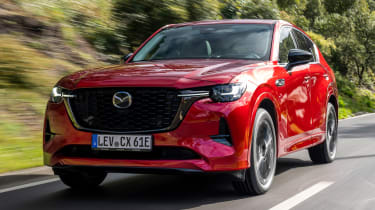 Mazda's first plug-in hybrid is the powerful CX-60, which aims to take on premium rivals like the Audi Q3 TFSI e and BMW X3 xDrive30e. Exclusive-Line brings a plush and generously kitted-out interior. The Japanese brand's current PCH offering is £633 per month over three years, with an advance payment of just under £3,800 and a 10,000-mile yearly limit.
If you'd rather a Swedish take on a PHEV SUV, the Volvo XC60 Recharge will fit the bill perfectly. It's not the most appealing offer we've seen, requiring 48 payments of £736 after an initial rental of £6,624, but remember that the Recharge offers lower running costs than other models if you use it as it's intended. The annual mileage limit is 10,000.
UK hybrid car lease deals from manufacturers – business contract hire (BCH)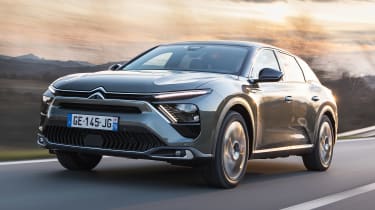 A mix of SUV and estate, among other things, the Citroen C5 X is a striking vehicle that's available with a frugal plug-in powertrain. Over 36 months, the rental stands at £496 plus VAT after an initial payment of £2,976 plus VAT. Per year, you can drive up to 10,000 miles.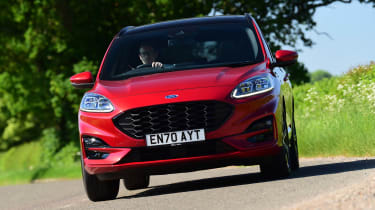 To better compete with its numerous SUV rivals, the Ford Kuga now offers both hybrid and plug-in hybrid engines. The latter gets a bigger battery and a decent real-world electric range, should you plug it in to recharge. Pay an advance rental of £2,370 and your monthly payments come in at just under £400 plus VAT. There's a 10,000-mile annual limit.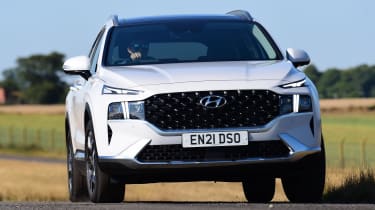 The Hyundai Santa Fe offers seven seats and comparatively low running costs, and its BCH costs seem reasonable. That's especially true considering how luxurious the interior of the Santa Fe feels. You pay £406 plus VAT per month after a £2,437 initial rental, and an 8,000-mile-per-year cap applies.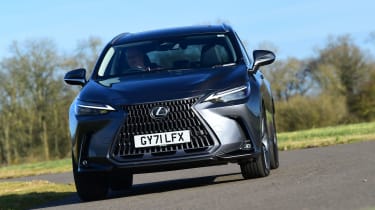 The new Lexus NX is also available with hybrid or PHEV options, and the former costs £477 per month after a £2,862 initial rental. This includes an 8,000-mile yearly limit, with a per-mile charge levied if you exceed this.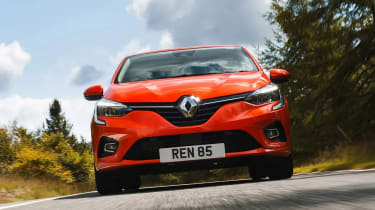 We'd recommend the Renault Clio over the Ford Fiesta and Volkswagen Polo, and not just because it's the only one of the three to offer a hybrid engine. It's an excellent choice for business users, with plenty of connectivity and features plus the promise of 60mpg fuel economy. Monthly payments stand at £229 plus VAT after a £1,374 advance rental, and the mileage cap is 10,000 per year.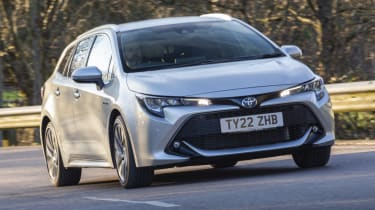 The Toyota Corolla Touring Sports is a spacious and relaxing hybrid estate car, with plenty of room for business or leisure equipment. Opt for the more efficient 1.8-litre engine with the surprisingly well equipped entry-level trim and you'll be obliged to pay £245 plus VAT for three years. The initial rental is £1,470 and you get 8,000 miles per year.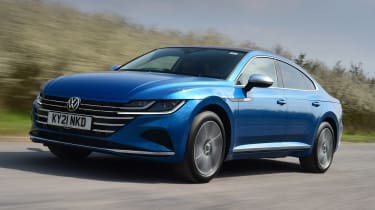 Stand out in the office car park with a Volkswagen Arteon plug-in hybrid. Elegance trim costs £588 plus VAT, according to VW Financial Services, once you've coughed up a £3,532 initial payment. Drive up to 10,000 miles a year to avoid excess mileage charges at the end of the contract.
BMW i4 facelift to topple Tesla with huge range and tech upgrades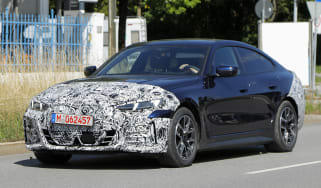 BMW i4 facelift to topple Tesla with huge range and tech upgrades
An updated version of the BMW i4 has been spotted testing, likely sporting a longer range and the latest technology
Electric BMW iX2 is set to take the kidney grille to the next level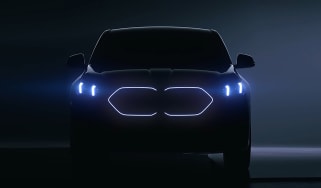 Electric BMW iX2 is set to take the kidney grille to the next level
BMW has teased the highly-rumoured iX2 coupe-SUV, which has been revealed to get enlarged illuminated kidney grilles