Top 10 best seven-seater electric and hybrid cars 2022
If the regular crop of electrified SUVs and family cars don't provide enough practicality for you, then take a closer look at the range of electric and hybrid seven-seaters on the market today...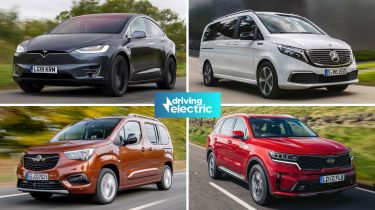 With more manufacturers adopting hybrid and electric-car technology, there's a wider variety of electrified cars on sale in 2022 than ever before. From compact city cars and estates to sports cars and even seven-seater SUVs and MPVs. The latter are ideal for drivers whose top priority is practicality, but don't want the running costs of the petrol and diesel options on the market.
So how do you decide if your seven-seater should be a full hybrid, plug-in hybrid or fully electric? The best place to start is the type of journeys you  do. An electric car is ideal for short trips, like a regular commute, shopping and school runs, particularly if you can park on a driveway with a home wallbox to top up at night. Even if you need to make occasional longer trips, most electric seven-seaters also offer decent range.
If your driving includes a greater mix of long and short trips, a plug-in hybrid (PHEV) may be best for you. Regular charging is essential to minimise running costs – especially when driving locally – but it's easy to top up with fuel when driving further afield. A full hybrid doesn't need plugging in at all, and works best in urban areas, where frequent braking puts energy into a small battery, allowing it to run on electric power for short periods. However, a hybrid can't match the economy of a PHEV, or ultra-low per-mile costs of a pure EV.
With all that mind, here are our top picks for the best seven-seater electrified cars on sale right now:
Make sure to check out the winners of the 2022 DrivingElectric Awards as well to see what's impressed us the most over the past year – and don't forget to follow DrivingElectric on Twitter, Facebook, Instagram and YouTube for the very latest news and reviews.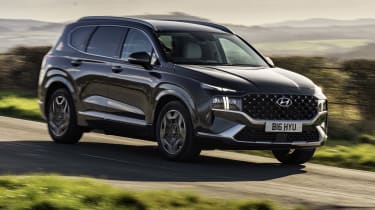 1. Hyundai Santa Fe Hybrid
The latest Santa Fe is available as a full hybrid or plug-in hybrid, just like its sister model the Kia Sorento. The plug-in version may be the more efficient of the two, with 36-mile all-electric range, but if you can't charge at home, then the hybrid still boasts good fuel economy and exceptional cabin quality, while being cheaper than the PHEV. The third row of seats is easy to access, but if you don't need them, there's a vast 571 litres of boot space on offer when they're folded down. Read our full review here for more.
2. Mercedes EQB
Derived from the combustion-engined Mercedes GLB and sitting between the smaller EQA and larger EQC in the brand's EV line-up, the EQB is the first electric SUV from Mercedes to be offered with seven seats. Its boxy styling ensures no shortage of passenger space inside, although the manufacturer does admit that the third-row seats "can be used by people up to 5ft 4in tall". Both versions of the EQB get all-wheel-drive thanks to a dual-motor setup, plus rapid charging and a driving range of up to 257 miles. Read our full review here.
3. Tesla Model X
The Model X is one of the most well-known electric seven-seaters on the road, thanks in no small part to its novel 'falcon wing' rear doors. But it also boasts an impressive range of up to 360 miles, class-leading self-driving technology and impressive charging speed. What's more, Tesla updated the Model X for 2022 to bring it in line with the latest Model S. The Long Range is the version capable of 360 miles on a charge, while Plaid gets a 340-mile range, but pumps out over 1,000bhp and can accelerate from 0-62mph in 2.5 seconds. Read our full review of the Tesla Model X here.
4. Volvo XC90 Recharge
The Volvo XC90 Recharge is another seven-seater that's surprisingly quick when you put your foot down: an electric motor supports a 2.0-litre engine that's both supercharged and turbocharged, resulting in 448bhp and a 0-62mph time of 5.4 seconds. For 2022, Volvo fitted a larger 18.8kWh battery to the plug-in XC90, so the Swedish seven-seater is now capable of returning up to 235mpg and covering 43 miles on electric power. With all seven seats in operation, there's 262 litres of space in the boot, rising to 640 litres in five-seat mode. Read our full review here.
5. Kia Sorento Hybrid
The Sorento is a large, practical SUV with a bold look all of its own. Like its sister car the Hyundai Santa Fe, the Sorento is available with either full hybrid or plug-in hybrid power. The latter features a 13.8kWh battery and a 1.6-litre turbocharged petrol engine, can return up to 177mpg and has an electric driving range of 35 miles. Meanwhile, the full hybrid can still return a decent 38-41mpg and produces 158-168g/km of CO2. It's one of the largest SUVs we've tested, but still sharp to drive, and practicality is impressive, thanks to over 600 litres of boot space in both versions when the rearmost seats are folded down. Remarkably, the third row is just big enough for adults to sit in. Read our reviews of the hybrid and plug-in versions for more.
6. Citroen e-SpaceTourer
While the e-Berlingo, along with the Peugeot e-Rifter and Vauxhall Combo-e Life, are the more compact electric MPV offerings from their respective brands, the e-SpaceTourer packs enough space to seat nine. Citroen's electric minibus can cover up to 143 miles on a charge thanks to a 50kWh battery, while its electric motor produces 134bhp. The sister car to the Peugeot e-Traveller and Vauxhall Vivaro-e Life is available in two body lengths, M and XL, with the latter added in 2021 for more practicality. Read our full review for more.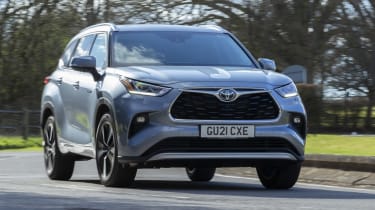 7. Toyota Highlander
While the Toyota Land Cruiser has been available in the UK with seven seats for some time, the Highlander is the first SUV from the Japanese brand to combine that many seats and a hybrid powertrain. It's only available as a regular hybrid, not a plug-in, so fuel economy won't be any better than around 40mpg. However, while it's not as efficient as some entries on this list, we can't knock the Highlander's superb build quality, with leather seats across all three rows and plenty of soft-touch plastics. Plus, even the entry-level version gets heated front seats and steering wheel, three-zone climate control, a glass panoramic roof and a power-operated boot opening. Read our full review here for more.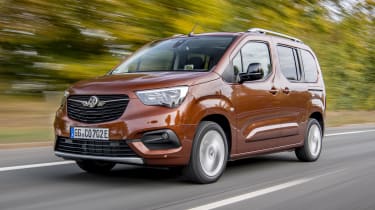 8. Vauxhall Combo-e Life
Vauxhall's zero-emissions entry into the MPV market is the Combo-e Life, which is available in both five and seven-seat configurations. Like its sister models – the Citroen e-Berlingo and Peugeot e-Rifter – the Combo-e Life uses a 134bhp electric motor and 50kWh battery for an estimated 170-mile range. Thankfully, interior space in the Combo-e Life hasn't taken a hit with the switch to electric power, with a surprising amount of room on offer in the seven-seater version, even for taller adults in the third row. The driving experience of the Vauxhall is also smooth and relaxing thanks to its extremely quiet electric powertrain. Read our full review of here for more.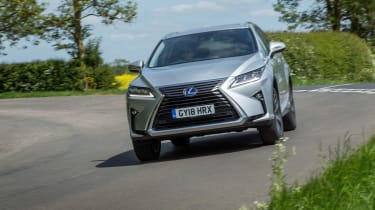 9. Lexus RX L 450h
The seven-seat Lexus RX L sounds exciting on paper, with a 3.5-litre V6 petrol engine working in conjunction with two electric motors to produce 308bhp. However, this hybrid is more about smoothness and refinement than performance and power. With prices starting above £50,000, luxury is the name of the game, and an extra 110mm in length compared to the standard RX boosts boot space accordingly. It's still a bit of a squeeze with all seven seats in use, mind. Read our full review here for more.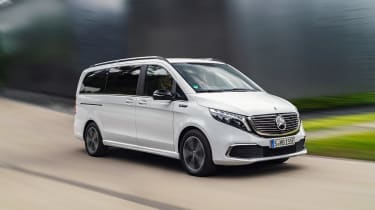 10. Mercedes EQV
A more luxurious take on the 'van-with-windows' recipe, the EQV is the fully electric version of the Mercedes V-Class. Available configured to seat six, seven or eight people, it's largely aimed at the private-hire market, but could well make for a very spacious family car. Performance is decent enough thanks to a 201bhp electric motor, while the battery offers enough charge for a 200-mile range. We're particularly fond of the car's whisper-quiet operation and excellent refinement: perfect for a relaxing airport transfer or family getaway. Read our full review here for more.
Top 10 best hybrid SUVs and hybrid 4x4s 2022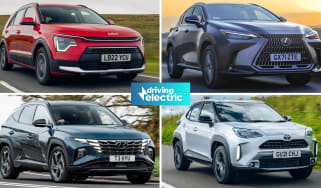 Top 10 best hybrid SUVs and hybrid 4x4s 2022
Can solar panels charge an electric car?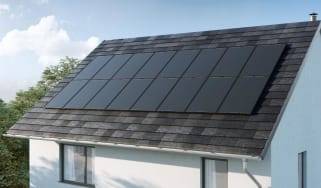 Can solar panels charge an electric car?
Using solar panels to charge your electric car can save you money in the long run. Here's everything you need to know about charging an electric car w…
New MG4 EV electric hatchback starts from £25,995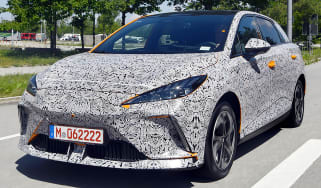 New MG4 EV electric hatchback starts from £25,995
MG's Volkswagen ID.3 rival will be one of the cheapest EVs on sale. We've driven a prototype
Skoda Enyaq iV updated for 2023 model year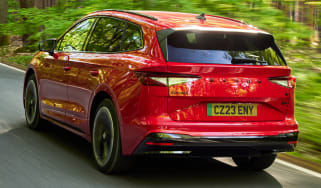 Skoda Enyaq iV updated for 2023 model year
Skoda introduces infotainment upgrades and new option packs to its electric SUV