Top 10 best electric cars for dog owners 2023
Tired of working like a dog to find the ideal EV for you and your furry friend? We list the best models – with help from charity Dogs Trust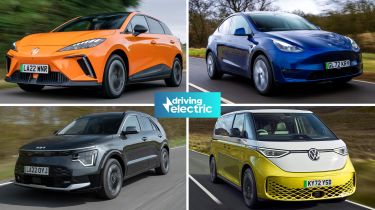 Looking for the perfect electric car for you and your pooch can sometimes feel like you might be barking up the wrong tree. With so many options out there and very little information or advice to take, you're probably looking for someone to throw you a bone – especially given that over a third of UK households have a furry, four-legged family member.
Thankfully, here at DrivingElectric – along with sister publication, Auto Express – we've teamed up with Dogs Trust to find out what makes the best electric cars for dog owners. 
Dogs Trust's Behaviour Officer, Dom Burke, explains that "car travel isn't something a dog would naturally experience. There are lots of crazy sounds [and] vibrations''. With this in mind, the quietness and smoothness of an electric powertrain is certain to provide a much more relaxing experience for your canine companion.
Of course, electric cars come in all shapes and sizes; according to Dogs Trust Manchester's Assistant Manager, Rebecca Smith, "when people sit in a car, they're comfortable if they can stretch their legs and move their arms about. Similarly, a dog should be fine as long as it has something to lie on and space to turn around and get comfortable".
That being said, there's still a lot to consider: will a dog crate fit in the boot? Is my car low enough for my dog to get in and out? What benefits do cars with dog mode have? 
In this top 10, we've picked out the most Fido-friendly electric cars – all boasting one or more handy dog-centric features –  to make sure you and your doggo never have a 'ruff' time out on the road.
The best electric cars for dog owners 2023: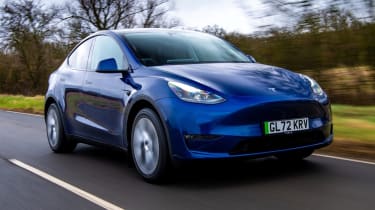 1. Tesla Model Y
The Tesla Model Y is the UK's best-selling electric car, and we also think it's the best in show in our list of the top electric cars for dog owners. Boasting a big rear boot and a decent-sized frunk that's perfect for storing dog leads, what truly sets the Model Y (and all Teslas for that matter) apart is Dog Mode. This allows you to set the cabin temperature and subsequently lock the car and walk away with your dog comfortably relaxing inside. There's no need to worry about vigilantes needlessly breaking into your car to save your dog, either; the Model Y's expansive 15-inch touchscreen displays a cute graphic to say the temperature is just right and that you'll be back soon – a paw-sitively brilliant feature for busy owners.
Read our full Tesla Model Y review to find out more.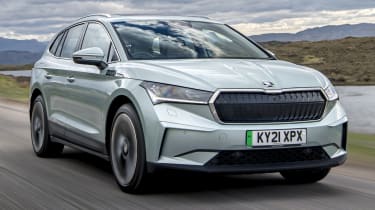 2. Skoda Enyaq
The Skoda Octavia was rated the best car for dog owners by our sister publication, Auto Express – but what if you're after something with a zero-emission powertrain? Well, its electric sibling, the Skoda Enyaq SUV, is a good alternative. Not only does it have a massive boot and several of Skoda's 'Simply Clever' features, the Enyaq is also available with the same Skoda-branded 'dog seatbelt' harness as the Octavia. Big-battery Enyaq 80 models have a maximum range of 339 miles, which is ideal if you're looking to take your dog on holiday.
Partnership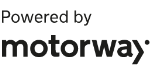 Need to sell your car?
Find your best offer from over 5,000+ dealers. It's that easy.
Read our full Skoda Enyaq review to find out more.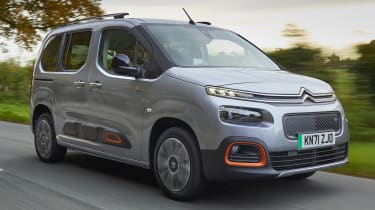 3. Citroen e-Berlingo
If you've got a big dog but a modest budget, then the Citroen e-Berlingo may be a good choice for you. The van-based MPV boasts a cavernous 775 litres of boot space in regular form, with the larger XL model boosting this to over 1,000 litres with five of the seven seats in place. While many cars with such large boots are SUVs, the e-Berlingo has a more traditional ride height, meaning it's easier for smaller and/or less mobile dogs to hop inside. Citroen's air-cushion suspension should be comforting to more nervous individuals, plus an interior filled with hard plastics is sure to stand the test of time, despite not feeling the most luxurious.
Read our full Citroen e-Berlingo review to find out more.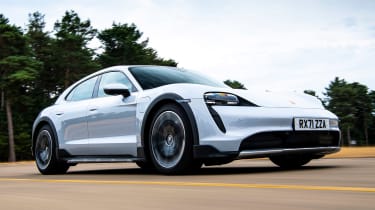 4. Porsche Taycan Cross Turismo
A greyhound amongst a bunch of St Bernards, the Porsche Taycan Cross Turismo is the best car to take your dog to the races – the ones where you drive, that is. With deft handling to match even the 911 sports car, plus powertrains ranging from fast to ballistic, Porsche's first electric car is enough to impress even the most die-hard petrolheads. Thanks to its estate body, the Taycan Cross Turismo is practical enough to transport the entire family and the pup, plus branded dog cages are also available if you absolutely must match your pooch to your Porsche.
Read our full Porsche Taycan Cross Turismo review to find out more.
5. Volvo XC40 Recharge
While we can't guarantee your four-legged friend will go barking mad for the XC40 Recharge's stylish minimalist interior, there are several reasons why going Swedish for your next EV is a shrewd choice if you're a dog owner. Like Skoda (above), Volvo makes its own special dog harness to make sure your pet doesn't go 'walkies' round the cabin. The XC40 and its electric Recharge cousin are also both available with a metal mesh cargo area divider to make sure your hound doesn't think the rear seats are something to hurdle over – unquestionably distracting while you're driving along.
Read our full Volvo XC40 Recharge review to find out more.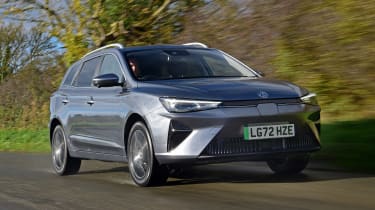 6. MG5 EV
Another solid option if you're looking to keep your spending habits on a tight leash, the MG5 EV is an electric estate car that's the ideal size for owners of small and medium-sized dogs. As with other non-SUV entries on this list, the MG5 has a low load height (although there is a bit of a lip) and with 464 litres of space on offer, there should be plenty of space for Lassie to have a nice lie down. A range of over 250 miles is impressive for an electric car that starts from just over £30,000, as is the MG's seven-year/80,000-mile warranty, which should help keep the 5 in tip-top shape for years to come. Remember, a car is for life, not just for Christmas.
Read our full MG5 EV review to find out more.
7. Volkswagen ID. Buzz
If you've got a big dog but are looking for something with a bit more style than the Citroen e-Berlingo offers, then the retro Volkswagen ID. Buzz might be just the people carrier for you and your pooch. It's only available in five-seat form at the moment – that's no issue, though, as the ID. Buzz boasts a cavernous 1,121-litre boot, which should be enough to carry almost any dog breed in comfort. The load lip is pretty low which means even our less mobile four-legged friends can hop in with no problem, plus a 258-mile range and lots of standard kit means it's a useable family car, too
Read our full Volkswagen ID. Buzz review to find out more.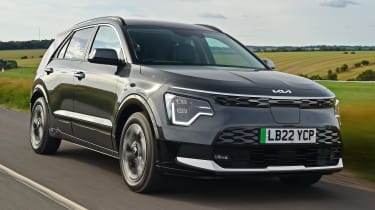 8. Kia Niro EV
The Kia Niro EV is an attractive family car in its own right; a competitive range figure, a slick technology setup, attractive looks and a seven-year warranty make the Kia a hard proposition to resist. However, a roomy 451-litre boot also makes the Niro EV a solid choice for dog owners – especially if they aren't after something too big. While many electric cars have firm suspension to deal with the extra weight of the batteries, the Niro's setup is pretty supple, which should make it suitable for more nervous dogs and their owners, too.
Read our full Kia Niro EV review to find out more.
9. MG4 EV
We here at DrivingElectric admit that electric cars are still, even today, pretty expensive. The majority of the models costing under £30,000 are all small city cars that aren't really suited to dog owners – that is, other than our 2023 Car of the Year, the MG4. The MG is roughly the size of a Volkswagen Golf, which makes it spacious enough for the whole family – including the dog. It drives well, too, and is available with several different powertrains depending on your needs and budget; there's an Extended Range version that can do 323 miles on a charge, as well as a high-performance XPower model that does 0-62mph in just 3.8 seconds.
Read our full MG4 EV review to find out more.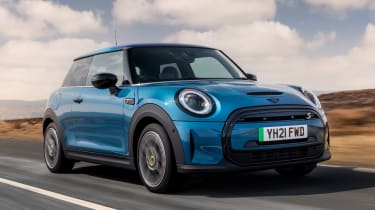 10. MINI Electric
The MINI Electric may seem like an odd choice to appear on the list of the 'best cars for dog owners' – especially given the boot is only really big enough to transport a chihuahua. However, MINI as a brand has partnered up with Dogs Trust to create dog-friendly showrooms, as well as several MINI-branded dog accessories. If the three-door Electric isn't quite large enough for your lifestyle, it's worth noting a new model is coming out soon, as well as an all-electric version of the Countryman SUV.
Read our full MINI Electric review to find out more.
Top 10 best cars for dog owners 2023
BMW i4 facelift to topple Tesla with huge range and tech upgrades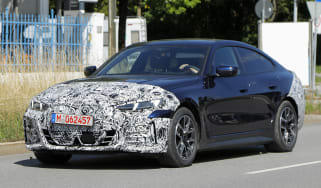 BMW i4 facelift to topple Tesla with huge range and tech upgrades
An updated version of the BMW i4 has been spotted testing, likely sporting a longer range and the latest technology
Electric BMW iX2 is set to take the kidney grille to the next level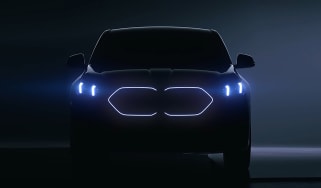 Electric BMW iX2 is set to take the kidney grille to the next level
BMW has teased the highly-rumoured iX2 coupe-SUV, which has been revealed to get enlarged illuminated kidney grilles