2020 BMW 330e Touring: prices, spec and on-sale date
The plug-in hybrid BMW 3 Series is now available in Touring estate guise, with optional four-wheel drive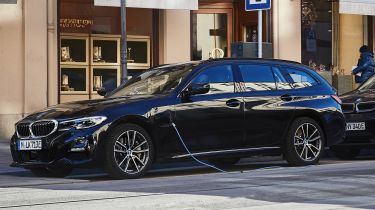 This is the BMW 330e Touring, the long-awaited estate version of the plug-in hybrid 3 Series. The car is available in a number of trim levels and with a choice of rear or 'xDrive' four-wheel drive. Rivals include plug-in versions of the Volvo V60 and Mercedes C-Class Estate.
The 330e Touring is part of a rapidly growing line-up of BMW plug-in hybrids, which includes the X1 and X2 small SUVs, plus the bigger X3 and X5 SUVs, the 530e and 745e executive saloons and the 225xe people carrier.
The range starts with the SE model, which is priced at £41,530, or £43,080 with xDrive four-wheel drive. Sport costs £42,930 (or £44,480 with xDrive), while M Sport comes in at £43,635 (£45,185 with xDrive). Most expensive is the £48,135 M Sport Pro Edition, which is £49,685 with xDrive.
SE cars get a decent level of standard kit that includes 17-inch alloy wheels, cloth or leatherette upholstery and an 8.8-inch central infotainment screen; Sport adds 18-inch alloys and heated leather seats, while M Sport cars get styling upgrades, BMW's Live Cockpit digital display and the most up-to-date 10.25-inch central infotainment screen as standard. As ever, buyers can pick and choose equipment by adding optional packages to all models. 
Like the 330e saloon, the 330e Touring is powered by a 249bhp 2.0-litre, four-cylinder, petrol-electric hybrid drivetrain, whose power can be boosted to 288bhp for short bursts of up to 10 seconds using the 'XtraBoost' function. Output is the same across the saloon and Touring, rear-wheel-drive and four-wheel-drive models.
The rear-wheel-drive 330e Touring accelerates from 0-62mph in 6.1 seconds (a tenth slower than the saloon) and has a maximum speed of 136mph (down from the saloon's 143mph). With four-wheel drive, the corresponding figures for the Touring are 0-62mph in 5.8 seconds and a top speed of 139mph.
Claimed fuel economy and emissions are impressive: two-wheel-drive SE models return a claimed 188 to 202mpg, with CO2 emissions of just 32g/km. Even the fully loaded, four-wheel-drive M Sport Pro Edition car manages claimed figures of 157mpg and 42g/km of CO2. All-electric range varies slightly between trim level, getting as high as 37 miles in SE cars.
For both the rear and four-wheel-drive 330e, in 'Hybrid' mode maximum speed on electric power is 68mph, the same as the saloon. Choosing 'eDrive' mode, which prioritises the electric motor, increases the maximum zero-emissions speed to 87mph.
Charging is carried out on the move using brake-energy recuperation, or at home from a BMW i wallbox, which can replenish the battery to 80% capacity in 2.4 hours, or 100% in 3.4 hours. Charging from a regular domestic electricity socket is also possible, with corresponding charge times of 4.2 and 5.7 hours for an 80 or 100% charge respectively.
Petrol and diesel versions of the 3 Series estate boast 500 litres of boot space with the rear seats in place, and 1,500 litres with them folded. BMW has not yet specified a 'seats up' figure for the hybrid estate, but the 'seats down' figure drops to 1,420 litres.