Mercedes E-Class Estate hybrid review
The Mercedes E-Class is one of the few large hybrid estates available. Unusually for a plug-in hybrid, it's based around a diesel engine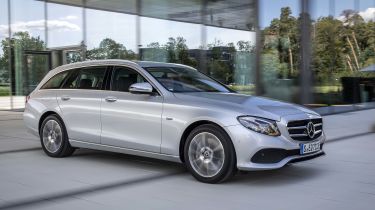 Pros
Potential for great efficiency
Low company-car tax rates
Very comfortable
Cons
Heavy car
Expensive to buy
Batteries affect boot space
| Car type | Electric range | Fuel economy | CO2 emissions |
| --- | --- | --- | --- |
| Plug-in hybrid | 32 miles | 177-188mpg | 36g/km |
Mercedes is currently the only manufacturer to offer plug-in hybrid drivetrains that incorporate a diesel engine – and the E-Class is one of few models in the range to feature it as an option. While the E-Class saloon gets the option of petrol hybrid power in the form of the E 300 e, the Estate only gets the diesel hybrid option, badged E 300 de, one of the best hybrid estate cars we've tested. The trim line-up is simple – you can choose between SE and AMG Line models, with the latter adding a little more standard equipment and sportier details.
The E 300 de is powered by a combination of a 2.0-litre diesel engine producing 191bhp and an electric motor with 121bhp. Combined output is a healthy 302bhp and maximum torque is 700Nm. A 13.5kWh battery sits under the boot floor and allows for decent all-electric range – just under 30 miles – with a full recharge taking less than two hours from a 7.4kW wallbox. Read about our time living with the E 300 de saloon to see how we fared with real-world efficiency.
As with many plug-in hybrids, a number of driving modes are available to make the most of the E 300 de's drivetrain. The car can be configured to maintain its level current level of charge – perfect for long journeys ending in an urban crawl – or to replenish its battery using internal-combustion-engine power. The system can also be set up to maximise performance, or simply juggle between electric and diesel power as it sees fit for maximum efficiency.
It's that automatic setting that most E-Class hybrids will spend most of their time in, and that's no bad thing. The car switches between power sources smoothly thanks to a well-calibrated nine-speed transmission – many would be hard-pressed to tell they were driving anything other than a very refined diesel car.
Elsewhere, the hybrid E-Class Estate does everything more or less just as well as its purely internal-combustion stablemates. A luxurious, technology-laden cabin and well judged ride quality make the E 300 de a perfect long-distance cruiser, while there's more than enough space for four adults to travel in comfort.
However, it feels heavier than some other cars in the range and so isn't quite as deft in corners; with an extra 300kg on board, the E-Class hybrid can feel a little held-back in a straight line, too. A BMW 530e is still a far more appealing choice for those who like some driving thrills from their executive hybrid saloon – but then that car isn't available as an estate. Those heavy batteries also have the side effect of robbing some space in the boot – 640 litres in the regular E-Class Estate becomes 480 litres in the hybrid.  
The E 300 de's real strength lies in its flexibility – a 50mpg motorway cruise is achievable on diesel power alone, with that decent electric range held in reserve for silent, clean city driving. It'll also suit company-car users down to the ground – very low Benefit-in-Kind rates make it a shrewd choice, especially for the many company drivers who do high mileage so will benefit from the diesel Merc's decent economy. It'll be pricey in the first instance for private buyers, however, and the options list is expensive – lots of desirable features (like keyless entry and adaptive cruise control, for example) are bundled into packs that can cost thousands.