Complete guide to the Osprey (formerly Engenie) charging network
Everything you need to know about charging your car on the Osprey network – formerly known as Engenie
Osprey is an electric-car charging network that's spread across the UK, excluding Northern Ireland. The company was formerly known as Engenie but rebranded to Osprey in autumn 2020. The change of name coincided with significant expansion for the firm, which includes the planned installation of 2,000 chargers in the UK by 2024.
Osprey's network is mostly made up of 50kW DC rapid chargers offering CCS and CHAdeMO connections, as well as some slower AC chargers using a Type 2 connection. These are the universal socket types for all modern electric cars, so will be compatible with all new models.
There's no need to register with Osprey – all of its charging points are activated with simple contactless payment using your debit card or smartphone, and it all of the electricity it provides is from renewable sources.
While it's far from the largest charging network, it has been credited as being one of the easiest networks to use and came seventh in the Driver Power Top 10 charging point providers. It was also the fastest-growing independent rapid-charging network in 2020, growing from 49 to 132 sites around the UK.
How much does charging cost?
Charging costs 36p/kWh at Osprey rapid chargers, which means a 20-80% top-up on a car with a 50kWh battery, such as the Peugeot e-208 and Vauxhall Corsa-e, would cost just under £11. Osprey has eight 'legacy' chargers in various locations, which use a Type 2 connection (that you have to provide the cable for, unlike the DC rapid chargers) but can still charge at up to 43kW. These are charged at a £5 flat rate.
You can also pay for a top-up at an Osprey point using various third-party accounts, including a Shell Recharge card, a New Motion card, Audi's e-tron Charging Service, Plugsurfing and the Allstar One card. 
How fast can I charge?
Most Osprey chargers offer up to 50kW charging from a DC rapid connection that uses the European standard CCS or CHAdeMO connection points. This will deliver 100 miles of range in around 45 to 60 minutes depending on the temperature and your car's battery condition. Osprey also has a handful of Type 2 chargers that offer up to 43kW charging rate, although very few electric cars are able to take advantage of that charging rate via a Type 2 socket – most will only charge at 7.4kW from this socket type, unless they've been upgraded.
Top 10 best plug-in hybrid cars 2022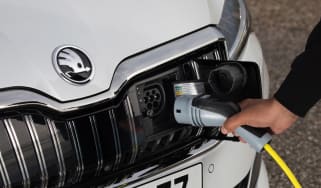 Top 10 best plug-in hybrid cars 2022
Plug-in hybrid cars are great for keeping fuel and company-car tax bills low. Here are the best ones to buy in the UK right now
Top 10 best luxury electric cars 2022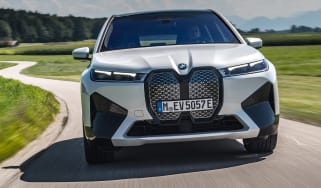 Top 10 best luxury electric cars 2022
From Audi to Tesla, here are our top picks of the most luxurious zero-emissions motoring options on the market right now
Top 9 best small electric cars 2022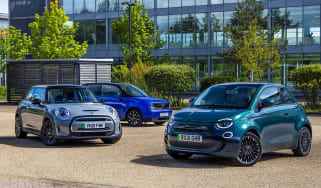 Top 9 best small electric cars 2022
Small electric cars make a lot of sense for commuting, city life and saving big on running costs. We pick out the best ones to buy in the UK right now