Hybrid vans explained: top models, running costs, pros and cons
Find out if a hybrid van is right for you or your company with our guide to what they are and why you might choose one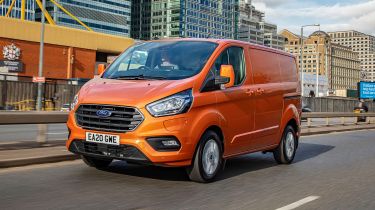 It's not just new car buyers that are switching to electric power in droves – the van market is also undergoing a transformation at the moment. Many fleets are being switched to electric power, which is ideal for last-mile deliveries and local use. However diesel is still king for longer trips – it's just far more practical right now. But there's also a third option.
Hybrid vans are a relatively new type of commercial vehicle that bring extra flexibility and the longer range of a model with an engine, but with the potential for zero-emissions deliveries and low running costs around town. There are different types of hybrid vans: some that can be plugged in and some that don't need to be, but the majority are the former, where you can charge up the battery to benefit from all-electric driving modes.
Even the Ford Transit Custom, one of the biggest names in the van world here in the UK, is available as a plug-in hybrid. It's not just the panel van version either, because the Ford Tourneo Custom minibus is also available as a hybrid.
London taxi maker LEVC has also joined the market recently with its plug-in hybrid VN5. Read on to find out more about hybrid vans and why you might or might not benefit from running one.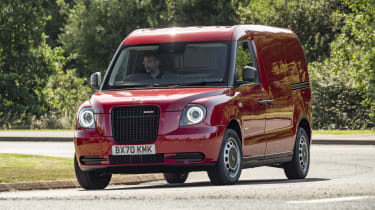 What is a hybrid van?
A hybrid van (or hybrid light commercial vehicle, LCV) uses the same technology as a hybrid car: there's a normal petrol or diesel engine (although petrol is far more common here) attached to an electric motor fed by a large battery pack. In most cases, the electric motor is able to drive the van entirely separately from the engine, allowing a driving mode where the engine is switched off. The benefit over an electric van, though, is that you can still top up with fuel and drive as far as you need to without having to stop to recharge.
The three main types of hybrid van are the 'traditional' (sometimes called self-charging) hybrid, range extender hybrid and plug-in hybrid model. The first uses the engine and regenerative braking to harvest small amounts of energy back into a smaller battery. These models are not that common in the van world, although there are some examples, including the Toyota Corolla Commercial.
A plug-in hybrid is a model that can be charged up using a plug and a lead, and these versions usually have a much larger battery and therefore a longer driving range on electric power alone. Traditional hybrids have a range of a mile or so on electric power but you might see up to about 30 miles in a plug-in hybrid vehicle (PHEV).
Range extender models are pretty similar - they have an engine and an electric motor, but the difference is that the engine never drives the wheels directly, instead being used as a generator to charge the battery. For example, the popular Transit Custom and Tourneo Custom PHEVs use a 1.0-litre three-cylinder EcoBoost petrol engine to charge the lithium-ion battery under the floor of the van. These models have a range of about 31 miles on electric power alone, but you can drive for about 310 miles with a full tank of petrol - even though the little engine doesn't actually drive the wheels of the van directly.
Partnership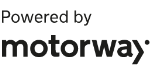 Need to sell your car?
Find your best offer from over 5,000+ dealers. It's that easy.
The Transit Custom PHEV was the first plug-in hybrid light commercial vehicle from a volume manufacturer. Before it was put into production, Ford conducted a 12-month trial by loaning 20 examples to various businesses in UK urban areas. Companies and organisations that took part included parcel delivery firm DPD, utility British Gas, Transport for London (TfL) and even the Metropolitan Police.
Another firm that builds a plug-in hybrid, range-extender electric van is LEVC (the London Electric Vehicle Company). Its VN5 van is based on the LEVC TX taxi, using the same 1.5-litre three-cylinder petrol engine sourced from Volvo, with an additional electric motor used to power the rear wheels.
The van has a 61-mile pure-electric range, which is boosted to 300 miles by the 1.5-litre petrol engine acting as a range extender. That translates to claimed average fuel economy of over 300mpg and official CO2 emissions of just over 20g/km, while LEVC reckons the VN5 will be able to perform a day's work for almost any operator without needing to be refuelled or recharged.
If you don't need quite a large loadbay or payload, the Toyota Corolla Commercial is a two-seat business-focused version of the Corolla Touring Sports. It's a hybrid rather than a plug-in hybrid; it doesn't offer the low running costs or electric driving of the PHEV vans, but is cheaper to buy and doesn't need to be plugged in.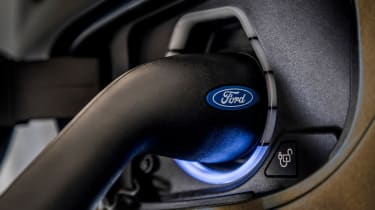 What are the benefits of a hybrid van?
London alone sees over 250,000 commercial journeys made every day, partly thanks to the growth in online shopping. In congested cities with a lot of stop-start traffic, a hybrid van is ideal, as braking helps recharge the batteries, thus saving fuel. They also improve the local air quality in city and town centres.
Like electric vans, occupants may notice a difference in how a hybrid van drives. When running on electric power, your van will offer a much smoother and more refined experience, as the motor produces little noise or vibration.
Hybrid vans generally have a higher payload than fully electric vans, as they have smaller batteries. This means they're able to transport more goods, and need to make fewer trips than their fully electric counterparts.
What are the disadvantages of a hybrid van?
Hybrid vans are more expensive to buy than familiar diesel vans, so you'll need to make sure to plug in and run on electric power as much as possible if you're going down this route to save some money.
That's especially true now that you're likely to find that a hybrid van no longer meets the government's plug-in van grant requirements. Up until March 2021, hybrid vans were eligible for discounts, but that's no longer the case. Electric vans are still eligible, with a £2,500 discount on selected small vans including the Citroën e-Berlingo, Nissan e-NV200 and Renault Kangoo E-Tech and a £5,000 grant for some larger vans including the Citroën e-Relay, Vauxhall Vivaro-e and Ford E-Transit. If they fit your business use patterns, they could end up costing little more (or possibly even less) than a hybrid or diesel alternative. We have a list of the best electric vans if you're interested in ditching petrol power altogether.
It's also worth remembering that the quoted electric range figures are based on empty vans; they won't be so efficient when fully laden. Speaking of which, you're likely to find that payloads and towing capacities for plug-in hybrid models are lower than those of diesel vans, too.
Best hybrid vans
With many vans skipping straight to full electric or even hydrogen power, choosing between the best hybrid vans won't take very long as there aren't many of them. The main players are the Ford Transit Custom Plug-In Hybrid and the LEVC VN5, or there's the Toyota Corolla Commercial.  
Top 10 best hybrid company cars 2023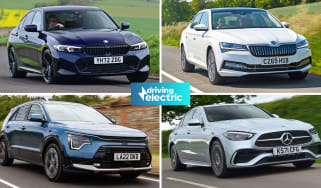 Top 10 best hybrid company cars 2023
How much is the Benefit-in-Kind company-car tax on an electric car?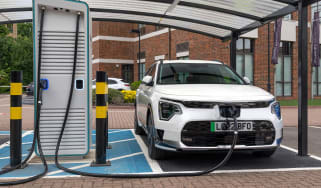 How much is the Benefit-in-Kind company-car tax on an electric car?
Hyundai Ioniq 6: full prices and specs revealed
Hyundai Ioniq 6: full prices and specs revealed
BMW i4 facelift to topple Tesla with huge range and tech upgrades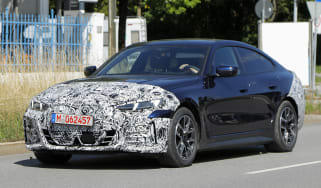 BMW i4 facelift to topple Tesla with huge range and tech upgrades
An updated version of the BMW i4 has been spotted testing, likely sporting a longer range and the latest technology
Electric BMW iX2 is set to take the kidney grille to the next level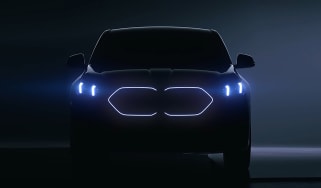 Electric BMW iX2 is set to take the kidney grille to the next level
BMW has teased the highly-rumoured iX2 coupe-SUV, which has been revealed to get enlarged illuminated kidney grilles