Skoda Superb iV vs Peugeot 508 Hybrid: interior and infotainment
Both are comfortable, spacious and well equipped inside, with Skoda winning the quality contest and Peugeot the award for style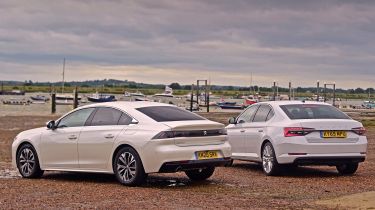 The Skoda Superb and Peugeot 508 are quite different propositions inside and will appeal to different kinds of buyers. The French car boasts a futuristic layout that's different to anything else on sale; the sweeping dashboard is the most extreme expression of the brand's bold interior design language and largely works well, with a 12.5-inch driver's display mounted above the small wheel joined by a central 10-inch screen on the high-rise centre console. The seating position is low and while it won't suit all, we found it comfortable. Build quality is great, but the Skoda just edges it.
Skoda has taken a more traditional and familiar approach, with an interior that feels sensibly styled and much more about function than form. The materials used seem higher-quality than those in the Peugeot, but the overall layout doesn't feel as special.
The slick central infotainment display works well in conjunction with the Virtual Cockpit digital dials (optional on our SE L test car); neither is as showy as the Peugeot's, but some buyers may prefer this. The Superb lacks the sporty feel of the 508 from the driver's seat – you don't feel quite as cocooned in its cabin – but the driving position is comfortable all the same.
Both cars benefit from Android Auto and Apple CarPlay smartphone connectivity, while the Skoda also features Amazon Alexa integration, with Google Home support on the way. Each car has its own smartphone app, too; MyPeugeot lets you see the car's range, charging status and fuel consumption stats, as well as allowing for the remote scheduling and control of charging alongside cabin pre-heating or cooling. The Skoda Connect app, meanwhile, offers more or less the same functionality.