Skoda Superb iV vs Peugeot 508 Hybrid: space and practicality
As large hatchbacks with lots of space inside, the 508 and Superb are very practical cars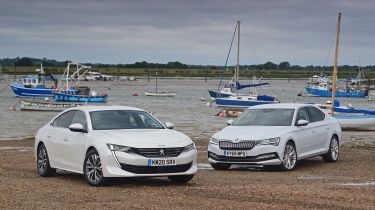 Unless you really need to carry a dog or large, square items, these two cars are more than spacious enough for four people and their luggage and have the potential to make excellent family cars for those not keen on SUVs. 
Ordinarily the Superb would take the boot-space spoils in a contest like this, but with the addition of its hybrid system, the boot has shrunk from 625 to 485 litres – just a couple of litres off that of the Peugeot, whose boot remains the same size regardless of which powertrain is fitted.
Skoda wins when the rear seats are folded down, however, with its less rakish roofline allowing for 1,610 litres of space versus the Peugeot's 1,537 litres. However, in practice, both cars are equally easy to load thanks to their vast bootlids; neither will leave you disappointed at the supermarket or on an airport run. 
Impressive legroom has always been a Superb calling card and it's no different on this plug-in version: the car's long wheelbase means there's more space in the back than you get in the 508. There's more headroom, too, while the more sensible roofline should also make getting small children in and out of child seats a less arduous task in the Skoda. Still, the 508 isn't overly cramped in the rear.