Skoda Superb iV vs Peugeot 508 Hybrid: range, charging and fuel economy
Near-identical electric ranges and real-world MPG figures mean there's not much to separate these rivals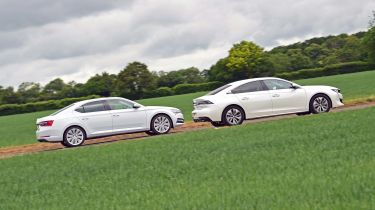 The Peugeot 508 Hybrid uses a 1.6-litre turbocharged petrol engine in conjunction with an electric motor and an 11.8kWh battery, good for a pure-electric range of 39 miles. The Skoda uses a smaller 1.4-litre petrol unit that's older and less sophisticated than that used in the Peugeot, and while the hybrid system's battery is bigger at 13kWh, claimed range tops out at 38 miles. Still, this is a negligible difference in real-world use. 
We tested each of these cars with a full tank of fuel and a fully charged battery, leaving each in hybrid mode to assess total range and real-world economy. The Peugeot achieved 45.8mpg, with a diesel-like effective range of 625 miles thanks to its larger fuel tank, while the Skoda only proved slightly less efficient, with 44.5mpg and a 489-mile range. 
Remember, economy will drop significantly if you let the battery run flat in either car – and you're unlikely to get anywhere near the official three-figure mile-per-gallon figures unless you spend a lot of time in pure-electric mode.
Charging
The Peugeot uses a 3.7kW on-board charger as standard for a wallbox charge time of under four hours, but this can be cut by picking the 7.4kW option from the option list, for a charge in around an hour and 45 minutes.
The Skoda lacks any faster option than its standard 3.6kW on-board charger, which using a standard home wallbox will provide a full charge in around three-and-a-half hours. A charge from a three-pin domestic socket will take around five hours.