Skoda Superb iV vs Peugeot 508 Hybrid: performance and handling
Refinement and flexibility come as standard with both cars, but the Skoda is the most well rounded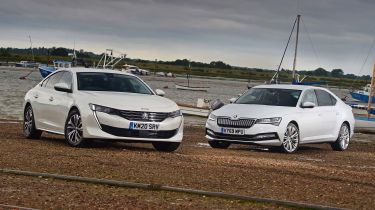 With their reliance on smooth, near-silent, torquey electric motors, both the Skoda and Peugeot offer satisfyingly effortless pure-electric running, as well as decent electrically assisted performance once their petrol engines kick in.
The 508's hybrid system generally works well; there's very little noise when operating in electric mode and once the engine awakens, the electric motor takes up much of the slack and keeps things feeling refined. Gearchanges are also smoothed out by electric assistance, meaning things feel smoother than in an equivalent petrol-powered 508 with the same automatic gearbox.
However, we did find that when the hybrid system's battery is depleted, the car can surge slightly when the petrol engine kicks in, even on a constant throttle. Keep the battery charged and you'll enjoy plenty of performance: 0-62mph takes 8.3 seconds and there's plenty of that electric-motor torque to be enjoyed.
The 508's generally smooth powertrain is matched by a relaxed and pliant ride. The car is set up on the softer side and so stops short of feeling dynamic and sporty, but there's plenty of grip and the steering is quick and accurate. 
The Skoda Superb offers a similar combination of traits, albeit with punchier performance thanks to its more powerful electric motor and snappier dual-clutch gearbox; 0-62mph takes 7.7 seconds. There's a similar level of refinement when driving in pure-electric mode but the Superb's petrol engine makes itself heard a bit more when revved hard. Aside from this, there's not much to separate the two drivetrains when it comes to noise and smoothness.
Where the Peugeot focuses on comfort, the Skoda is set up a little firmer. The payoff is more precise steering, better body control and a feeling of greater agility and grip in corners. It's a compromise we prefer, but many buyers of cars like these will prefer the more cosseting ride of the Peugeot.