Skoda Superb iV vs Peugeot 508 Hybrid: verdict and specifications
These cars are closely matched in most areas, but the Skoda offers the best all-round package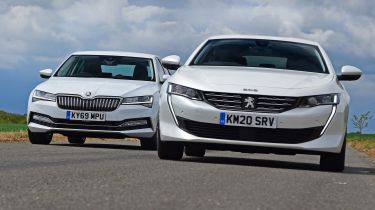 With little to separate them when it comes to efficiency, this battle is fought over other considerations. The Skoda is the more practical proposition, but is also more expensive to buy than the Peugeot; the difference is less stark for company-car drivers, however, who form the more realistic market for these cars. 
The Peugeot is the more comfortable of the two, but you'll have more fun driving the Skoda, which can still be considered a comfortable car by most people's standards. Standard equipment is generous in each case, there's plenty of safety kit and reliability should be more or less the same, perhaps tipped slightly in Peugeot's favour according to customer surveys.
1st: Skoda Superb iV – 4.5 stars
The Superb edges to victory here thanks to its more rounded driving experience and more practical boot and interior. Quality is slightly better than in the Peugeot, too, but the pair are pretty evenly matched everywhere else. The Skoda should be cheaper to insure than the Peugeot, however.
2nd: Peugeot 508 Hybrid – 4 stars
We love the way the 508 looks inside and out, and thankfully this style is backed up by plenty of substance. Its hybrid system feels well engineered and its chassis is tuned to offer more comfort than you get in the Skoda, albeit at the expense of some control and agility. That sloping roof impacts on practicality a little however, and while it's cheaper to buy, the 508's residuals aren't quite as strong.
Specifications
| Car | Skoda Superb iV 1.4 TSI SE L | Peugeot 508 Hybrid 225 e-EAT8 Allure |
| --- | --- | --- |
| List price | £36,035 | £34,890 |
| Monthly finance (PCP / business lease) | £532 / £390 | £750 / £460 |
| Engine | 1.4-litre petrol + electric motor | 1.6-litre petrol + electric motor |
| Transmission | Six-speed auto, front-wheel drive | Eight-speed auto, front-wheel drive |
| Battery capacity | 13kWh | 11.8kWh |
| Power / torque | 215bhp / 400Nm | 222bhp / 250Nm |
| 0-62mph | 7.7 seconds | 8.3 seconds |
| Top speed | 138mph | 155mph |
| 100% charge cost at 14p/kWh | £1.87 | £1.70 |
| Charge time (wallbox) | 3hrs 30mins | 1hr 45mins |
| Official MPG / CO2 emissions | 148.7-217.3mpg / 30g/km | 166.2-235.4mpg / 29g/km |
| On-test MPG (full battery + full tank) | 44.5mpg | 45.8mpg |
| Road tax / BiK rate  | £140 / 10% | £140 / 10% |
| Length / width / height / wheelbase | 4,869 / 1,864 / 1,468 / 2,841mm | 4,750 / 1,859 / 1,403 / 2,793mm |
| Boot capacity (seats up) | 485 / 1,610 litres | 487 / 1,537 litres |