Twin test: Skoda Superb iV vs Peugeot 508 Hybrid
Whether you're looking for a company car or family car, these two large hatchbacks are great electrified options. But which is best?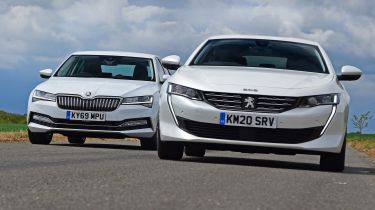 As was the case with SUVs, large family-car models such as the Skoda Superb and Peugeot 508 were most commonly offered with diesel power. The resulting combination of relaxed, low-effort performance and low running costs made perfect sense – right up until governments started changing their minds about the fuel.
Today, electrification is key and an increasing number of large cars are gaining a plug-in hybrid option alongside their traditional petrol and diesel counterparts. Small petrol engines assisted by electric motors and a rechargeable battery make for low CO2 emissions and, in the right conditions, low fuel economy, too.
Still relatively expensive to buy outright when compared to a petrol or diesel equivalent, a plug-in hybrid is best suited to those who can benefit from their low CO2 emissions, which equate to low Benefit-in-Kind (BiK) company-car tax rates.
These cars have similar electric ranges and each is packed with clever technology that puts efficiency to the fore. Both stand as cut-price alternatives to more prestigious brands' offerings, too, so there's a focus on quality, comfort and refinement that's usually reserved for some much more expensive cars.  
Skoda Superb iV 1.4 TSI SE L
Pros: Spacious, well built, good to drive
Cons: More expensive to buy, firmer ride, not as stylish
Peugeot 508 Hybrid 225 e-EAT8 Allure
Pros: Comfortable ride, refined, good value
Cons: Not quite as spacious, lower residuals, slightly lower-quality interior
With such closely matched specifications across the board, the Skoda Superb iV and Peugeot 508 Hybrid are hard to pick between. The Superb has the upper hand when it comes to space, but Peugeot knows how to make a great-driving and well equipped car; here, we'll figure out which is most worthy of your money.