BYD Atto 3 review
Chinese electric-car giant BYD is coming to the UK later this year, and its MG ZS EV rival will be the first to arrive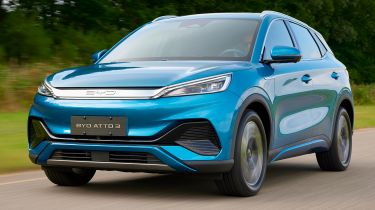 Pros
Comfortable
Spacious cabin
Interior design
Cons
Average charging speeds
Wind noise
UK pricing still TBC
| Car type | Range | Wallbox charge time | Rapid charge time |
| --- | --- | --- | --- |
| Electric | 261 miles | 8hrs (0-100%, 7.4kW) | 29mins (30-80%, 88kW) |
BYD is the latest Chinese electric carmaker with its sights set on Europe. But unlike NIO, who so far has only managed to establish itself in Norway, BYD has announced it plans to begin selling cars in the UK by the autumn. 
The EV giant will be bringing its electric saloon, the Han, to Europe along with a large zero-emissions seven-seat SUV called Tang, but right now the only model we know is coming to British shores is this: the Atto 3.
But the Atto 3 isn't just going on sale this year, BYD (which stands for Build Your Dreams) insists that it should be able to start deliveries of its electric family SUV to UK customers by the end of 2022. At which point, it'll face off against the likes of the MG ZS EV and Kia Niro EV, as well as zero-emissions hatchbacks including the VW ID.3 and MG4 EV.
At 4.45 metres long, the Atto 3 (named after a measurement of time) is more than 10cm longer than the ZS EV but shorter than VW's ID.4. Underneath the flowing bodywork of the Atto 3 is BYD's bespoke EV underpinnings, called e-Platform 3.0, which can accommodate front, rear and all-wheel drive motor setups and even an 800-volt electrical system – like the Porsche Taycan – for ultra-rapid charging. 
However, the Atto 3 misses out on the latter, likely to reduce the price and complexity. That means rapid charging speeds top out at just 88kW, which is on par with its Niro EV and ZS EV rivals – falling some way short of the 135kW maximum of an ID.4. BYD claims a 30-80% top-up from a suitable fast charger will take 29 minutes. 
Meanwhile, a single electric motor is used to power the front wheels, producing 201bhp and 310Nm of torque; enough for 0-62mph in 7.3 seconds, according to BYD.
In other territories, the Atto 3 is available with two battery sizes – 48kWh and 60kWh – though we expect only the larger unit will be offered in the UK, which is good for a range of 261 miles. The standard-fit heat pump should help maintain that range figure in the cold months, too.
Our brief drive in the Atto 3 took place on a Dutch former airfield, so we can't say how it'll behave on British roads just yet, but the test was enough to reveal considerable promise. Power delivery from the electric motor was smooth and linear, plus BYD appears to have nailed the transition between energy recuperation and the conventional brakes – something some brands have yet to perfect. There's a little bit of electric-motor whine under hard acceleration, but you'd find that in many other front-wheel drive EVs.
The steering is perhaps the chink in the Atto 3's armour. You can pick between 'Normal' and 'Sport' but, a difference in weight aside, the set-up still feels vague and slow to respond. We'd like just a bit more bite around the straight ahead and some heft to the steering that falls somewhere in between the two settings already offered.
We suspect there might be a bit of body roll if you really hurl the Atto 3 at a corner and aren't careful with your speed, but around town and in most everyday situations you'll find it comfortable and composed. Only the roughest expansion joints between concrete road sections made it through to the cabin. We were more bothered by the amount of wind noise generated around the side mirrors, which became noticeable at 40mph. We'd expect it to be fairly annoying at motorway speeds.
Inside, you might be surprised by how smartly finished the Atto 3 is, with plenty of soft-touch materials in all the key areas and elements that seem to have been designed to make a statement, like the central air vents, flowing dashboard design and 'guitar strings' that form the door side pockets. Combined, they give the cabin a bit more flair compared to, say, the interior of an MG ZS EV. The BYD also gets that slightly elevated driving position SUV buyers want, without ever approaching full off-roader status.
The heart of the cabin is a crisp 12.8-inch touchscreen infotainment system that can rotate between portrait and landscape orientation, much like the unit in the Fisker Ocean SUV. You can control it via the screen or a steering wheel-mounted button; BYD suggests you'll want to use the screen upright for navigation and landscape for music. However, we suspect drivers will just pick one orientation and leave it. You also get a 5-inch digital instrument panel behind the wheel.
At the moment, the Atto 3 doesn't support Android Auto or Apple CarPlay, but the BYD team hinted that it'll be added later down the line, potentially as part of an over-the-air update after launch. Until then, the car's interface resembles that of an Android smartphone; it's pretty, but potentially a bit fiddly. Some customers may also find the Atto 3's various musical jingles a little wearing, but hopefully BYD will provide some alternatives for customers to choose from.
The Atto 3's cabin is very spacious, given its compact footprint. There's room on board for five six-footers, even with the panoramic glass roof that comes as standard. Boot capacity is a very respectable 440 litres, and can be expanded to 1,338 litres when the rear seats are folded down. Do this and you'll find a step in the floor, though you can use the adjustable height to make a slightly smaller but reasonably flat load bay. There's a little bit of extra space under the boot floor, too, that's ideal for storing your charging cables, but no 'frunk' under the bonnet.
We've yet to be issued with exact UK pricing and specs for the Atto 3, but BYD has confirmed the electric SUV will start from €38,000 in Europe. That equates to roughly £34,000 at the time of writing, which is around the same price as a top-of-the-line MG ZS EV or entry-level Niro EV. 
We'll refrain from passing final judgement on the BYD Atto 3 until we've had a chance to drive it on the roads in Britain and find out the UK starting price. But our first impressions are that the Atto 3 has the potential to start the BYD brand out on the right foot when it launches here. This might be one EV you'll want to keep your eyes on.