Vauxhall Vivaro-e Life electric minibus: details, specifications and prices
Up to nine-seater minibus version of fully electric Vivaro-e van starts from £30,295 after the plug-in car grant has been applied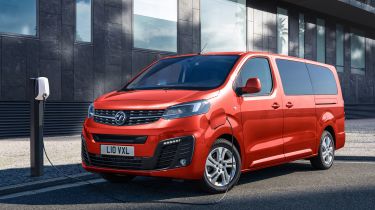 The Vauxhall Vivaro-e Life – a minibus version of the brand's Vivaro-e panel van – has been revealed. Seating up to nine, it's a sister model to the Peugeot e-Traveller and Citroen e-SpaceTourer, sharing their 143-mile driving range and 134bhp electric motor.
Like both e-Traveller and e-SpaceTourer, the Vivaro-e Life is offered in either 'M' or 'L' lengths, with prices starting from £30,295 and £30,495 respectively, after the government's plug-in car grant (PiCG) has been deducted.
Five, six, seven or eight-seat variants with plush leather upholstery are offered, while a more utilitarian version squeezes in an extra seat to carry the maximum of nine passengers. VIP versions boast features such as a massage function and electric heating for the front seats and movable leather chairs in the rear, with 48cm wide seat cushions.
The minibus' 50kWh battery pack is made up of 18 modules and contained entirely within the floor of the vehicle, so it doesn't impinge on passenger or luggage space, which stands at around 4,500 litres in the 'L' version. Recharging the batteries to 80% capacity takes in the region of half an hour from a 100kW public rapid-charging point.
Slower charging from a standard domestic socket or wallbox is also possible. The standard on-board charger runs at 7.4kW, while an optional 11kW on-board charger allows users to take advantage of three-phase power points typically found on industrial or business premises.
On-board technology includes numerous driver-assistance systems, including pedestrian detection, automatic braking, semi-adaptive cruise control, driver drowsiness warnings, lane-keeping assistance, parking sensors and a head-up display. There's also full Apple CarPlay and Android Auto smartphone integration, while an optional trailer hitch allows the Vivaro-e Life to haul a trailer weighing up to 1,000kg.