2021 Nissan X-Trail: prices, specification and on-sale date
New Nissan X-Trail SUV will use e-POWER range-extender hybrid drivetrain from its Qashqai sibling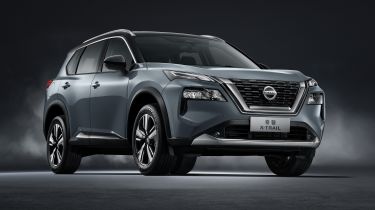 This is the new Nissan X-Trail, a large family SUV closely related to the popular Qashqai, but with the option of seven seats and more practicality. It was launched at the Auto Shanghai motor show in China in spring 2021, but won't go on sale in the UK until 2022.
The X-Trail is a familiar name at this point, although previous versions have used petrol or diesel power only. The new model shares a lot with the latest Qashqai, which means it'll be able to use the new 'e-POWER' range-extender hybrid drivetrain that's coming to the Nissan Qashqai range.
The Qashqai will get this new drivetrain in 2022, which is around the same time as the new Nissan Ariya pure-electric family SUV is set to come out, too. It'll all coincide with the launch of the new X-Trail as well, as Nissan accelerates its electric offerings in the UK.
So, what exactly is e-POWER? It's Nissan's name for a 1.5-litre turbocharged petrol engine combined with a battery and an electric motor. It's different from a normal hybrid set-up because the electric motor is the only thing that drives the wheels – the engine simply charges the battery.
This means the e-POWER versions of the X-Trail and Qashqai will drive much like an electric car, with quiet and smooth acceleration. Plus, since the engine is always running at optimum revs, it's said to be more efficient in terms of CO2 and fuel economy than a traditional hybrid car.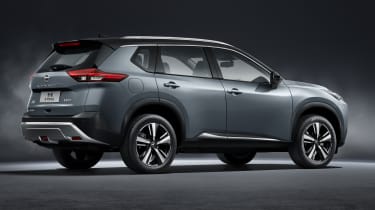 The 2022 Nissan X-Trail will be offered with four-wheel drive, with driving modes for dealing with snowy, gravelly or muddy conditions. Although it's mainly thought of as a seven-seater version of the Qashqai, the extra seats are optional and the X-Trail will be a rival for the Kia Sorento, Hyundai Santa Fe and Toyota Highlander hybrid SUVs.
The car looks familiar from the rear, but its front end takes inspiration from its more modern Juke sibling. It inherits that car's V-shaped grille and sharp daytime running lights, switching the round headlamps for more conventional units. The X-Trail will be shorter and lower than before, too.
Exact UK pricing and specifications will be revealed closer to the car's 2022 on-sale date, but we'd expect a slight increase on the outgoing model's starting price of just over £27,000, perhaps moving closer to the £30,000 mark.