Best plug-in hybrid cars 2021
The best plug-in hybrid cars offer great fuel economy and very low running costs as long as you keep their batteries charged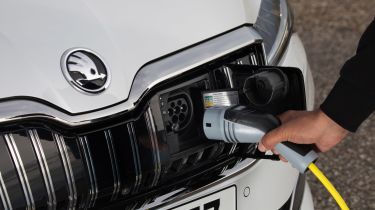 When it comes to reducing your motoring bills, a plug-in hybrid (PHEV) car can go a long way to reducing your reliance on fuel stations.
By combining a petrol or diesel engine with a battery-powered electric motor, these cars can approach the ultra-low running costs typically associated with pure-electric cars, but without the potential for range anxiety.
This is how they work: you plug in the car and charge up its battery with a cable, leaving you free to complete short and medium-length journeys on electric power alone. Depending on the model, you could commute to work, do the school run and pop to shops, spending only pennies in the process.
But should you need to cover a longer distance, the petrol or diesel engine simply kicks in and performs as it would in a normal car, meaning you don't have to worry about where and when you next need to charge up.
But which model should you choose? There are dozens of PHEVs on sale already, with more being introduced by manufacturers all the time. We've put together a list of 10 of the best plug-in hybrid models on sale right now...
Audi A3 TFSI e
The new Audi A3 TFSI e is the latest plug-in hybrid hatchback to use the VW Group's familiar 1.4-litre petrol engine and electric motor setup, as found in the Volkswagen Golf, SEAT Leon and Skoda Octavia elsewhere on this list. Two versions will be available eventually, badged 40 TFSI e and 45 TFSI e; we've tested the former, which has 201bhp on tap and an electric range of 41 miles from its 13kWh battery. All of the usual Audi points apply here, with great interior build quality and infotainment as highlights. As a rival to the Mercedes A-Class below, the A3 isn't quite as practical as an Octavia, but feels more upmarket and desirable. Read our full review.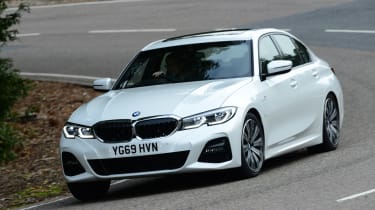 BMW 330e
The BMW 330e is another example of a manufacturer getting a plug-in hybrid vehicle spot on: a 12kWh battery gives it up to 37 miles of electric range on paper, with the electric motor capable of 68mph before needing assistance from the 2.0-litre turbocharged engine. More impressive than that, however, is that the 3 Series is still great to drive as a plug-in hybrid: the weight of the battery hasn't dulled its performance in corners, and the engine is tuneful enough to put a smile on your face on a fast B-road. Read our full review.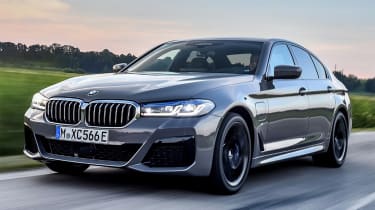 BMW 530e
The BMW 5 Series has long been the default plug-in hybrid choice for those who want the perfect all-rounder: it's comfortable, practical, efficient and great to drive. The car was recently treated to a comprehensive facelift that's helped to make it better than ever – and now there's a more powerful 545e for those who want more overtaking performance. We've only driven this more powerful version, but we'd still urge you to give the 530e a try: with 292bhp, a choice of rear or four-wheel drive and an electric range of up to 37 miles, there's not much to dislike. Read our full review.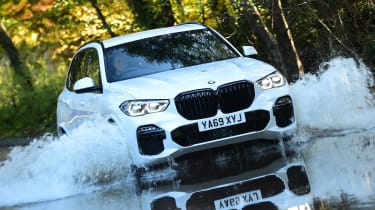 BMW X5 xDrive45e
The BMW X5 hybrid boasts one of the longest electric ranges of any plug-in hybrid car. It has a 24kWh battery (enormous by PHEV standards) that can return up to 54 miles on a single charge, and the X5 xDrive45e can reach speeds of 83mph without assistance from the 3.0-litre turbocharged petrol engine. The six-cylinder unit is potent, and working in tandem with the electric motor it'll produce a whopping 389bhp and a 0-62mph time of 5.6 seconds. As well as being fast, 500 litres of boot space is rather handy, too. Read our full review.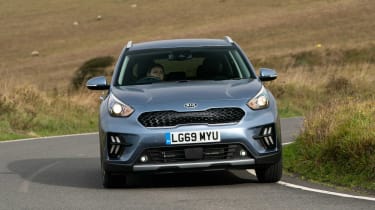 Kia Niro PHEV
At 36 miles, the Kia Niro PHEV offers a very handy electric-only range, and while you'll get a little bit less than this in the real world, it's enough to make potential buyers think twice about which version of the car would be best for them. Officially, the Niro PHEV will return 202mpg, although as ever getting close to this in the real world depends on regularly topped-up batteries. Emissions of just 31g/km of CO2 make it an attractive company-car prospect and it's spacious and well-equipped, too. Read our full review.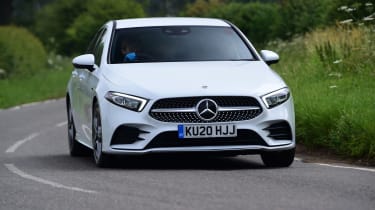 Mercedes A 250 e
The plug-in hybrid version of the Mercedes A-Class is one of the best of its kind on sale right now. Available in hatchback and saloon form, the A 250 e features a 15.6kWh battery that will return up to 44 miles of electric-only range; handily more than most people will drive on an average day. As such, running costs should be suitably low, with a full charge from a home wallbox likely to cost just £2. In electric-only mode the A 250 e will manage up to 87mph, so it won't be hampered by stints on the motorway, and when you do run out of juice there's a very capable 1.3-litre turbocharged petrol engine with 158bhp to fall back on. Read our full review.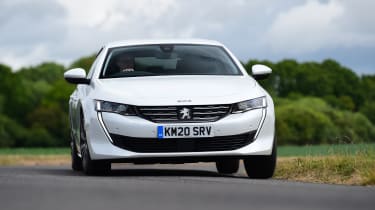 Peugeot 508 Hybrid
The majority of those considering a plug-in hybrid saloon are likely to be company-car users. For these, the usual choices include the BMW 3 Series, Volkswagen Passat and Skoda Superb, but they can all be considered sensible and rather ubiquitous. The alternative is the 508 Hybrid, a stylish, refined and unique take on the format. It's not as good to drive as the BMWs on this list, but it's well equipped, very comfortable and sports an electric range of up to 39 miles, while CO2 emissions sit at 29-33g/km to ensure low Benefit-in-Kind rates. Read our full review.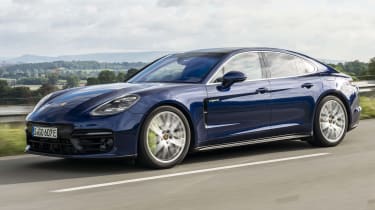 Porsche Panamera E-Hybrid
Not all plug-in hybrid cars are primarily concerned with low emissions and fuel efficiency. The Panamera E-Hybrid is a sports saloon first and plug-in hybrid second, not least because of its serious power output: 456bhp in standard guise, 552bhp in 4S trim and 690bhp in the range-topping Turbo S. The result is sports car-troubling performance, even from the entry-level version, but proceed with a light right foot and you can enjoy a claimed 97-141mpg and up to 35 miles of electric range. The arrival of the pure-electric Porsche Taycan has put some pressure on the Panamera in the Porsche range, but if you still want a powerful petrol engine to call on, the Panamera is one of the best cars of its kind. Read our full review.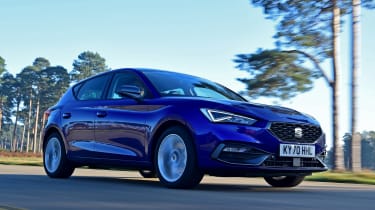 SEAT Leon e-Hybrid
Another relative of the Volkswagen Golf below, the Leon is a car with a similarly sporty edge that uses the same basic 1.4-litre petrol-electric drivetrain that's also found cars like the Skoda Superb and Audi A3 plug-in hybrids. The Leon gets 201bhp from the setup, enough for peppy performance, while the pure-electric range of up to 40 miles means most shorter journeys can be completed entirely fuel-free if you keep the 13.1kWh battery topped up. SEAT has always been more value-focused as a brand than its more prestigious stablemates, so the other good news is that the Leon e-Hybrid is one of the cheapest plug-in hybrids on sale, coming in at just under £31,000 at time of writing, and a sound alternative to the Volkswagen or Skoda equivalent. Read our full review.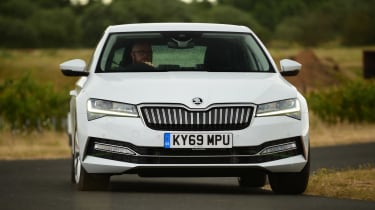 Skoda Superb iV
If you call a car 'the Superb', it really has to be rather good. Luckily for Skoda, it is – and especially so in plug-in hybrid form. Using the same setup as the Volkswagen Passat GTE, the Superb iV has a 1.4-litre petrol engine paired with an electric motor for a total of 215bhp. While it's not the sportiest of vehicles, the performance on offer is more than enough to get by with, and up to 37 miles of electric range means you can feasibly run the Superb iV in electric-only mode most of the time. It's hugely practical, too, and Skoda is offering it across all trim levels, making it as accessible as possible. Read our full review.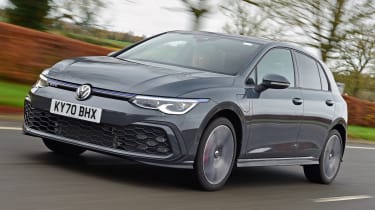 Volkswagen Golf GTE
It's the car that more or less invented the plug-in hybrid hot hatchbacks, and now the GTE has returned as part of the Mk8 Golf range. It gets an impressive 242bhp from its 1.4-litre engine and accompanying electric motor, which also happen to form the basis of all of the other Volkswagen Group models featured on this list. We're not massive fans of the latest Golf's rather fussy infotainment setup, but there's no denying that the GTE is fun to drive, economical, well built and very desirable. Read our full review.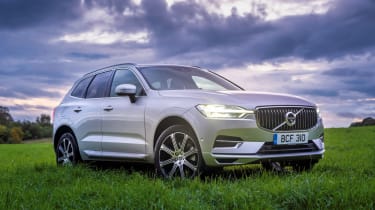 Volvo XC60 Recharge T8
The Volvo XC60 T8 ticks many boxes, promising all the practicality of many of its SUV rivals with a slightly more upmarket approach. An electric range of up to 32 miles is par for the course, but 385bhp and 0-62mph in 5.5 seconds is right up there with the fastest plug-in hybrids currently on sale. A choice of R-Design and Inscription trim levels provides a high-quality interior finish and plenty of technology as well. Meanwhile, the ride is comfortable, and head and legroom are plentiful throughout. It's a seriously good all-rounder. Read our full review.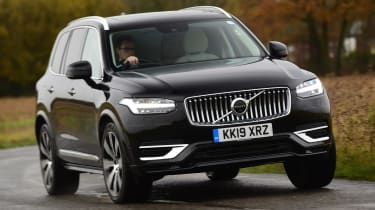 Volvo XC90 Recharge T8
Volvo's plug-in hybrid cars – denoted by the 'Recharge' moniker – are all very impressive, but none more so than the XC90. This large SUV is capable of carrying up to seven people, making it one of the most practical and family-friendly vehicles in its class. An 11.8kWh battery helps return up to 31 miles of range (20 is more realistic when fully laden with passengers and luggage), while an electric motor joins forces with a 2.0-litre turbocharged petrol engine to produce a combined 398bhp. That results in a 0-62mph figure of 5.8 seconds; very fast for a car of this size. Read our full review.
Best plug-in hybrid SUVs 2021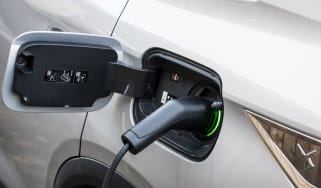 Best plug-in hybrid SUVs 2021
A good plug-in hybrid SUV should combine low running costs with excellent practicality. These are some of the best on sale right now
Best electric SUVs 2021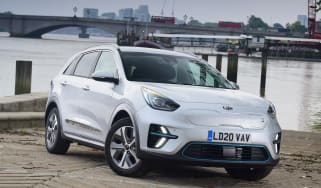 Best electric SUVs 2021
Our selection of the best electric SUVs you can buy features cars that promise to mix style, practicality and rock-bottom running costs
Longest range electric cars 2021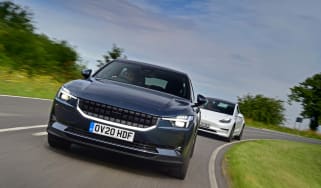 Longest range electric cars 2021
The range of electric cars is continually improving. Here are the top 10 models with the longest range on a single charge