Electric car repairs, servicing and maintenance: a complete guide
How, where and when should you get your electric car serviced? And does the process differ in any way from petrol or diesel vehicles? Find out here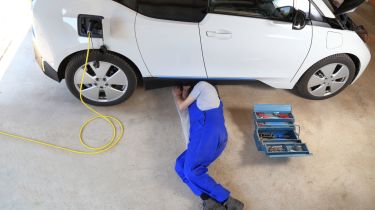 There are many benefits associated with electric cars, and one of them is that they generally require less – and less frequent – maintenance than a diesel or petrol vehicle. The main reason for this is that EVs have much fewer moving parts under the metal.
They do still require maintenance, however, and it's just as important to ensure your EV gets its regular check-ups, in order to preserve manufacturer warranty cover, as well as for safety and peace of mind. Read on for our full guide to electric-car servicing and maintenance.
Electric car servicing: general information
If you've previously owned a petrol or diesel car, the idea of having your vehicle serviced on a regular, predetermined basis will feel very familiar. You'll have a similar experience running an electric car, but that's not to say the servicing schedule is the same.
In general, electric vehicles require less maintenance and less frequent servicing, and in many cases should be cheaper to run as a result. There are fewer moving parts and there's less to check on an annual – or even biennial – basis. Careful, though; just because your car requires fewer services, you shouldn't take your eye off consumables like tyres, lights and wipers. These should be checked on a regular basis.
Service schedules are available from your local dealer or direct from the manufacturer. Generally, all cars require servicing after a certain period of time or a given mileage. Keeping on top of this schedule will keep your car in top condition, and will ensure any remaining warranty is kept intact.
Which parts of an electric car need servicing?
While an electric vehicle has fewer moving parts, it's still important to get your car serviced regularly. Internal-combustion engines (petrol or diesel) are complicated, potentially including hundreds of separate parts all working in unison, and some of those, like spark plugs, engine oil, oil and air filters, and coolant will need checking and changing on a fairly regular basis.
Electric cars are generally much simpler in terms of what they need to start and go, but since they still need to roll, turn, and stop, there are also a lot of service items they share with conventional vehicles. The parts that are generally covered by an electric car service include items such as brakes, suspension, tyres, steering (and tracking – essentially, the parts that keep your car driving straight and true), plus lights, wipers and cabin filters. This list is by no means exhaustive, and a comprehensive service will cover this and much more.
Remember, hybrid and plug-in hybrid cars have engines, and therefore require many of the same checks as a conventional petrol or diesel model.
Many car manufacturers also offer updates for the software and firmware on electric vehicles. A great number of these can be done wirelessly 'over the air' (OTA) but some may still require a physical connection at a dealer. While being serviced your car may not only get a check-up, but come back to you with some improvements – even including greater range or performance, in some cases.
Where to get an electric car serviced
If you buy a brand-new hybrid or electric vehicle, chances are you'll be offered an all-inclusive service plan that'll take care of many of the costs and concerns associated with running a car fresh off the forecourt. Of course, the best place to get your new car serviced is with your registered main dealer; with your warranty intact, there's likely to be little chance of retribution from the manufacturer should anything go wrong.
Partnership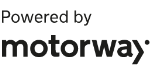 Need to sell your car?
Find your best offer from over 5,000+ dealers. It's that easy.
But what are your options if you buy a used car, or you'd like to use an independent electric-car specialist? While not all garages are qualified to work on electric or hybrid cars, an increasing number are. The best place to check local garages near you is via the Hybrid and Electric Vehicle Repair Alliance (HEVRA), which has a list of facilities available – allowing you to search by town or postcode.
All of the garages have been "vetted for the right tools and qualifications, and receive ongoing training and unlimited technical support" from HEVRA. A quick search around DrivingElectric's central London office shows three EV-friendly garages – in Swanley, Sunbury and Hampton. There are plenty to choose from, in fact, including several in Scotland, Wales, and even the Channel Islands.
Electric-car servicing plans
Like many petrol or diesel cars, electric vehicles are often available with all-inclusive service plans. These will rarely cover consumables like tyres or brakes, but should look after other essentials like brake fluid and battery health – as well as checking items like the suspension, steering and electrics.
Manufacturers offer a variety of deals, most of which will last for between two and five years. They'll normally allow you to pay up front or on a monthly basis, depending on which you prefer. One thing to note is that you may find your new electric car has longer service intervals (see below), thanks in part to its less complex powertrain.
Of course, you can also pay for a one-off service, though this is likely to cost you slightly more per service than if you were to take out an annual or pay-monthly plan.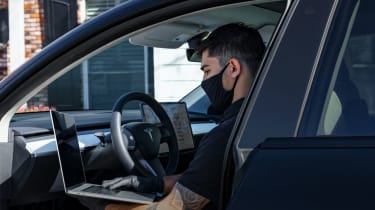 Electric-car service intervals
Electric cars often have longer service intervals than their petrol or diesel equivalents, due largely to the fact they have fewer moving parts. This not only helps reduce cost, but relative wear and tear should be minimal, too.
Take the Vauxhall Corsa Electric as an example: this electric small car only requires a check-up every two years or 16,000 miles; buy a petrol version and you'll find yourself popping by your local dealer for a service every 12 months or 12,500 miles.
On the other hand, Europe's best-selling electric car, the Tesla Model Y – as well as the Model 3, S and X – doesn't have a fixed service schedule. Instead, the car will notify you via the infotainment screen when the car is due a service; you can schedule and alter an appointment all via the Tesla app, with the option of going to your local Tesla Centre, or having the technicians come to you.
Electric-car servicing vs hybrid servicing
Electric car servicing is slightly different to petrol or diesel car servicing. An electric motor is much less complex than a petrol or diesel engine, with fewer wear and tear items attached to it that need checking or replacing come service time. That generally means that servicing an EV is cheaper.
By their nature, blending both combustion and electric power, hybrids are typically more like regular petrol cars than electric cars – even if they share a few components with EVs, such as their batteries and motors. They still require spark plugs, engine oil and coolant, plus various belts and pulleys to work as intended – so servicing is more complex, and you should expect the cost to generally mirror that of regular petrol and diesel vehicles, rather than EVs.
That's not universal however – some manufacturers, like Vauxhall, group hybrids in with electric cars, making these models cheaper to service than the equivalent petrol or diesel version.
Electric-car service costs
It's often the case that servicing an electric car is cheaper than it is for an equivalent petrol or diesel model. This is thanks largely to the less complex powertrain, but also due to the fact that there are fewer consumables and moving parts. Make sure you do the sums, however, as the longer intervals and less frequent services may mean that these plans actually work out costing a similar amount over time.
Electric-car servicing: exclusions
Like with any car, there will be things that aren't covered in an electric car service. However, what is and isn't included isn't all that dissimilar; consumables like tyres will be checked, but will only be replaced at the owner's cost, while all the necessary fluids will be subject to a visual inspection.
Of course, if a major problem is detected – and this is true for petrol, diesel, hybrid, plug-in hybrid and electric cars – the garage carrying out the service will flag this and offer you options to have the fault rectified. Depending on what the issue is (and what caused it), will depend on whether this is covered by the service plan or warranty – or whether you'll need to fork out for repairs.
Electric-car batteries and servicing
Most electric cars come with an independent battery warranty, many of which last much longer than the standard manufacturer warranty for the rest of the car. For example, every Nissan Leaf comes with a five-year/60,000-mile manufacturer warranty, but the battery is covered separately for up to eight years or 100,000 miles, whichever comes soonest.
In this case, the battery will be replaced free of charge if the maximum capacity drops below nine bars, out of the 12 that are displayed on the Leaf's screen. Normally, an electric car's battery will be subject to a health check at each service, with a report on its state of health (SoH) offered at the end.
BMW i4 facelift to topple Tesla with huge range and tech upgrades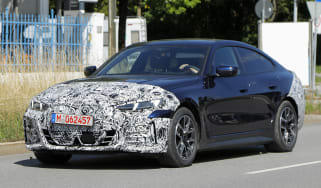 BMW i4 facelift to topple Tesla with huge range and tech upgrades
An updated version of the BMW i4 has been spotted testing, likely sporting a longer range and the latest technology
Electric BMW iX2 is set to take the kidney grille to the next level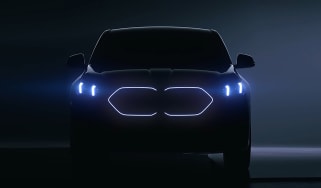 Electric BMW iX2 is set to take the kidney grille to the next level
BMW has teased the highly-rumoured iX2 coupe-SUV, which has been revealed to get enlarged illuminated kidney grilles