Electric car MoT test: does my EV need an MoT?
Like petrol or diesel models, all electric cars need an MoT. Here's everything you need to know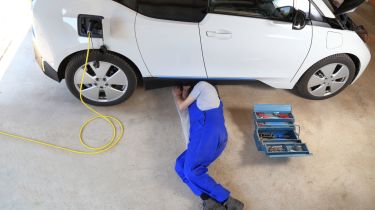 Despite the fact electric cars have no engine, those that are more than three years old still need to pass an annual MoT test in the UK. This ensures your car is safe and roadworthy, and checks things like the lights, windscreen wipers and brakes.
There are a few distinct differences between electric cars, hybrids, and conventional petrol or diesel cars, but the MoT test is largely the same for all three. Your electric car won't need to pass an emissions test, however, and there's obviously no need for a noise meter – as electric cars are all but silent in their operation. Here, we cover everything from requirements to costs – as well as how to best prepare your electric car for its MoT test, so read on for everything you need to know.
Do electric cars need an MoT?
The short answer is yes, all electric cars that are more than three years old require an MoT. The rules for electric cars are the same as for petrol, diesel and hybrid models. 
The only electric cars exempt from the MoT test are electric goods vehicles, and those more than 40 years old. The latter is true of petrol and diesel cars, too.
What does an electric car MoT consist of?
To pass its MoT, an electric car needs to satisfy almost all the same criteria a petrol or diesel car does. That means your car must have a full set of functioning lights, as well as clean, visible and legal number plates, plus a windscreen free from cracks or chips, as well as wipers with plenty of life left in them. The tester will also check things like the seatbelts to ensure they're all present and working as they should.
Of course, just as they would for a petrol or diesel car, the MoT tester will raise the car on a ramp to look at the steering system, as well as the tyres, wheel bearings and suspension. They'll also look for rust – although any protective or aerodynamic bodywork or panelling cannot be removed and must stay in place.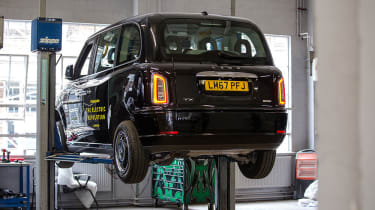 The final area of inspection is the brakes – although as yet, MoT testers only assess the conventional friction brakes. Some electric cars also feature regenerative braking, but this is more akin to engine braking in a petrol car and the system is not yet part of the MoT test.
How can I make sure my electric car passes its MoT?
The checks you need to do to ensure your electric car passes its MoT first time are very similar to those you'd do on any petrol or diesel car.
You'll need to check your lights are working. If there's no-one around to help you, back the car up against a reflective surface like a window or garage door, before cycling through the side lights, indicators, reversing lights, foglights and brake lights. It's easier to check the front lights, as you can just switch everything on before getting out to check.
Following this, take a look at the windscreen and wipers to make sure they're both in good condition. Number plates and tyres are an easy fix, too: make sure your plates are clear and visible and that there's plenty of tread (the legal minimum is 1.6mm across the middle three-quarters of the tyre) left on the rubber.
Partnership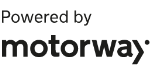 Need to sell your car?
Find your best offer from over 5,000+ dealers. It's that easy.
It's harder to check things like brakes, bearings or suspension, but if you're at all concerned that these might be areas requiring attention, it's always best to get them checked – don't wait for the annual MoT test.
What if my electric car fails its MoT?
In 2018, the way MoT tests were graded changed to reference minor, major and dangerous faults. A car can pass with minor faults, but it's an automatic fail if the car is displaying either a major or dangerous fault. You shouldn't ignore minor faults, however – these will be noted on the MoT certificate and should be repaired as soon as possible. 
If your electric car fails its MoT with either a major or dangerous fault, then you won't legally be allowed to drive it on the road. The only exception to this rule is if you're driving the car to or from a pre-booked appointment at a registered MoT centre. This is the same for an electric car, as it would be for a petrol or diesel model.
How much does an electric car MoT cost?
Despite the fact there are fewer things to check, getting an MoT certificate for an electric car costs the same as it would for a petrol or diesel model. The maximum any garage or dealership can charge for an MoT test – excluding any additional work or parts that may be required in order for your car to pass – is £54.85. Many outlets offer lower prices, however.
Volvo EX30 electric SUV undercuts Vauxhall Mokka Electric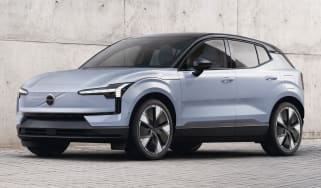 Volvo EX30 electric SUV undercuts Vauxhall Mokka Electric
Volvo has revealed its smallest electric car which boasts a range of up to 298 miles
New electric cars coming in 2023 and beyond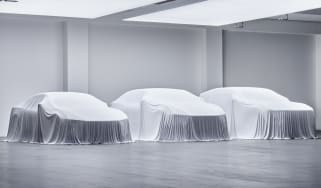 New electric cars coming in 2023 and beyond
With electric cars making up an ever-increasing proportion of sales, the industry is working flat out to launch new models – here's what's on the way …
Peugeot e-2008 facelift is now on sale with more electric range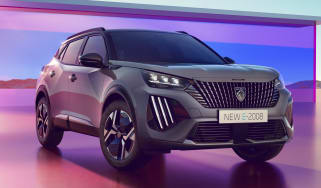 Peugeot e-2008 facelift is now on sale with more electric range
The updated e-2008 SUV gets a refreshed look and a 252-mile range