Can I tow a caravan with an electric or a hybrid car?
You need to choose your model carefully if you want to tow a caravan or trailer with a hybrid or electric car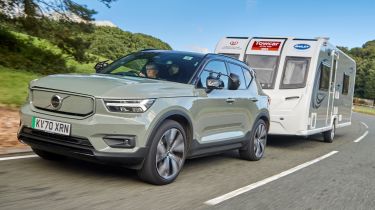 There are more electric and hybrid cars on sale now than ever before and it's likely that you'll soon be considering one as your next car, if you aren't doing so already. Yet if you regularly tow a caravan or trailer, you might be concerned about their ability to pull – but we're here to help.
Hybrid and electric cars produce of torque from their electric motors, so they ought to have lots of pulling power. Mix this pulling power with low running costs and it certainly seems that hybrid and electric cars should make good tow cars – at least in theory.
However, a number of electrified models aren't rated to tow a heavy trailer, or any kind of braked trailer at all, so it's not just a case of the powertrain being appropriate – the authorities need to authorise it, too. There is some good news, though: read on to find out all you need to know about towing a caravan or trailer with a hybrid or electric car.
Why some electric cars aren't able to tow
The main reason you can't tow a caravan with some hybrid or electric cars is because of something called type approval. This is the certification process that carmakers go through with new models, and many decide not to have these models certified for towing safely.
One of the reasons for this is weight, since this plays a big part in the approval process for towing. Heavy batteries mean that these models tend to be heavy overall, and the extra weight from the caravan or trailer could mean beefier brakes are needed. This bumps up the cost to produce the car, and since most people don't tow, it's seen as worthwhile.
There's also the matter of regenerative braking, something most EVs and hybrids use. It's calibrated to the braking force needed for the vehicle itself, so any extra braking force (and the weight) added by the caravan might complicate things for the onboard electronics. This isn't an insurmountable problem, though, and in time manufacturers may be able to develop systems that can factor in different weights.
Another issue is range. Caravan owners often undertake long trips, which can be an issue for some electric models. Not only would drivers have to recharge regularly, but they'd also face significantly shorter real-world range than the car's published figure due to the added weight of the caravan. The extra weight could also strain the electric motors.
However, that's not to say no electric car can be used to tow. A handful of EVs are certified for it: the Tesla Model X is capable of pulling an impressive 2,270kg, for one. Tesla has also included a 'trailer mode' that shuts off some of the car's driver-assistance features and can apply brakes to individual wheels if it detects the trailer swaying behind. Meanwhile, the Audi e-tron and Mercedes EQC can both tow up to 1,800kg. The Jaguar I-Pace is also rated for towing, although it's much less capable in this respect, with a maximum figure of 750kg, while the Volkswagen ID.4 family SUV can haul up to 1,000kg.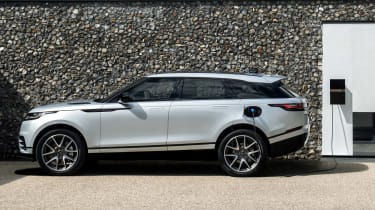 Can plug-in hybrids be used for towing?
Because plug-in vehicles use a combination of electric and engine power, the issues discussed above that affect pure-electric vehicles are less pronounced. In fact, several plug-in hybrid vehicles have been certified for towing, including the Mitsubishi Outlander PHEV, Volvo XC90 Recharge, Volvo XC60 Recharge and BMW X5 hybrid, among others.
They come with impressive towing capacities, too. The Volvo XC60 Recharge T8 has a 2,100kg limit, going all the way up to 3,500kg for the Porsche Cayenne E-Hybrid. Smaller models like the Volkswagen Golf GTE can tow up to 1,600kg, while the Land Rover Defender P400e is rated at 3,000kg.
Many non-plug-in hybrid cars are also certified for towing, but their limits are smaller. The Toyota Prius and C-HR are limited to just 725kg, for example, while the Toyota Corolla can manage 750kg. The Toyota RAV4 can haul 1,650kg in all-wheel-drive hybrid form, while the plug-in version of the same car has a towing limit of 1,500kg. According to the Caravan & Motorhome Club, hybrid cars are currently the best choice for those looking for an alternative-fuel vehicle to tow a caravan with.
Can an electric car be towed?
If your hybrid or electric car breaks down, it shouldn't be towed away, but instead placed on a flatbed trailer. This is to avoid harming the electronics on board, such as the traction motor that generates electricity when coasting. Most manufacturers recommend owners contact their breakdown provider and specifically ask for a flatbed truck. However, in some instances, an electric car can be towed with the front wheels lifted, but this is often limited to a short distance. Consult your manual to find out what your manufacturer recommends.
Where can I buy hydrogen and where is my nearest hydrogen filling station?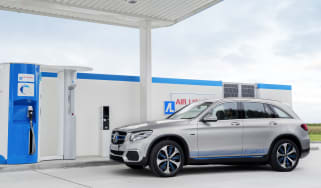 Where can I buy hydrogen and where is my nearest hydrogen filling station?
A guide to where you can find UK hydrogen fuel stations for filling up a hydrogen fuel-cell car
Tesla Supercharger network: complete guide to Tesla charging stations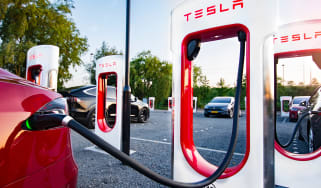 Tesla Supercharger network: complete guide to Tesla charging stations
The Tesla Supercharger network is expanding fast, providing reliable rapid charging throughout the UK to Tesla and non-Tesla owners alike
Top 10 best electric SUVs 2022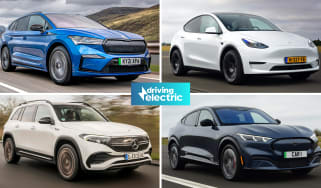 Top 10 best electric SUVs 2022
Electric SUVs combine style and practicality with low running costs, making them a very popular choice in the UK. Here are our top 10 favourites to bu…