Volvo S60 Recharge T8: Living with it
How do the Volvo S60 plug-in hybrid's eye-opening fuel-economy stats stack up in the real world? We ran one for six months to find out...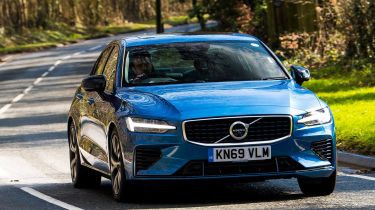 Report 4: Is it fit for families?
Before we lived with our Volvo S60 T8, there was a suspicion that this £55,000 plug-in hybrid saloon car might hold more appeal for company-car buyers than private ones. Plug-in hybrids have become a popular option as fleet vehicles for their significant Benefit-in-Kind company-car tax advantages, compared to purely petrol or diesel compact executive saloons with similar performance.
It's why we thought perhaps that handsome Swedish saloon body seems a bit more at home in the office car park than at the supermarket. Plus, Volvo offers the V60 estate to cater for buyers whose needs are more centred around family life than pounding the motorways on business trips, and the V60 is available with plug-in hybrid power, too. 
It's all backed up by the numbers, too; Volvo reports that 70% of S60 T8 sales in the UK go to fleet customers. And yet, our time with the saloon serving mainly as a family car has shown it to be quite a bit more practical than you might think. Despite the hybrid technology, there's still a decent 390 litres of boot space. That's 52 litres less than non-hybrid S60 models and 139 litres less than the V60 – which has the same boot size whether you get a plug-in one or not. There's no spare wheel available on the S60 T8 (you can get one as an option on other S60s) and nowhere to put your charging cables except the black holdall supplied by Volvo that sits in the main boot area.
The boot opening itself is small so you have to duck down and lean in to grab stuff at the back, but there is a full 60:40 split rear bench. In a neat touch, the seat backs fold down automatically at the touch of a button and provide a 1,797mm total load length. The Convenience Pack costs £300 and includes those power-folding seats as well as some hooks that fold down from the top of the boot to stop your shopping bags flying about.
In the cabin, the seating is comfortable in the best Volvo traditions, with plenty of legroom for a couple of six-foot adults to sit behind similarly-proportioned front seat occupants. Headroom is more of a problem, not helped by the large sunroof on our car. Anyone over 6ft 2ins, or sporting a sizeable hairdo, is likely to be brushing the headlining. The centre berth of the rear bench is pretty uncomfortable for adults, but can be used in an emergency. There are no cup holders in the rear of the car. 
Up front, storage space is more prevalent, but still lacking in options for larger items. The cupholders in the centre console won't take larger bottles and cups, while the area under the central arm rest is shallow, thanks to the batteries that are positioned down the spine of the car. There are door pockets as well but larger items tend to end up on the passenger seat, unless it's occupied. Furthermore, the glovebox is packed out once the manual is inserted.
Partnership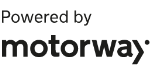 Need to sell your car?
Find your best offer from over 5,000+ dealers. It's that easy.
Once you're on the move though, the driving position is great and the seats give good support. Together with the smooth ride, and the refinement and flexibility of the powertrain, it makes the S60 a great long distance car. You might find the portrait touchscreen interface a bit fiddly but the virtual buttons are large, so you do have half a chance of prodding them without taking your eyes off the road for too long. There's a decent view out of the back and the 360-degree parking camera that comes with the £1,975 Lounge Pack (our 2019 car featured the now-discontinued Xenium pack) is particularly good with its clear display. 
All in all, the S60's saloon body works better than expected as a family car. There are drawbacks for taller occupants and in terms of cabin storage space but you can get a surprising amount in it and the comfort levels are unlikely to generate many complaints.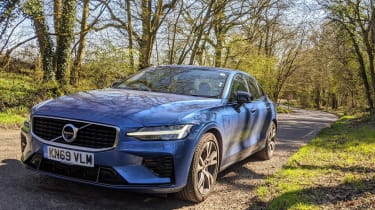 Report 3: On-paper expectations vs on-road reality
Despite offering a combined petrol and electric power output of just under 400bhp, our Volvo S60 T8 R-Design Plus plug-in hybrid is not the hottest model in Volvo's S60 range. That honour goes to the Volvo S60 T8 Polestar Engineered.
Because our long-term test car has the Polestar Engineered Optimisation – software tweaks that can be done on any S60 T8 by a Volvo dealer for £745 – it has the same power output as the proper Polestar Engineered, just not the Brembo brakes or Öhlins adjustable suspension.
What does all this mean, other than our car is a rung down the ladder from the sporting pinnacle of the S60 range? Well, it kind of plays into the overarching character of this particular S60. Despite being seriously fast, it never quite hits the high notes of driver enjoyment that you'd expect if you read the figures.
The figures, in case you were wondering, are a total power output of 399bhp – 314bhp from the 2.0-litre turbocharged and supercharged petrol engine and 86bhp from the electric motor – as well as 430Nm of torque and a 0-62 time of 4.4 seconds. These are numbers worthy of a top-end sports saloon and while even the full-fat Polestar Engineered S60 falls short of something like a BMW M3, our second-tier S60 is some way further behind.
This may not be a bad thing, depending on your point of view and what you'd been led to expect by the performance figures and the £55,000 price tag of our S60 T8 when we picked it up. This, however, is definitely a car with quite a unique character from a driver's perspective. 
It's seriously comfortable to cover miles in, with very low noise inside, a smooth ride and those supportive yet soothing seats that Volvo has long seemed to have a knack for. It's also properly rapid once into its stride, with a huge wave of torque that makes for effortless progress. If you value driver involvement, though, this is where things start to unravel a little.
It's as though the weight and complexity of the Volvo T8 plug-in powertrain takes the edge of the car's interactions with its driver. The throttle response when you ask for acceleration is lethargic, as the gearbox and drivetrain make you endure a brief pause before getting their act together, while the steering is that bit slower and less direct than you'd want and in corners the car's 2,500kg kerb weight makes its presence felt.
It can still be fun, but the S60's price and power elevate expectations of a thrilling driving experience to a level where it can't quite deliver the goods. It might look like a sports saloon on paper, but its real strengths lie in other areas.
Report 2: Efficiency unravelled
We know that efficiency is a key reason why owners of conventional cars are turning to pure electric and plug-in hybrid ones, so it was also a key reason why we added the Volvo S60 T8 to our fleet.
This 400bhp compact executive saloon is efficient compared to just about anything with an internal-combustion engine in terms of keeping the taxman's hands off your cash, and the on-paper fuel efficiency is also sparkling, especially in the context of cars with similar performance. What's always less clear is how efficient any plug-in hybrid is in the real world, where the overwhelming majority of owners will be driving them.
So, with 2,500 miles under our belt, we're starting to get a picture of the T8's fuel efficiency and, crucially, how much returns depend on usage patterns. With our car's optional Polestar Performance Software Optimisation (£745) upgrade, the 2.0-litre turbocharged and supercharged petrol engine sends 314bhp to the front wheels and the 86bhp electric motor drives the rears with power from the 11.6kWh battery (of which 9.9kWh is usable).
The system makes the electric motor's torque and the petrol engine's power available simultaneously, helping deliver the headline-grabbing performance figures, plus four-wheel-drive traction should you need it.
Officially, the S60 T8 has an electric-only range of 36 miles but in the real world, the petrol engine will always cut in to help if you prod the throttle with any vigour or if the rear wheels start to spin. This is the case even in 'Pure' mode, which favours electric running as much as possible. Even with the petrol engine chipping in, you'll be doing well to have any battery charge left after 30 miles of mixed driving. And where you might see 65-70mpg for that first battery-assisted stint, that number quickly drops to 25-30mpg once the battery is depleted.
All this means that how you use the car has a huge bearing on efficiency. By way of illustration, we managed 47mpg in the S60 on a 316-mile tank with 79.5kWh of battery charge added. That's fairly typical of our experience in a routine that involves a mix of urban and B-road driving plus the odd 30-70-mile motorway trip. Over 45mpg is very good going or a 400bhp executive saloon, and that kind of comparison works even better for the S60 T8 once the tax savings are factored in. Although we'd caution anyone against thinking of the S60 T8 as an alternative for a BMW M3: a sports saloon it is not. More on that next time...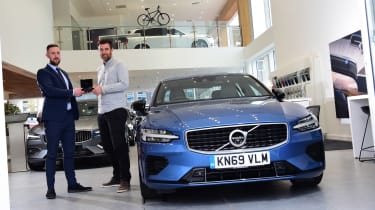 Report 1: Introducing our S60 T8
If you travelled back in time a decade brandishing the spec sheet of the Volvo S60 T8, the numbers on it would have jaws dropping as though it were an account of Donald Trump's rise to the US Presidency. This is a compact executive saloon with 400bhp that can blast from 0-62mph in 4.4 seconds and yet return between 122 and 176mpg, emitting just 42g/km of CO2 in the process. 
Even in 2020, when we've grown accustomed to the remarkable on-paper capabilities of electrified vehicles, the S60 has quite the CV. The question, as tends to be the case with plug-in hybrids, is how does that on-paper prowess translate to the real world. This is exactly why we granted the S60 T8 an extended interview on our long-term test fleet.
The car is specced in the R-Design Plus trim level with Bursting Blue metallic paint and a Slate Grey leather interior. Inside and out, it exudes a kind of understated, sporty style that's hard not to appreciate.
Volvo is getting its designs right more often than not at the moment – just at the time when some of its premium German rivals are coming in for criticism in this area – setting itself up as an appealing alternative in more and more people's eyes.
Of course, there's more to selling premium-badged cars than a set of 'Thor's Hammer' headlights and an IKEA-cool cabin. The S60 needs to excel across the board and our recent twin test of this very S60 T8 against the BMW 330e did expose some weaknesses, not least of which was how much the Volvo costs.
With the Polestar Performance software optimisation (an extra 15bhp and a more responsive driving mode on the car's menu), the smartphone integration kit (Android Auto and Apple CarPlay), metallic paint, the Xenium Pack (panoramic sunroof, 360-degree surround-view parking camera and automatic parking), the Intellisafe Pro Pack (auto-dimming mirrors, adaptive cruise control and Intellisafe Surround safety aids) and the Convenience Pack (power-folding rear seat backs and luggage hooks in the boot), our test car costs just over £55,000 – quite a jump from the £49,805 list price. 
This was a big barrier to it overcoming the BMW in our twin test and now the question is how much that looming sticker price colours our impression of the car during a long stint in the driver's seat.