Volkswagen e-Golf (2014-2019) range, battery & charging
The Volkswagen e-Golf has a big battery that provides a reassuringly long driving range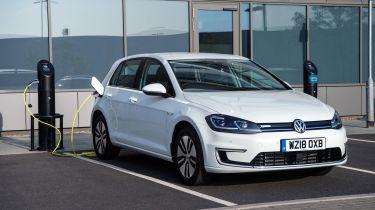 | Range | Battery size | Wallbox charge time | Rapid charge time |
| --- | --- | --- | --- |
| 144 miles | 35.8kWh | 5hrs 15mins (7.4kW, 0-100%) | 36 mins (50kW, 10-80%) |
The e-Golf has all the range it needs to cover most driver's daily mileage with ease. However, trips out of town may require a little more planning, as the real-world range means long motorway drives will almost certainly require one or more stops to recharge.
Volkswagen e-Golf range
The 144-mile range quoted for the e-Golf was calculated under the latest WLTP testing procedure, which promises to more accurately reflect real-world driving conditions than its NEDC predecessor.
Depending on your driving style, as well as traffic conditions and the weather, in our experience a range of 130 miles is a realistic expectation for general driving. That's still plenty for most, but with rivals like the Nissan Leaf, Hyundai Kona Electric and Kia e-Niro all offering usefully better driving range, there's no doubt that this is a weak area for the e-Golf.
If the e-Golf is your only car, it's likely you'll want to make occasional longer journeys, too, and here there's a practicality trade-off for cheap-as-chips electric motoring. You'll need to factor in a 45-minute stop at a rapid charger when the battery warning light comes on, and while this can be relatively simple on motorways, it's not quite as easy when planning B-road routes.
It's also worth considering the optional heat pump when specifying your e-Golf, especially if you're planning longer journeys. It was an expensive option when the car was new, but in cold weather it saves a substantial amount of battery power by recycling waste heat energy from the drivetrain and ambient air, thus providing a useful amount of additional range.
Charging time
The e-Golf is supplied with a standard three-pin plug charging cable for domestic sockets, with a smart charging unit inline. Volkswagen also provides a Type 2 charging cable for connection to public charging points, or a professionally installed wallbox charger if you have one at home.
The brand partners with Pod Point for home wallbox installations, and the e-Golf uses the CCS rapid charging system, which is becoming the standard charging format, and gives you access to the vast majority of public rapid chargers.
You don't need to buy a cable to use CCS public chargers; all rapid-charging stations have the cable wired in, so just check  that the charging point you're aiming for offers CCS charging, and you know the cable will be there. 
A regular domestic socket will take a whopping 17 hours to fully charge the e-Golf battery from empty. Fit a 3.6kW wallbox and that figure drops to just under 11 hours, while a 7.4kW wallbox will see you fully charged in under six hours. With access to a 50kW fast charger, a 10-80% charge will take just over 30 minutes.