Twin test: Tesla Model Y vs Audi Q4 e-tron
We pit two of the hottest premium compact electric SUVs of the year head-to-head to see if relative new kid on the block Tesla can beat heavy hitter Audi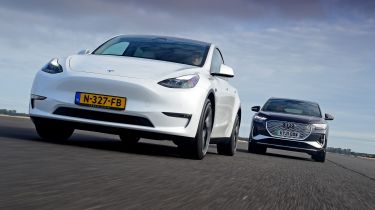 More than two years after the Model Y was first unveiled by CEO Elon Musk, Tesla's more affordable take on the electric SUV has finally made its way to the UK. Our time spent in the zero-emissions family car so far has left us with the impression that it's one of the best models in its class.
However, we came to the same conclusion after we put the Audi Q4 e-tron through its paces. The Audi was even able to top the equally luxurious Mercedes EQA when we pitted them against one another earlier in 2021. A Model Y vs Q4 e-tron match-up was the next logical step, so read on to find out how these very different takes on the premium compact zero-emissions SUV formula stack up...
Audi Q4 e-tron
Pros: Styling, space, ride quality
Cons: Only top-spec models get four-wheel-drive, expensive options, rapid-charging speed
Tesla Model Y
Pros: Performance, practicality, on-board technology
Cons: No seven-seater in UK, less range than equivalent Model 3, firm suspension
As we've mentioned above, both the Audi and Tesla have impressed us for a variety of reasons, from the Q4 e-tron's comfortable ride and interior space to the Model Y's stunning performance and equally good practicality. But there can only be one winner. Let's now see which of the two has what it takes to reign supreme in the now highly competitive premium compact electric SUV class...