Tesla Model Y vs Audi Q4 e-tron: running costs and warranty
While both cars have hefty price tags, the Model Y's expected high insurance group rating means the Audi triumphs here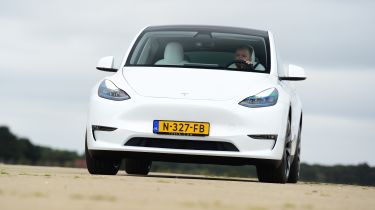 Like all electric vehicles, both the Audi and Tesla are ideal company cars, as they attract a BiK (Benefit-in-Kind) company-car tax rate of just 1% during the 2021/22 financial year. That means 20% taxpayers will fork out just £107 a year to run a Q4 e-tron 50 quattro, or £110 for the Model Y Long Range. Both are also exempt from road tax (VED) as well as the London Congestion Charge and other clean air zone charges for the time being. 
We've yet to get insurance ratings for the Model Y, but given that the Long Range version of the closely related Model 3 is in group 50 (the highest there is), we expect it'll attract the same rating. The Audi is better than the Tesla in this respect, because our top-of-the-range 50 quattro model in S line trim lands in group 37, while less expensive versions attract even lower ratings.
That has to be balanced against the fact that the Tesla was more efficient than the Audi, returning 3.8 miles per kWh. As a result, it would cost you around £455 a year to cover 12,000 miles in the Model Y if you charge at home on a typical energy tariff of 13p per kWh. The Audi, meanwhile, would cost slightly more, as it returned 3.4 miles per kWh, which equates to around £508 a year to cover 12,000 miles at the same rate. Of course, both of those figures can be reduced even further if you're on a dual-rate tariff.
However, while neither car gets anything as long-lasting as Kia's seven-year/100,000-mile warranty, both have guarantees for a decent amount of time. The Q4's is limited to three-years/60,000 miles, while the Tesla's stretches to four years, but the mileage limit is slightly shorter, at 50,000 miles.