Tesla Model Y vs Audi Q4 e-tron: range and charging
The Model Y Long Range falls short of the distance the equivalent Model 3 manages on a charge, but it's efficient and offers great recharging speed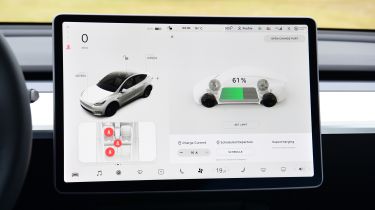 The Audi Q4 e-tron uses the same mechanical platform as several other electric cars from the Volkswagen Group, including the Cupra Born hatchback, the Skoda Enyaq iV SUV and the Volkswagen ID.5 coupe-SUV. Like those cars, while the entry-level version has a 52kWh battery and a range of around 200 miles, the range-topping all-wheel-drive variant (which we have here) features a larger 77kWh battery for a close-to-300-mile range. 
There are also two versions of the Model Y – the range-topping Performance and the less expensive Long Range, which is what we drove. The latter can cover up to 315 miles on a charge according to Tesla, thanks to its 75kWh battery. 
Like the Model 3 saloon it shares a platform with, the Model Y benefits from a heat pump to warm the cabin, but, the equivalent Model 3 Long Range can cover up to 360 miles when fully charged. This reduction in range is due to the Model Y's greater weight. 
During our time with the cars, the Audi achieved 3.4 miles per kilowatt-hour (kWh) of energy, which translates to a real-world range of 279 miles. The Model Y on the other hand, returned 3.8 miles per kWh – enough for a real-world range of 285 miles. But the Tesla covered more motorway miles during our time with it, so we'd expect that number to be even higher if you stick to town driving. Plus, we also found that turning the Audi's climate control on trimmed around 12 miles from its predicted range.
Charging
When it comes to rapid charging, there's little to separate these cars, but the Tesla just edges ahead. The top-spec version of the Audi can recharge at up to 125kW, which is fast enough to go from 10-80% battery capacity in 34 minutes. The Model Y is capable of charging at over 200kW, so if you use one of Tesla's latest V3 superchargers, it'll top the car up from 10-80% in less than 30 minutes.
However, most of your charging will probably be done from a home wallbox, potentially overnight. Due to their similarly sized batteries, it takes around the same time to fully recharge both cars from a standard 7.4kW unit – 11-and-a-half hours for the Q4 e-tron with the 72kWh battery, and 11 hours 45 minutes for the Model Y.