Twin test: Audi Q4 e-tron vs Mercedes EQA
The luxury compact electric SUV segment is hotting up, but will it be the new Audi Q4 e-tron or Mercedes EQA that's crowned the best in class right now?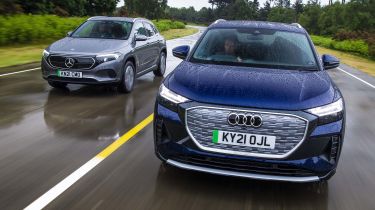 If you're searching for a new electric car, odds are you'll find yourself looking at one of the plethora of electric SUVs on the market right now. On the more affordable end of the compact SUV spectrum you've got the Vauxhall Mokka-e and Kia e-Niro, which we recently pitted against each other. If you're looking for something more premium, the Ford Mustang Mach-E or Volkswagen ID.4 might be right for you – another of our recent group tests has the answer.
But, if those models don't offer quite enough luxury appeal, how about the newly launched Audi Q4 e-tron or the Mercedes EQA? Both are brand-new, and both sit on the bottom rung of each manufacturers' electric lineup. Read on to find out everything you need to know about these two upmarket electric SUVs – and which is our favourite.
Audi Q4 e-tron
Pros: Range compared to EQA, spacious interior, comfortable ride
Cons: Only top-spec models get four-wheel-drive, expensive options list, heavy steering compared to EQA
Mercedes EQA
Pros: Relaxing to drive, interior quality, standard equipment
Cons: Small boot, styling, Audi is more efficient
Both cars offer everything you would expect from an SUV wearing either a Mercedes or Audi badge, including premium-feeling interiors, refinement and lots of tech. But is that where the similarities between the two newest electric SUVs from these heavy-hitting German brands end? Read on to find out more…