Tesla Model Y vs Audi Q4 e-tron: performance and handling
The Q4 e-tron has enough 'poke' for everyday driving, but only a handful of electric SUVs on the road come close to matching the Model Y's performance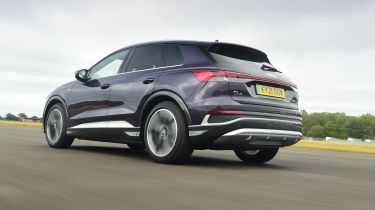 While all versions of the Tesla Model Y available in the UK have a dual-motor, four-wheel-drive setup, the same configuration is only offered on the most expensive 50 quattro version of the Q4 e-tron. In this case, it produces 295bhp and 460Nm of torque, making the German car capable of 0-62mph in 6.2 seconds.
That should be plenty potent for your daily commute, and there's no hesitation from the electric motors when you put your foot down. The power delivery is very linear and the Audi builds speed without fuss. It's also just as responsive at higher speeds as it is from a standstill.
However, it seems tame next to the staggeringly quick Model Y. With 434bhp and close to 500Nm of torque on tap, even the Long Range can sprint from 0-62mph in 4.8 seconds. As with the Audi, it's a case of simply brushing the throttle and you're away. The only car in this class with quicker acceleration is the twin-motor edition of the Volvo C40 Recharge, but it's only a tenth of a second faster to 62mph.
Although the Audi can't match the Tesla's straight-line speed, it's markedly more comfortable on the road. The Model Y is a decent cruiser, but its firm suspension can cause it to crash and thump over big bumps – something not helped by the 20-inch alloy wheels of our test car. The Model Y's quick steering makes it eager to turn into corners and it stays nicely flat when you do so. But there's not much feedback through the wheel, and rapid direction changes can see the car struggle due to its weight.
The softer edge to the Q4 e-tron's set-up means it offers a smoother ride than the Model Y; it's better at ironing out bumps, especially at low speeds. Yes, the Audi does lean a bit more in corners than the far stiffer Tesla, but it's still relatively poised. Refinement is good, too, with very low wind and road noise once you've passed the threshold where the car's automatic low-speed sound generator deactivates.
Flick the Audi's drive selector into B mode and you recuperate more energy into the battery when decelerating. It feels natural to use and is a handy way to harvest energy, although it doesn't quite allow you to indulge in single-pedal driving.