Tesla Model Y vs Audi Q4 e-tron: interior and infotainment
Both cars' cabins are packed with the latest technology and have a minimalist design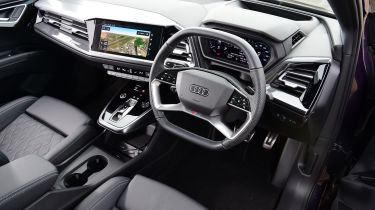 While the Q4 e-tron and Model Y feature minimalist cabin and dashboard design, the Tesla takes that to an extreme – an approach that continues to divide people.
Inside there are no dials, digital driver's display or head-up display: just a very clear, high-resolution 15-inch touchscreen that dominates the dashboard, showing your vital driving information like current speed, plus live information about what the car's Autopilot radar and camera systems are 'seeing'. 
Getting used to the Model Y's setup can be a bit of a learning curve, but when you do it's a very slick system and there's a row of shortcut buttons along the bottom of the screen. Voice commands are also an easy way of circumnavigating the giant touchscreen while on the go, in order to avoid taking your eyes off the road to jump through menus.
The Model Y's cabin as a whole is largely button-free, with the only physical controls being on the steering wheel; these are used for a multitude of tasks like adjusting the music volume and side mirrors. Otherwise, you get column stalks, the electric-window controls and push-button door openers, but that's about it.
The Audi, on the other hand, offers more of an evolution of a conventional interior, with a smattering of buttons for the climate control under the central infotainment screen, while the gear selector and a few other controls for the drive modes are located on a floating panel beneath that. All Q4 e-trons come as standard with a 10.25-inch 'Virtual Cockpit' driver's display, plus a 10.1-inch infotainment touchscreen. You also get wireless Apple CarPlay, plus wired-only Android Auto.
Audi's 'MMI' operating system is one of the slickest in the business – far superior, in particular, to the one found in the Volkswagen ID.4 it shares its platform with. However, it must be said that we repeatedly found that the touch-sensitive buttons on the Audi's multifunction steering wheel were easy to activate accidentally when turning.