Electric car sales UK 2023: EVs account for 15.4% of new car sales in April
After record sales for EVs in 2022, electric car market share grew compared with the same period last year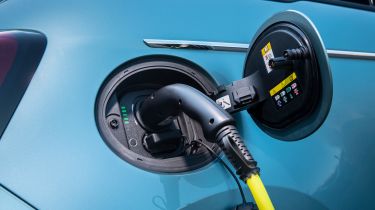 More than 20,000 new electric cars (EVs) were sold in the UK in April 2023, with EVs accounting for 15.4% of total registrations, according to the Society of Motor Manufacturers and Traders (SMMT). It follows a typically strong month in March – when the latest 23-plate was released – when 46,626 new zero-emission models were registered. Year-to-date, EV market share has grown by 25.6%; the new-car market is now in its ninth consecutive month of growth.
Petrol cars continued to account for the majority of car sales – 42.6% to be exact – while hybrids (HEVs) made up 12.9% of total registrations in April. A total of 18.5% of new cars sold in April 2023 were mild-hybrids (MHEVs), and just over 6% were plug-in hybrids (PHEVs).
The best-selling car in the UK last month was the Ford Puma, but the Vauxhall Corsa – which is available with both petrol and electric powertrains – remains the most popular car of 2023 so far. Just over 14,000 Corsas have found homes since 1 January – around 400 units more than the Nissan Qashqai, which sits in second place.
April's top 10 included six cars currently offered with a plug – of which three are available as EVs. The aforementioned Corsa finished second in April, with the MG ZS and MINI sitting in ninth and 10th respectively. The Tesla Model Y (below) didn't feature in April's best sellers.
The Kia Sportage (third), Hyundai Tucson (fourth) and Audi A3 (fifth) come with a plug-in hybrid option. The rest of last month's list comprises conventional petrol or diesel cars, available with or without mild-hybrid technology.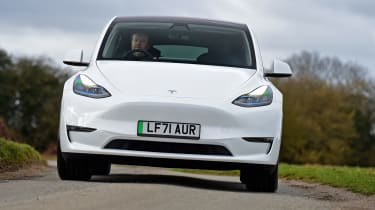 Electric, hybrid and plug-in hybrid sales in 2022
More than 260,000 electric cars were sold in 2022, with EVs accounting for 16.6% of new car sales last year, making them the second most popular fuel type behind petrol-powered models.
Petrol cars continued to take the lion's share of sales, accounting for 56% of registrations in 2022, while hybrid cars made up 11.6% of sales and plug-in hybrids (PHEVs) 6.3%. However, despite the growth of EVs' market share, new car sales overall dropped to 1.61 million, down 2% on 2021 and making it the worst year for UK car sales since 1992.
The Nissan Qashqai topped the UK sales chart, ahead of the Vauxhall Corsa – 2021's best-selling car – while the Tesla Model Y came in third. The Ford Puma and MINI Hatch rounded out the top five. 
The Model Y was the only pure-electric car to crack the top 10, but seven of the cars featured in the list are available with either electric or plug-in hybrid powertrains.
Tesla's Model Y was by far the UK's best-selling electric car overall in 2022, with over 35,000 examples registered, compared to a little over 19,000 of the second best-selling EV, the Tesla Model 3. The Kia e-Niro (which was replaced last year by the Niro EV) completed the top three, with just over 11,000 examples registered.
Meanwhile, more than 71,000 used electric cars found new homes in 2022, a 37.5% increase on 2021. Sales of secondhand hybrids and plug-in hybrids also rose by 8.6% and 3.6% respectively last year. Combined, electrified vehicle sales made up 4.1% of the used car market in 2022, up from 3.3% the previous year. Overall however, used cars sales in 2022 were down 8.5% on 2021, meaning around 640,000 fewer vehicles changed hands.
Top 10 best selling electric cars in 2022
Top 10 best selling cars in 2022
Fiat announces new electric-car grant for 500e
Fiat announces new electric-car grant for 500e
Vauxhall Astra Electric: price, range and video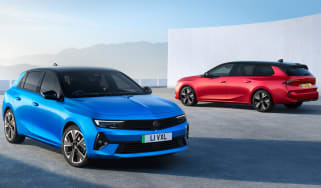 Vauxhall Astra Electric: price, range and video
Tesla Model 3 facelift will be a double-edged sword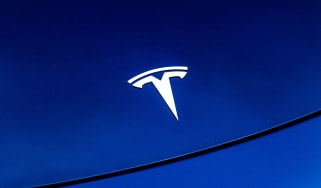 Tesla Model 3 facelift will be a double-edged sword
Tesla's updated EV will have an improved interior, greater range and a more affordable price – as well as one unfortunate drawback
Vauxhall Astra Electric: price, range and video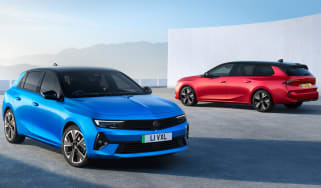 Vauxhall Astra Electric: price, range and video
The new Astra Electric shares its parts with the Peugeot e-308, with first deliveries due soon