Electric car sales UK 2022: EVs account for 14.8% of new cars in October
UK new-car registrations in October 2022 were up over 26% on the same month last year, with market share for electric models staying strong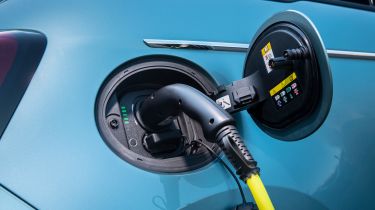 Electric car sales remained strong in October, just a month after the Society of Motor Manufacturers and Traders (SMMT) confirmed data showing one million electric and plug-in hybrid cars had now been sold in Britain.
October saw a big jump in overall new-car registrations versus the same period last year, with sales up 26.4%. Registrations remain down 5.6% year-to-date however, with supply chain issues continuing to affect a number of manufacturers. Other uncertainties include the current cost of living crisis, and the ongoing effects of Russia's invasion of Ukraine.
A total of 134,344 cars were registered in the UK in October 2022, of which 14.8% (19,933) were electric. A further 15,712 (11.7%) were hybrids, and 8,899 (6.6%) were plug-in hybrids (PHEVs). Together, these electrified models accounted for 33.1% of the new-car market. 
Petrol cars continue to take the lion's share of sales, however, accounting for 42.4% of registrations in October, and 43.4% year-to-date. Diesel's share continues to fall – just 6,347 diesel cars were sold last month, representing a near-10% drop year-on-year.
In a particularly poignant turn of events, just a week after Ford confirmed its Fiesta small car would cease production in June 2023, the model registered its strongest registration figures all year; the Fiesta was the best-selling car in October, beating the Nissan Qashqai to top spot. The Volkswagen Golf, Ford Puma and Vauxhall Corsa completed October's top five.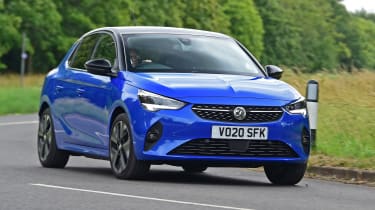 Last month's numbers mean that seven of the top 10 best-selling cars in October were available with a plug. Year-to-date, eight of the top 10 are available with either pure-electric or plug-in hybrid powertrains.
The SMMT previously forecasted 1.72 million new cars would be registered in 2022, which would be a 4.5% rise on 2021. However, with the market currently down year-to-date, and with only two months left to run, this is looking less likely. At the time, however, the organisation also predicted plug-in cars would account for a quarter of all registrations; the market is currently tracking strongly to meet this target.
UK electric and hybrid car sales in 2021
More new fully electric cars were registered in the UK during 2021 than in the previous five years combined. A total of 190,727 battery-electric vehicles (BEVs) hit UK roads during 2021, representing a 76% increase on 2020's volume and an 11.6% share of the overall 2021 new-car market.
The good news for electric-car sales was tempered by a subdued performance for the UK new-car market overall, which grew by 1% on 2020's Covid-affected volume, but was still 28.7% smaller than it was in pre-pandemic 2019. A total of 1.65 million new cars entered the UK market during 2021, with petrol and mild-hybrid petrol cars making up 58.3% of sales, diesels and mild-hybrid diesels 14.2%, fully electric cars 11.6%, non-plug-in hybrids 8.9% and plug-in hybrids 7% of the total.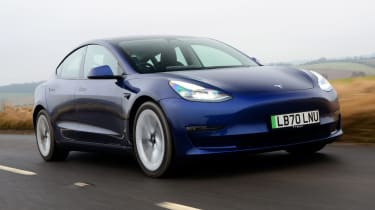 Best-selling electric and plug-in hybrid cars of 2021
The Tesla Model 3 was by far the UK's best-selling electric car overall in 2021, with nearly 35,000 examples registered, compared to just over 12,000 of the second best-selling EV, the Kia e-Niro. The Volkswagen ID.3 completed the top three, with just over 11,000 examples registered.
The Model 3 was also the second best-selling car of any fuel type in the UK in 2021, behind only the Vauxhall Corsa supermini, which is available with both petrol and electric power and sold just under 41,000 units overall. The best-selling pure-electric cars in the UK across 2021 were as follows:
| Model | Units |
| --- | --- |
| 1. Tesla Model 3 | 34,783 |
| 2. Kia e-Niro | 12,271 |
| 3. Volkswagen ID.3 | 11,032 |
| 4. Nissan Leaf | 9,052 |
| 5. Audi e-tron | 7,396 |
| 6. Hyundai Kona Electric | 7,199 |
| 7. MINI Electric | 6,615 |
| 8. Renault ZOE | 5,778 |
| 9. Vauxhall Corsa-e | 5,605 |
| 10. MG ZS EV | 5,380 |
While the best-selling plug-in hybrids during 2021 were as follows:
| Model | Units |
| --- | --- |
| 1. BMW 330e | 10,979 |
| 2. Mercedes A 250 e | 6,495 |
| 3. Volvo XC40 Recharge | 6,362 |
| 4. Ford Kuga Plug-In Hybrid | 6,137 |
| 5. Audi A3 TFSI e | 5,755 |
| 6. Range Rover Evoque P300e | 4,537 |
| 7. BMW X5 xDrive45e | 3,703 |
| 8. Volvo XC60 Recharge | 3,538 |
| 9. Range Rover Sport P400e | 2,919 |
| 10. SEAT Leon e-Hybrid | 2,726 |
Commenting on 2021's figures, SMMT chief Mike Hawes said: "Despite the challenges, the undeniable bright spot is the growth in electric car uptake. A record-breaking year for the cleanest vehicles is testament to the investment made by the industry over the past decade and the attractiveness of the technology.
"The biggest obstacle to our shared net zero ambitions is not product availability, however, but cost and charging infrastructure. Recent cuts to incentives and home charging grants should be reversed and we need to boost the rollout of public on-street charging with mandated targets, providing every driver, wherever they live, with the assurance they can charge where and when they want."
Volkswagen ID.3 facelift due in spring 2023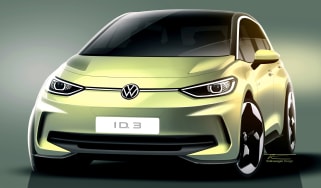 Volkswagen ID.3 facelift due in spring 2023
New sketches provide a glimpse at refreshed styling and cabin of Volkswagen's electric family hatchback
New Vauxhall Astra Electric hatchback and estate unveiled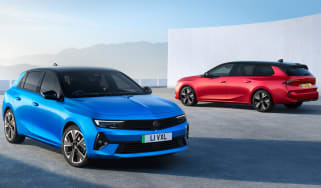 New Vauxhall Astra Electric hatchback and estate unveiled
The new Astra Electric and Astra Sport Tourer Electric go on sale in early 2023, with prices expected to start from between £35,000 and £40,000