DrivingElectric Awards 2020
We run through the best electrified cars of 2020, and crown the DrivingElectric Car of the Year
Last year, the inaugural DrivingElectric Awards saw the Kia e-Niro recognised as the Car of the Year for 2019. It then sold like hot cakes, with the manufacturer selling out its entire UK supply for the year in the space of a few weeks.
Other cars that picked up accolades included the Jaguar I-Pace, Toyota Prius and Volvo XC60 T8, as we paid tribute to the cream of the electric, hybrid and plug-in hybrid crop.
For 2020, the DrivingElectric Awards return, bigger and better than before, with the best electrified cars on the market today recognised across 16 different categories.
The expansion of the awards reflects the growing number of electrified vehicles available on the market, as well as the rising popularity of all-electric models in the UK.
So without further ado, we're delighted to announce our winners for the DrivingElectric Awards 2020. The recipient of our prestigious Car of the Year prize can be found at the bottom of the page…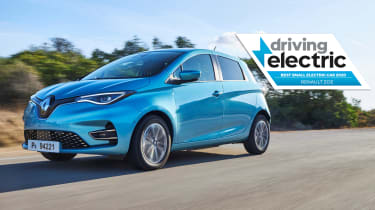 Best small electric car: Renault ZOE
A new Renault ZOE arrived mid-way through 2019, boasting a bigger battery, longer real-world range and the option of CCS fast charging for those needing quick top-ups on longer journeys. It improved in other areas, too, with an entirely new interior design and countless bits of equipment usually reserved for much more expensive vehicles. As packages go, the ZOE is hard to beat.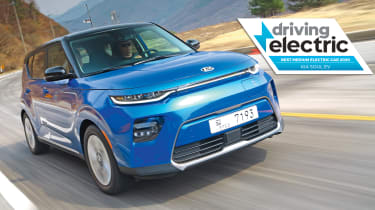 Best medium electric car: Kia Soul EV
Using the same powertrain as the Kia e-Niro, the Kia Soul EV delivers the same great performance in a more stylish body. Yes, it's a little less practical, but you could argue that the extra high-tech equipment that features as standard makes the Soul EV the more appealing vehicle. Its distinctive boxy shape will certainly make people look twice on the road!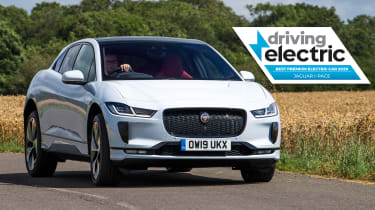 Best premium electric car: Jaguar I-Pace
The Jaguar I-Pace was a seriously impressive car when it launched, and that remains the case today. The way it combines an SUV body with sports-car-esque styling is nothing short of magnificent, and rapid-charging ability makes it viable for long-distance travel where infrastructure allows. It's expensive, but we reckon it's worth the money.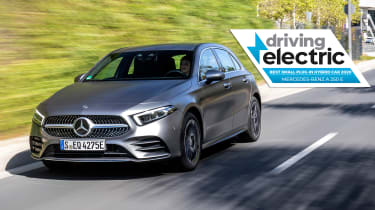 Best small plug-in hybrid car: Mercedes-Benz A 250 e
Oddly, there aren't as many small plug-in hybrid vehicles as you might think, but of those that are on sale, the Mercedes A 250 e is properly good. A 15.6kWh battery gives it an official electric range of over 40 miles, which will make it a shrewd choice for company-car drivers looking to keep running costs to a minimum. Cutting-edge technology and brilliant styling only serve to sweeten the deal.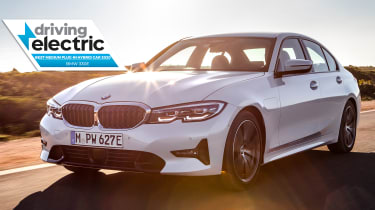 Best medium plug-in hybrid car: BMW 330e
There are those who think plug-in hybrid vehicles can't be as fun to drive as petrol-only models, so it's reassuring that BMW's 3 Series plug-in hybrid is just as good as its non-hybrid siblings. In fact, the 330e might be the pick of the line-up, with up to 37 miles of zero-emissions range making it the engine of choice for eco-conscious drivers. A sharp design both inside and out helps make the 330e ultra-appealing.
Partnership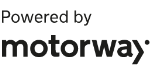 Need to sell your car?
Find your best offer from over 5,000+ dealers. It's that easy.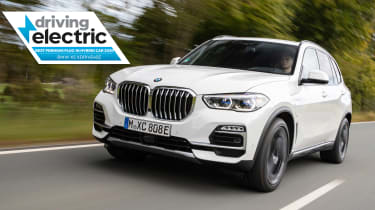 Best premium plug-in hybrid car: BMW X5 xDrive45e
The 54 miles of electric range delivered by the BMW X5 xDrive45e are more than is offered by any other plug-in hybrid vehicle on sale. But quite apart from its excellent electric range, the X5 hybrid excels in other areas: it's great to drive, luxuriously finished and retains a copiously large boot despite the inclusion of a 24kWh battery. Families will love it.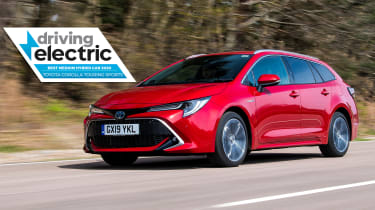 Best medium hybrid car: Toyota Corolla Touring Sports
The Corolla badge is back in the UK after an absence of many years, and what a return it has made: the Toyota Corolla Touring Sports Hybrid is a wonderful estate car, returning fuel economy above and beyond 60mpg when powered by the 1.8-litre petrol hybrid engine. The exterior design is very impressive, and Toyota's reputation for reliability will no doubt give drivers extra peace of mind.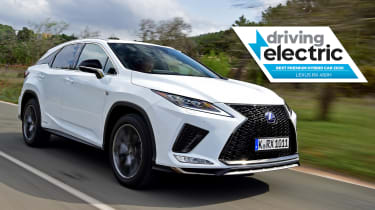 Best premium hybrid car: Lexus RX 450h
The Lexus RX 450h won our 'Best large hybrid' award in 2019, so its victory in the 'Best premium hybrid' class for 2020 can be considered a title retained. It's easy to see why: eye-catching looks, superb refinement, luxury equipment and all the practicality a large SUV has to offer make the RX hybrid a refreshing alternative to its mostly German rivals.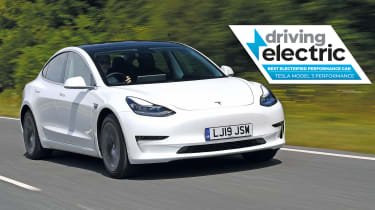 Best electrified performance car: Tesla Model 3 Performance
Tesla has always astounded with its cars' turn of speed, and the acceleration offered by the Model 3 Performance (0-62mph in just 3.2 seconds) is up there with what most supercars can achieve. So while the Model 3's pace is no surprise, its smaller proportions compared to the Model S make it the most agile and exciting Tesla to drive right now. Who said electric cars couldn't be fun?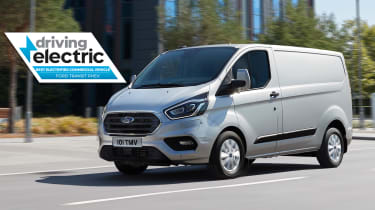 Best electrified commercial vehicle: Ford Transit Custom PHEV
The electric van market is still playing catch-up compared to the latest battery-electric cars on sale, so the Ford Transit Custom PHEV is a great middle ground for those who aren't quite ready to make the jump to full electric. Up to 35 miles of electric range will be most useful to drivers and businesses operating in and around cities, especially when it comes to complying with emissions zones designed to improve air quality. Like any Transit, the Custom PHEV does its job exceedingly well.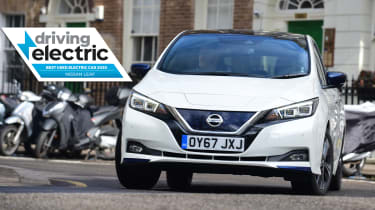 Best used electric car: Nissan Leaf
With electric-car prices yet to fall to the levels enjoyed by petrol and diesel vehicles, many people's first electric car will be bought used. Here, the Leaf is a very safe bet: it has always been a practical, family-focused car, and its low running costs and perfectly adequate range from a full charge will surely get buyers hooked.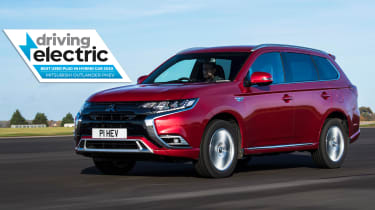 Best used plug-in hybrid: Mitsubishi Outlander PHEV
The Mitsubishi Outlander PHEV had the right recipe from the moment it launched in the UK, offering big-car practicality for an affordable price in the segment. The same will be true on the used-car market, with buyers likely to find themselves a reliable, cheap-to-run SUV for a sensible amount of cash.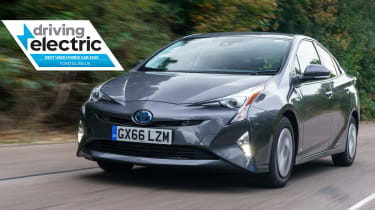 Best used hybrid car: Toyota Prius
Toyota helped pioneer hybrid technology, and the Prius bears the fruits of that endeavour: fuel economy is excellent and the wide variety of examples available on the secondhand market make it an affordable vehicle to acquire. Renowned Toyota reliability should shield Prius owners from expensive repair bills, too.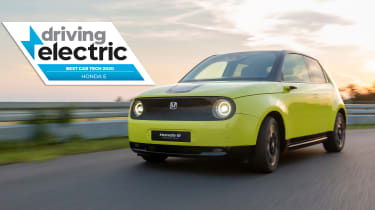 Best car technology: Honda e
From the moment it was teased as a concept car at the Frankfurt Motor Show in 2017, the little Honda e – as the production car is known – made a big impression. Not least because of the technology it employs: the full-length screens on the dash may look overwhelming, but they work wonderfully well in practice, as do the cameras that take the place of conventional door mirrors. The Honda e will set a new benchmark for in-car technology in 2020.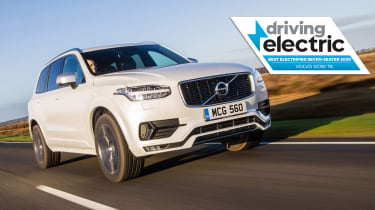 Best electrified seven-seater: Volvo XC90 T8
Those after a seven-seat SUV should look no further than the Volvo XC90 T8 plug-in hybrid: it can transport large families in comfort while still giving the driver something to smile about thanks to its near-400bhp hybrid powertrain. Recent updates have given the XC90 a fresh look, and improvements across the board have kept it ahead of its seven-seat competitors.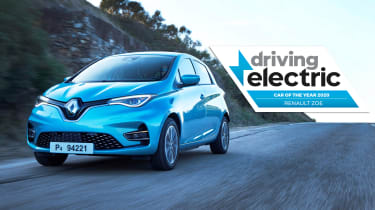 Car of the Year: Renault ZOE
In what will be a transformative decade for the motor industry, the Renault ZOE is the standout electric car heading into 2020: it delivers big range, tidy driving dynamics and great equipment for a comparatively small price. It's the best all-round package in the business.
But more than that, the ZOE feels like a car of its time: its adoption of a sharper, grown-up appearance coincides with a new chapter, in which electric cars are expected to come of age. And with greater focus than ever on the environment, the use of recycled materials on the interior looks like a sign of things to come from manufacturers all over the world.
The Renault ZOE is an outstanding vehicle, and a fully deserving winner of the DrivingElectric Car of the Year prize for 2020!
New Fisker Ocean Sport washes up in the UK: £36k for a 288-mile range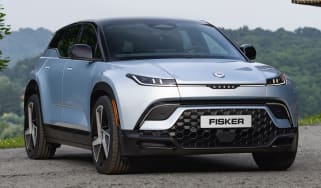 New Fisker Ocean Sport washes up in the UK: £36k for a 288-mile range
American EV startup Fisker has just launched its entry-level Ocean SUV in the UK, with a range of up to 288 miles
First contact: facelifted Kia EV6 will look even more like a UFO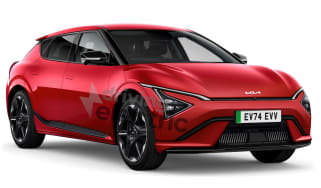 First contact: facelifted Kia EV6 will look even more like a UFO
Kia is readying an update for the EV6 crossover, which is set to include a new face and tech from the larger EV9
Big price cut: Electric Renault Megane prices slashed in time for Christmas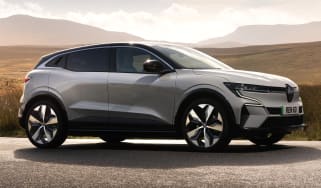 Big price cut: Electric Renault Megane prices slashed in time for Christmas
Renault Megane E-Tech gets a price drop of up to £3,500, bringing the starting price to just £34,495