Mercedes EQS electric SUV: pictures and details
The latest addition to Mercedes' EQ range of electric cars has been spotted cold-weather testing
This is the Mercedes EQS SUV, a large electric SUV about the same size as a Mercedes GLS that'll sit somewhere near the top of the German manufacturers' forthcoming expanded range of EQ-badged electric cars. The car has been spotted testing for the second time, this time in colder weather.
The EQS SUV is set to offer an electric alternative to the GLS, much as the EQS saloon is a pure-electric counterpart to the S-Class luxury saloon. The car will join the current EQC SUV in the range, along with the EQA and EQB compact SUVs. We've already spotted the EQE saloon and SUV undergoing cold-weather testing, too.
Speaking at the official launch of the EQS saloon, Mercedes designer Gorden Wagner went into more detail about the EQS SUV and its smaller EQE counterpart. "They'll look different in a similar way, as I describe the EQS," he said. "They'll be more seamless, more integrated, more aerodynamic, more futuristic looking – so it will be a new type of SUV."
Wagener wouldn't say whether Maybach versions of the EQS and EQS SUV are in the pipeline, but smiled when asked. Given the combustion-engined S-Class and GLS SUVs are both offered in Maybach trim, it's likely the EQS models will get similar high-end treatment in time.
Mercedes has confirmed plans to release 10 new electric cars by 2022, so it's safe to assume that the EQS SUV you see here will be one of those. Despite the heavy disguise of this EQS SUV test car, some styling details can be made out. The front end appears to carry the same 'face' as found on almost all the other EQ models we've seen so far, including the 2019 Vision EQS concept car.
A rakish rear window means the EQS SUV won't be quite as boxy as the GLS, while some sharp styling lines can be made out on the car's flanks, a feature that can also be seen through the camouflage of some of the car's EQ siblings.
Mercedes has already stated that the EQS saloon will boast an electric range of over 435 miles; the SUV variant will use the same underpinnings and so should offer something close to this when it arrives. Expect four-wheel drive, lots of power and futureproof fast-charging support, too. AMG has also confirmed it's working on high-performance versions of the brand's electric models – so an EQS SUV equivalent to the GLS 63 combustion-engined variants seems a near-certainty.
While the EQS saloon will take on the likes of the Tesla Model S and forthcoming pure-electric-only Jaguar XJ, the EQS SUV is likely to be aimed at the Tesla Model X and the electric version of the expected Volvo XC100 that should arrive in 2022.
2021 Mercedes EQS electric luxury saloon: details, specs and on-sale date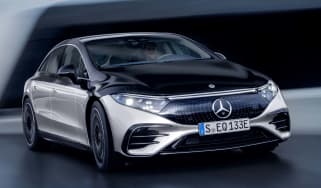 2021 Mercedes EQS electric luxury saloon: details, specs and on-sale date
Best plug-in hybrid SUVs 2021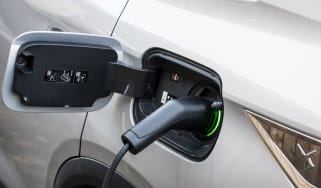 Best plug-in hybrid SUVs 2021
A good plug-in hybrid SUV should combine low running costs with excellent practicality. These are some of the best on sale right now
Best electric SUVs 2021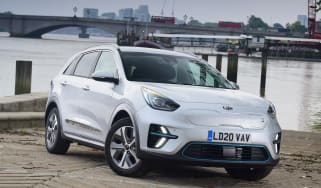 Best electric SUVs 2021
Our selection of the best electric SUVs you can buy features cars that promise to mix style, practicality and rock-bottom running costs
Longest range electric cars 2021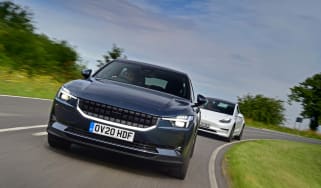 Longest range electric cars 2021
The range of electric cars is continually improving. Here are the top 10 models with the longest range on a single charge