Mercedes EQS electric SUV previewed in range-topping Maybach form
The SUV version of Mercedes' range-topping EQS electric luxury car has been previewed in range-topping EQS form at the IAA Mobility show in Munich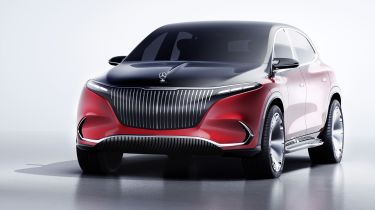 The SUV version of the Mercedes EQS high-tech luxury electric flagship saloon has been previewed in range-topping Maybach form at the IAA Mobility motor show in Munich. Described as a "near-production one-off", the Concept Mercedes-Maybach EQS tallies with previous photographs of prototype versions of the car testing on public roads.
Key features of the concept include 24-inch alloy wheels in the familiar Maybach design, a two-tone red-and-black paint scheme with chrome highlights, a continuous light strip at the rear, the huge MBUX 'Hyperscreen' dashboard display first seen in the EQS and a 'First Class' rear passenger compartment. The latter encompasses a pair of individual rear seats with calf rests, a dedicated infotainment system, flower-vase inserts and faux-fur carpeting.
The EQS SUV will be about the same size as the Mercedes GLS and will sit at the top of the German manufacturers' rapidly expanding range of EQ-badged electric cars. It'll join the current EQC SUV in the range, along with the EQA and EQB compact SUVs. The EQE saloon, which was also unveiled at Munich, will get its own SUV equivalent, too.
Speaking at the launch of the Maybach concept, Mercedes chief design officer Gorden Wagner said: "The front, with its progressive Maybach grille, follows the principle of integration and gives the brand a completely new appearance. In conjunction with the new-style aerodynamic SUV proportions, we're completely redefining the luxury SUV of the future."
Mercedes has confirmed plans to release 10 new electric cars by 2022, so it's safe to assume that the EQS SUV will be one of those. The EQS saloon boasts an electric range approaching 500 miles; with the SUV variant sitting on the same underpinnings, but weighing a little more and being a little less aerodynamic, a figure in the range of 350-400 miles is expected.
Expect four-wheel drive, lots of power and futureproof rapid-charging support, too. AMG has also confirmed it's working on high-performance versions of the brand's electric models; an EQS SUV equivalent to the combustion-engined GLS 63 seems a near-certainty. While the EQS saloon will take on the likes of the Tesla Model S and forthcoming electric BMW 7 Series, the EQS SUV is likely to be aimed at the Tesla Model X, the BMW iX and Volvo's upcoming flagship electric model.
2021 Mercedes EQS electric luxury saloon: details, specs and prices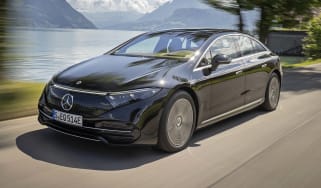 2021 Mercedes EQS electric luxury saloon: details, specs and prices
New Mercedes-AMG EQS 53 4MATIC+ electric supersaloon unveiled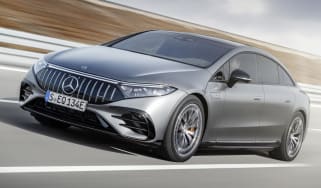 New Mercedes-AMG EQS 53 4MATIC+ electric supersaloon unveiled
Top 10 best seven-seater electric and hybrid cars 2021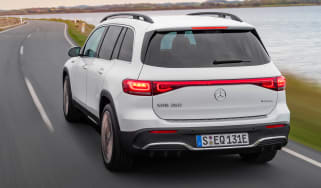 Top 10 best seven-seater electric and hybrid cars 2021
If the regular crop of electrified SUVs and family cars don't provide enough practicality for you, then take a closer look at the range of electric an…
Top 6 best hybrid hatchbacks 2021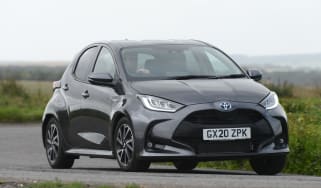 Top 6 best hybrid hatchbacks 2021
A hybrid hatchback is just as practical as a normal hatchback, but with even lower running costs. These are the best on sale in 2021
Complete guide to the BP Pulse (formerly Polar Plus) charging network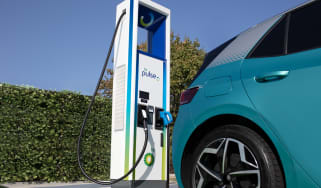 Complete guide to the BP Pulse (formerly Polar Plus) charging network
This is how to charge your electric or plug-in hybrid car on the BP Pulse public charging network (which was formerly known as the Polar Plus network)