Hyundai NEXO costs, insurance, warranty & tax
Free entry to central London and zero road tax don't offset the eye-watering purchase cost, and it's disappointing that hydrogen currently costs more than diesel on a per-mile basis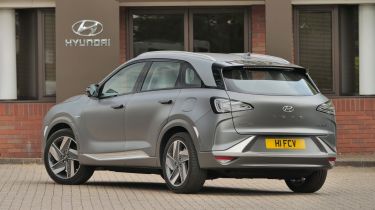 | Insurance group | Warranty | Service interval | 2021/22 company-car cost (20%/40%) |
| --- | --- | --- | --- |
| 45 | 5yrs/unlimited miles | 1yr/6,000 miles | £139/£178 |
The Hyundai NEXO is exempt from the London Congestion Charge and Ultra Low Emission Zone (ULEZ) fees and is also very cheap to run as a company car during the 2021/22 financial year, since it falls into the lowest 1% BiK band along with all other zero-emissions cars.
Mind you, purchase and lease costs are seriously high so very few companies will be willing to add the hydrogen Hyundai to their fleets. A purchase price of nearly £70,000 is beyond frightening for retail buyers, before you even consider potential resale values, which are about as predictable and appealing as a blind date with a cannibal.
To give you a rough idea of what sort of fuel-economy the NEXO delivers, our test car claimed to be returning the equivalent of 53mpg, but it's disappointing that hydrogen currently costs around £12/kg, which works out at £80 for each circa-400-mile tank; in other words, more expensive than an efficient diesel car on a per-mile basis.
It's hoped that hydrogen will get cheaper as demand rises, but that brings us back to the tricky chicken-and-egg situation of buyers waiting for better infrastructure, while the infrastructure providers wait for buyers. To add more woes to the real ownership proposition of the NEXO, dealers qualified to service it are few and far between, and the servicing intervals are very short. We'd like a longer warranty for the hydrogen fuel cells, too.
Hyundai NEXO insurance group
The Hyundai NEXO falls into insurance group 45, which is higher than an equivalent petrol or diesel Hyundai Tucson or Nissan Qashqai, if usefully lower than most executive cars of an equivalent price. In any case, insurance costs are unlikely to be a deal-breaker if you can afford a £70,000 car.
Warranty
Hyundai offers a five-year/unlimited-mileage warranty on all of its cars; the NEXO, its powertrain and fuel cells are covered by the same warranty. The small lithium-ion battery that stores energy from the regenerative braking system is warrantied for eight years or 125,000 miles, but it's disappointing that the hydrogen fuel-cell stack doesn't get the same extended warranty, simply for peace of mind with such a new (to the mass market) technology.
Servicing
The NEXO has short service intervals of 6,000 miles or 12 months, which will be highly irritating given that a standard petrol or electric car requires far fewer trips to the dealer. We're waiting for confirmation of service costs. Those Hyundai dealers qualified to service the NEXO are also few and far between, clustered mostly around London, and with only a handful scattered around the Midlands and beyond.
Road tax
Because the NEXO emits zero CO2, owners are exempt from paying road tax and as a zero-emissions vehicle, it's also exempt from the 'premium tax' of £325 a year that normally applies to cars costing more than £40,000.