Hyundai NEXO performance, top speed, motor
The NEXO isn't as punchy as many electric cars, but it's fast enough and delivers smooth, easy progress and a comfortable ride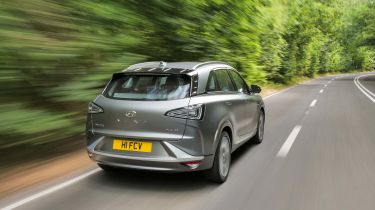 | 0-62mph | Top speed | Driven wheels | Power |
| --- | --- | --- | --- |
| 9.2 secs | 111mph | Front | 161bhp |
The Hyundai NEXO has all the benefits of an electric car with single-ratio automatic gearbox, which of course it is (only with power provided by hydrogen fuel cells rather than batteries). So you get a seamless build of power that's perfect for making easy, relaxed progress.
It's not as punchy an accelerator as many electric cars, but in practice the NEXO feels more than fast enough for merging safely into motorway traffic, or nipping onto busy junctions – it's not a slow car, just a relaxed one, in both its performance and the way it handles.
Hyundai NEXO 0-62mph, top speed and acceleration
The NEXO builds speed pretty sedately, with its 0-62mph time of 9.2 seconds looking rather humdrum next to plenty of far cheaper electric cars, never mind performance-orientated options from Jaguar and Tesla. With brake and throttle response that's easy to modulate, variable brake regeneration that you can adjust with the paddles, and slow but predictable steering, the whole car is characterised by a rather likeable, easy-going dynamic. There are variable drive modes that range from 'Normal' to 'Eco' and 'Eco+' – these affect throttle response and ancillaries such as climate control in order to maximise efficiency. It's certainly a 'stick-it-in-Eco-and-leave-it-there' kind of car, and there's nothing wrong with that.
Handling
The NEXO's softly sprung suspension gives it fairly heavy body lean in corners, and it wallows a bit as it sponges up speed bumps and the like, never really encouraging enthusiastic driving. Still, that body movement isn't sloppy enough to result in travel-sickness, which is the main thing, and the cushy, soft ride comfort will be of far more value to most buyers than an incisive cornering feel. The NEXO is front-wheel-drive only, so don't go thinking that it's a 4x4 for off-roading or towing, despite the car's styling. It is, at least, reassuringly stable and grippy.