Hyundai NEXO reliability & safety rating
Don't worry: despite being fuelled by an infamously flammable gas under extreme pressure, the NEXO is impressively safe in a crash, and absolutely stacked with driver aids to help avoid one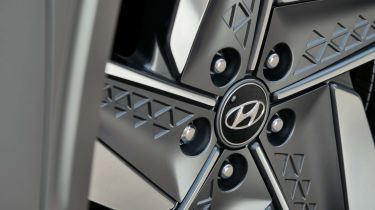 | Euro NCAP | Adult protection | Child protection | Safety assist |
| --- | --- | --- | --- |
| Five stars | 94% | 87% | 80% |
The NEXO's hydrogen tanks are pressurised to a frightening-sounding 10,000 psi, but being made of extremely heavy-duty carbon-fibre and Kevlar, they passed the stringent crash tests carried out by Euro NCAP with very good scores. In fact, the NEXO betters cars like the BMW X5 and Volkswagen Touareg for occupant protection. Given that it also comes with the most advanced standard safety systems going, it's hard to fault it for safety. Reliability is much harder to judge at this point.
Hyundai NEXO reliability & problems
Reliability of hydrogen fuel-cells is still a relatively new frontier, but it's fair to say that the electric motor that powers the car will be far more reliable than a combustion engine, since it has vastly fewer moving parts. It's also reasonable to expect that the hydrogen fuel cells will be reliable going by the extensive tests and pilot schemes that have been run using the technology over the last decade or more, but a precise prediction is next-to-impossible at the moment.   Hydrogen fuel cells do degrade slowly over time, rather like batteries, so you'll see a very gradual drop in the car's efficiency over long periods. However, experts at University College London (UCL), who are at the forefront of hydrogen fuel-cell research and testing, state that fuel cells typically lose efficiency slower than lithium-ion batteries, so you're unlikely to notice any change in the car's range per tank or general efficiency for many years and many thousands of miles.
Safety
The NEXO scored very highly in Euro NCAP crash tests, actually achieving fractionally better scores for occupant protection than some big-name SUVs like the BMW X5. It also has the most extensive standard safety equipment you'll find, including a blind-spot camera that pops up on the dashboard screen when you indicate, and also sounds an audible warning if there's something in the lane next to you.   There's also adaptive cruise control and lane-keeping assistance (which work together to offer a semi-autonomous driving mode), an autonomous parking system that steers the car into or out of a space, and autonomous emergency braking that brakes for you if it senses an imminent collision with a car or pedestrian. On top of that, there's a 360-degree parking camera and sensors, automatic LED headlights and six airbags (admittedly, no knee airbags are included). The only black mark is that there's no space-saver spare tyre, only a tyre inflation kit.