Hyundai NEXO range, CO2 & refuelling
The NEXO improves on existing hydrogen technology by delivering a 400 mile real-world range despite refuelling taking no longer than it does for a petrol car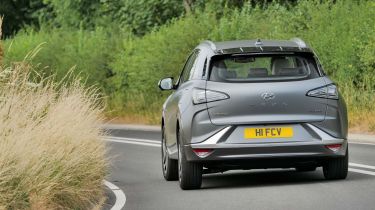 | Range | Battery size | Wallbox charge time | Fast charge time |
| --- | --- | --- | --- |
| 414 miles | 1.6kWh | N/a | N/a |
Let's get the basics straight. The NEXO is a hydrogen fuel-cell vehicle, but that's still a form of electric car. It's driven by an electric motor, just like the battery-powered electric vehicles now common on UK roads. It simply uses a stack of hydrogen fuel cells – and the chemical wizardry happening inside them – to produce electricity that powers the motor for just shy of 500 miles, according to official testing.   It does also have a small, 1.6kWh lithium-ion battery that stores energy harvested by the car's regenerative braking system, which is used to boost the NEXO's performance and efficiency. Being able to drive so far in an electric car that you can refuel just like you would a petrol car is (together with being arguably more environmentally friendly) the crux of the argument for hydrogen fuel cells over batteries. The scarcity of hydrogen filling stations right now is the chief argument against them.
Hyundai NEXO range
The official test procedure would have you believe the NEXO will do 414 miles if you brim its tanks with the 6.5kg of hydrogen (gas is measured in kilogrammes rather than litres; 6.5kg is the equivalent of 156 litres) that they're capable of holding. Our experience suggests it'll do more like 400 miles in unhurried use on a mixture of motorway and town roads, and our test car showed it was doing the equivalent of around 50-55mpg, although that's far from an exact conversion. That's a far better range than you'll get from any current electric car, but finding somewhere to fill up is extremely tricky, since there's only a handful of hydrogen filling stations in the country.
Fuelling time
There's no 'charge time' as such for the NEXO, beyond the few minutes you have to stand next to the car while its high-pressure tanks are filled with gas; something that takes no longer than filling a petrol car. Confusingly, many hydrogen filling stations offer two pumps – one at 700 bar, and the other at 350 bar. This refers to the pressure the gas is stored in the tanks at, not the speed at which it's filled.
So filling up at 350 bar will get you half as much fuel and half the driving range as filling up at 700 bar. The time it takes to fill up the car is no problem at all, but the time it takes to drive to the station could be the deal-breaker.  The NEXO's 156-litre tanks are capable of holding gas at 700 bar, which is equivalent to 10,000psi. For context, the average car tyre is pressurised to around 35psi. Rest assured, though, that the carbon-fibre and kevlar tanks in the NEXO are designed to endure twice that pressure and have passed all crash tests with no issues.