Hyundai NEXO interior, dashboard & comfort
The NEXO is airy and comfortable, with heated and cooled, electrically adjustable front seats and an opening sunroof as standard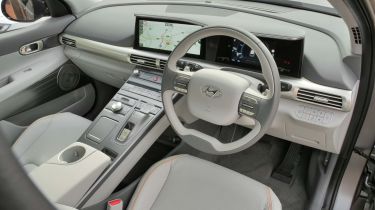 The NEXO is a comfortable place to be, mostly thanks to cushy front seats with standard electric controls including adjustable lumbar support (to help stop your lower back from aching on long journeys). You also get leather as standard, complete with a neat perforated pattern that looks appropriately futuristic and hi-tech – almost like it's mimicking atoms dispersing, although we may be reading too much into this.   
With heated and cooled seats, adequate visibility (aided by a clever rear blind-spot camera), and a light and airy interior complete with sunroof, it's a very pleasant place to sit. Even those in the back get adjustable backrests and heated seats.
The NEXO is a quiet car, of course, thanks to its electric powertrain. The only thing you need to get used to is the noisy hoover-like sound it makes when you turn it off, while the weird bangs and whooshes that accompany the fuelling process and can be alarming if you're not expecting them.
Hyundai NEXO dashboard
If there's any big quibble with the NEXO, it's the raised central slab of switchgear that dominates the interior. It's actually quite easy to use, since the switches are logically labelled and laid-out, but it looks dated even by the standards of recent Hyundais. It's a strikingly button-heavy dashboard by the standards of today's minimalist, touchscreen-dominated cars.
Equipment, options & accessories
You can't add any options to the NEXO; even pearlescent paint and a blind-spot camera (which shows you a view towards the rear three-quarters of the car automatically when you indicate to change lanes) are included.
Otherwise, there's keyless entry with flush doorhandles that pop out when you approach, dual-zone climate control, wireless phone charging, a hands-free powered tailgate that you can open by sweeping your foot under the bumper, LED headlights, 360-degree parking camera and a semi-autonomous parking system… you get the picture.
The NEXO is unavoidably expensive despite an equipment list that'll embarrass just about anything else on the market, but it's still an impressive array of standard gadgets and luxuries.
Infotainment, apps & sat nav
The 12.3-inch touchscreen system is, of course, standard and fully loaded with all the functions you want. That includes Apple CarPlay and Android Auto phone connectivity, as well as sat nav, Bluetooth hands-free calling and audio streaming, DAB radio, voice control, multiple USB inputs and wireless phone charging.
It's a decent system, with logical menu layouts and quick responses, although the graphics aren't up to the standards set by Audi and BMW. There's a rotary control tucked into the top corner of the big slab of switchgear, complete with shortcut buttons to help you jump between main functions if you can't find the necessary icon on the screen. The system also shows you where the nearest hydrogen filling station is.