Citroen e-SpaceTourer electric minibus: prices, specs and details
Five to nine-seater electric Citroen minibus will start from £45,600 in the UK; order books are open now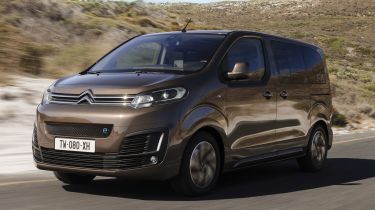 Citroen has announced full UK pricing and specification for the electric version of its SpaceTourer van-derived minibus, which is known as the e-SpaceTourer and boasts up to nine seats.
It's based on the Citroen e-Dispatch panel van; the pair mirror the e-Traveller minibus and e-Expert van from sister French brand Peugeot. The company says the car is especially well suited to the requirements of executive shuttle and taxi companies, as well as sports clubs or other organisations, and larger families.
The e-SpaceTourer is set to arrive in UK dealers by the end of 2020 and order books are open now. There are two models on offer here: Business, for £45,600 (after the government plug-in car grant has been deducted), and Feel, for £46,250 (also post-grant).
The Feel can be had as a five, seven or eight-seater and is primarily aimed at the family market. It comes as standard with a child observation mirror, rail-mounted rear seats for optimum modularity, a load restraint net in the boot and automatic dual-zone climate control with six ceiling-mounted air vents.
The Business, as the name suggests, is targeted more at corporate buyers, and the seating configuration can be tailored to customer requirements, accommodating up to nine people. There's also a hardwearing TPO floor for improved durability.
Citroen e-SpaceTourer range, battery and charging
Like the equivalent Peugeot model, the Citroen e-SpaceTourer has a 50kWh battery, giving a driving range between charges of 143 miles. The battery is located under the floor and so doesn't impinge on passenger or luggage space; it's covered by an eight-year/100,000-mile warranty.
Charging is possible from a conventional three-pin socket, a home wallbox (7.4kW), a workplace wallbox (11kW) or a public rapid charger (up to 100kW). From the latter, an 80% top-up will take half an hour, rising to nearly five hours from the 11kW wallbox and seven-and-a-half hours from the 7.4kW wallbox.
Charging can be managed remotely using the MyCitroen smartphone app, and Citroen has also partnered with PodPoint in the UK for the supply and installation of home or workplace wallboxes. Citroen customers benefit from an extended five-year warranty on these. In addition, Citroen has partnered with Polar to offer customers a free six-month subscription to the Polar Plus network of 5,000 public charging stations across the UK.
Electric motor and performance
A 100kW electric motor gives a top speed of 80mph, while there are three drive modes: Eco (60kW) restricts acceleration and reduces heating and air-conditioning power in order to maximise range, Power (100kW) delivers the motor's full output for the best acceleration, overtaking and hillclimbing capability, while Normal (80kW) strikes a balance between the other two.
There are also two levels of brake energy recuperation to choose from: Standard aims to provide a similar feeling to lifting off the accelerator in a diesel van, while Enhanced gives a stronger slowing effect when the accelerator is released, allowing the driver to minimise use of the brake pedal.
Interior and practicality
In the UK, the e-SpaceTourer will be offered in the 'M' chassis length only. This is 4.95 metres long, with a 3.27-metre wheelbase, 0.8-metre rear overhang and turning circle of 12.4 metres. The five-seater version leaves capacity for 2,381 litres of luggage. Seating can be folded or slid backwards and forwards on rails to free up luggage or passenger space as required.
A total of 74 litres of cabin storage is offered, spread across a mix of open and closed storage areas, including the gloveboxes, cup-holders, door bins and passenger trays. Citroen says there's no loss of interior space compared to the conventional diesel-engined SpaceTourer.
Where can I buy hydrogen and where is my nearest hydrogen filling station?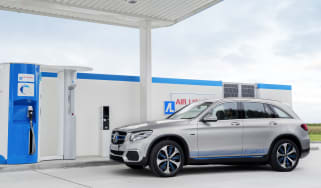 Where can I buy hydrogen and where is my nearest hydrogen filling station?
A guide to where you can find UK hydrogen fuel stations for filling up a hydrogen fuel-cell car
Why owners love the Mitsubishi Outlander PHEV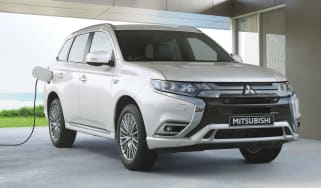 Why owners love the Mitsubishi Outlander PHEV
Thinking of switching to a plug-in hybrid? Plenty of owners we surveyed can vouch for the Mitsubishi Outlander PHEV
Can solar panels charge an electric car?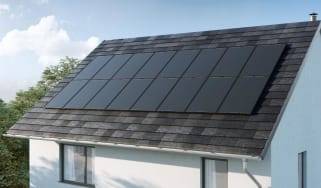 Can solar panels charge an electric car?
Charging your electric car with solar panels is a great way to save money in the long run. We explain why...