RFID cards: how do charging cards for electric cars work?
RFID cards are an easy and convenient way to get access to the UK's public charging points. Here's everything you need to know…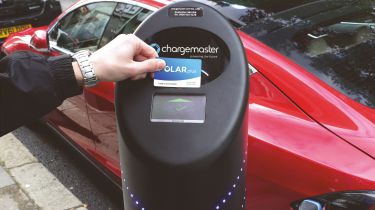 Charging your electric car has never been easier. There are now thousands of charging points spread across the UK, and the majority of them accept contactless payment so all you need to do is get out your smartphone, credit or debit card, tap to pay, and sit back while your EV charges.
But if you're a frequent user of the public charging network, RFID cards offer a handy and reliable way to get access to said charging points. You can get Radio Frequency IDentification cards, to use their full name, from individual charging point providers. Some services also offer access to multiple networks with a single universal RFID card.
How do I get an RFID card and how much do they cost?
If you just want an RFID card for a particular charging network like Shell Recharge, Liberty Charge, or Source London (to name a few) you simply need to register with the network and order one from them. 
These RFID cards are usually free, although you may need to become a paying member of some networks to be able to order one. Liberty Charge, for example, offers membership from £5 per month – with a free RFID card. Becoming a member also gives you cheaper charging rates which is great if you regularly use one of its units to top-up your car.
Some carmakers will also give you a charging card when you buy one of their electric cars, including Audi, BMW, Hyundai, Porsche, Kia and Volkswagen. But again, as well as being a customer, you'll need to buy additional subscriptions or packages to get cheaper rates from specific charging networks. Which networks accept brands' charging cards also varies, but each carmaker's app and website will tell you which you can use.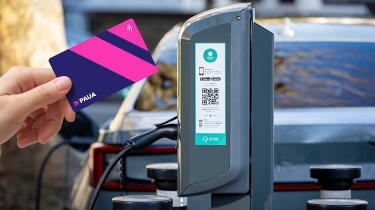 Universal charge cards
Like we said, you can get universal RFID charge cards as well. Octopus Energy's Electric Universe offers one called the Electrocard, which is free to order and using it doesn't add any extra cost to the usual rate of charging. Nearly 30 charging networks across the UK and Europe currently accept payment through an Electrocard, including Ionity, Osprey and Fastned. 
You don't have to be an Octopus Energy customer to get an Electrocard, but if you are, any charges on Electric Universe partner networks can be added to your Octopus home energy bill. It can also be kept separate if you wish. 
The Allstar One Electric card is another example of a universal charge card, but this one is aimed more at businesses and fleet operators. A total of 12 charging networks currently accept this particular card, including Gridserve, Connected Kerb and Source London, with Allstar claiming 85% of the charging points in UK motorway service areas also accept Electric One cards. You can link an Allstar One Electric card to the Zap-Map app, which can not only show you which charging points accept the card, but you can pay for your charging sessions through the built-in Zap-Pay function. 
Paua is a similar service, but exclusively for fleets. Its electric fuel card (above) is accepted by more than 20 charging networks at the time of writing, including Osprey, Liberty Charge and Char.gy. Drivers can find suitable charging points via Paua's app, with payments charged directly to fleet managers. Plans for companies start from £3 per driver per month, which includes a dashboard to monitor all your fuel cards and creates a single invoice for each one.
Partnership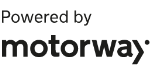 Need to sell your car?
Find your best offer from over 5,000+ dealers. It's that easy.
Other options include multi-charger apps like Bonnet. Bonnet offers subsidised charging rates for a number of networks without a monthly fee; there is no RFID card, but using the service is simple – you just pick a charger and initiate the charge through your smartphone. This could be a good option for those not wanting to carry around multiple RFID cards in their wallet.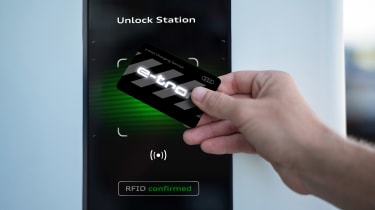 Why should I get an RFID card?
It's true, many charging networks now offer dedicated apps which can help you locate charging points and pay for sessions in one place. And if you use lots of different networks, having dozens of RFIDs clogging up your wallet isn't exactly ideal. 
However, these apps aren't perfect and can sometimes freeze, or fail to connect to charging points – which is a particular problem if you're in an area with generally poor phone signal or the charging points are in an underground car park. But because RFID cards don't require an internet connection, if the unit you're using features a reader, you just need to tap the card and off you go.
RFID cards can also double up as fuel cards, allowing you and your employer to monitor how much you're spending on charging. For example, Shell Recharge's app and charge card can show you your past charging sessions, give you individual invoices, and put them all into a monthly bill. Shell Recharge's RFID card also gives you access to over 10,000 public EV charging points across the UK, and more than 300,000 throughout Europe.
Alternatively, if your employer has installed workplace charging points from a provider like BP Pulse, you may need an RFID card to access them. In the case of BP Pulse, if you use any of its other charging points or have an existing subscription, you can link it to your card and use it to top-up at multiple locations.
Electric Renault 5: prices, 2024 launch date and teaser images of the MINI Cooper rival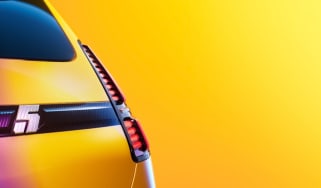 Electric Renault 5: prices, 2024 launch date and teaser images of the MINI Cooper rival
New Fisker Ocean Sport washes up in the UK: £36k for a 288-mile range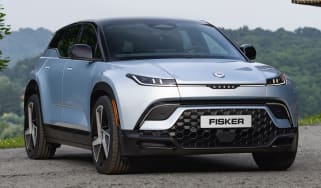 New Fisker Ocean Sport washes up in the UK: £36k for a 288-mile range
American EV startup Fisker has just launched its entry-level Ocean SUV in the UK, with a range of up to 288 miles
Big price cut: Electric Renault Megane prices slashed in time for Christmas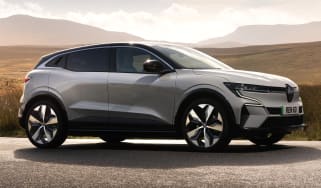 Big price cut: Electric Renault Megane prices slashed in time for Christmas
Renault Megane E-Tech gets a price drop of up to £3,500, bringing the starting price to just £34,495