New Volvo C40 Recharge electric available to order from £57,400 or £729 per month
Coupe-SUV model joins XC40 P8 Recharge in Swedish brand's zero-emissions line-up and is available to order now direct from Volvo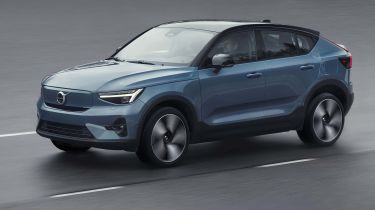 The Volvo C40 Recharge is now available to order directly through the brand's 'Care By Volvo' online store. It's priced at £57,400 outright, or £729 a month on an all-inclusive subscription package, bundling servicing, maintenance, wear and tear cover and road tax.
The brand's second pure-electric model is effectively a coupe-SUV variant of the more conventionally shaped XC40 Recharge P8 – but unlike that car, it won't have petrol, diesel or plug-in hybrid sister models, instead being electric-only.
It's only available online, and Volvo says it's simplifying the process for customers by "drastically reducing" the number of trim levels the car will be offered with. The C40 rivals a wide range of models, including the Tesla Model 3 and forthcoming Model Y, as well as the Sportback variant of the Audi Q4 e-tron, and high-spec versions of the Volkswagen ID.4 and Mustang Mach-E.
Outside, the C40 bears some similarities to the XC40, but there's also a lower roofline, a reworked tail-light design and a new 'face' up front, with headlights that incorporate pixel technology.  Under the metal, it gets the same drivetrain as the electric XC40: twin motors (one on each axle) producing a total of 402bhp and drawing their power from a 78kWh battery. The 0-62mph time is 4.9 seconds and like all Volvos these days, the C40 will be limited to a top speed of 112mph for safety reasons.
Volvo is expecting a range of 261 miles – pretty much identical to the XC40's – although with both models able to receive over-the-air (OTA) software updates, these figures could be improved even after customers take delivery of their cars. At the car's maximum charging speed of 150kW, the C40's battery will be replenished from 10 to 80% capacity in 40 minutes.
Inside, a range of colours and material finishes can be selected according to buyers' tastes, although for the first time on a Volvo, leather won't be offered as a seat-trim option. On the practicality front, an identical wheelbase to the XC40 sees the C40 promise the same rear legroom as its stablemate, although in common with other coupe-SUVs, there'll be a reduction in headroom due to the sloping roofline. The C40 also has the same 413-litre rear and 31-litre front boots as the XC40 P8.
As with the electric XC40 and models from Volvo spinoff brand Polestar, the C40's infotainment system will be based on the Android phone and tablet operating system, giving drivers access to Google functions such as Maps, Assistant and the Play Store.
Following on from the C40, Volvo plans to launch additional pure-electric models from 2025 to 2030; it's anticipating that 50% of its global sales will be pure-electric by 2025, with this proportion rising to 100% by 2030 – at which point the UK's ban on sales of purely petrol and diesel-engined cars comes into effect.