Volvo C40 Recharge review
Volvo's electric coupe-SUV is ridiculously quick and its cabin is very stylish, but the same is true for the more practical, less expensive XC40 Recharge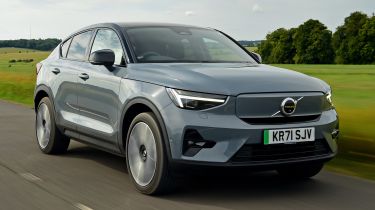 Pros
Astonishingly quick
Infotainment
Cabin quality
Cons
Reduction in practicality
Extremely poor rear visibility
Fairly pricey
| Model | Range | Wallbox charging time | Rapid charge time |
| --- | --- | --- | --- |
| Single motor | 300 miles | 10hrs 45mins (0-100%, 7.4kW) | 27mins (10-80%, 150kW) |
| Twin motor | 316 miles | 12hrs 30mins (0-100%, 7.4kW) | 27mins (10-80%, 200kW) |
Volvo has several new electric models lined up, including the seven-seat EX90 flagship and a new baby electric SUV, with the Swedish brand already declaring its plan to go electric-only by 2030. In the meantime, this is the C40 Recharge: Volvo's first standalone electric car and the more rakish coupe-SUV sister car to the XC40 Recharge that went on sale in 2020.
The Volvo C40 Recharge's extensive list of rivals range from fellow coupe-SUVs like the Aud Q4 Sportback e-tron and Volkswagen ID.5, and the multitude of premium electric SUVs on sale now including the Ford Mustang Mach-E, Tesla Model Y, BMW iX1 and Nissan Ariya.
It uses the same platform as the Polestar 2 and electric XC40, as well as the latter's choice of single or dual-motor powertrains. Entry-level, single-motor models come with a 67kWh battery and a 235bhp electric motor powering the rear wheels; enough for 0-62mph in 7.4 seconds. But if you go for the Twin motor version you not only get a larger 78kWh, power jumps to 402bhp and 660Nm of torque, with 62mph now dispatched within an astonishing 4.7 seconds.
The single-motor C40 has a range of exactly 300 miles, while the C40 Twin gets a 316-mile range. Both figures are just a few miles further than the equivalent XC40's range, and less than the Volkswagen ID.5 or extended-range version of the Mustang Mach-E can cover on a single charge.
Both versions of the C40 can be replenished from 10 to 80% capacity in under half-an-hour thanks to their rapid charging capabilities, while a full charge from a regular 7.4kW home wallbox takes between 11 and 12 hours to complete depending on the exact model. Plug the C40 into an 11kW wallbox or public charging point however, and you can cut that time down to seven or eight-and-a-half hours for the single and twin motor versions respectively.
From the front it's hard to distinguish the C40 from its conventional SUV sibling, though it does get some surfacing and detailing changes, as well as the addition of a coupe-esque roofline. Inside though, the C40 is extremely similar to the XC40 it's based on. You won't find any leather in the cabin as this is the first Volvo model to do away with cowhide, and the fit-and-finish throughout the cabin is great, as is the quality of the materials used.
Up front, there's a nine-inch infotainment touchscreen running Android Automotive software with Volvo graphics. It features direct integration of Google's apps and mapping, which is paired with a 12-inch digital driver's display, too. The tech is a real highlight of the latest Volvos, and is neatly organised, which is good given that you'll be relying on it for everything from the climate controls to the regenerative braking settings. The system also supports Apple CarPlay now, which should please iPhone users.
As you might expect with a roofline like the C40's, rear visibility takes a serious hit compared to the XC40, and rear headroom has been eaten into ever so slightly as well. Despite this, it's far from cramped inside and legroom is good for an SUV of this size, but if you have a passenger in the middle seat the enormous gear tunnel doesn't leave much space for their feet.
The C40's boot is also smaller than its sister car's, with 413 litres of space on offer, although it's still a good size for an electric family car and on par with what you get in the Mustang Mach-E and Polestar 2. Plus, the boot opening is wide, there's no awkward lip to get things over either and you get an extra 31 litres of storage under the bonnet – not a huge amount, but handy nonetheless.
Setting off in the C40 is a simple affair, as the car starts as soon as you unlock and enter, so you just need to select a gear and off you go. The steering is light and the wheel turns without much resistance, which we've come to expect from modern Volvos. However, if you prefer, you can increase the weight of the steering via the touchscreen; it just never feels especially sporty.
Out on the road, the electric coupe-SUV can't disguise its weight, and some may find the ride a little firm, though our test car was riding on a set of 20-inch rims. Perhaps less expensive models with their slightly smaller 19-inch alloy wheels will improve things in this department, but either way that doesn't stop it from being a relatively comfortable EV.
We drove a dual-motor C40 before it received a range boost in late 2022. During our time with the car it averaged around three miles per kWh, which equated to a real-world range of around 230 miles – down from the car's 276-mile official range at the time. That's a usable figure for day-to-day driving but the C40 was far from the most efficient EV we've put through its paces. 
However, very few can match the C40's staggering performance. The twin-motor C40 delivers all its power as soon as you plant your foot on the accelerator, and its 4.7 second 0-62mph time felt like it could, in fact, be a little conservative. The rate at which this 2.1-tonne coupe-SUV gains speeds is astonishing, but the Polestar 2 can offer similar performance and is generally better to drive, too.
Plus, the trade off of having that dual-motor setup is it raises the C40's price tag. At the time of writing, the twin-motor C40 starts from nearly £54,000 – around £5,000 more than the single-motor C40 which is the version we suspect most customers will choose. There are three trim levels to choose from: Core, Plus and Ultimate, with even base models featuring a panoramic sunroof, power tailgate, 19-inch alloy wheels, 12-inch digital driver's display and nine-inch central touchscreen.
But ultimately, the C40 offers little more than a vaguely coupe-ish roofline compared to the regular XC40, which is not only more practical, but less expensive. If you are truly enamoured by the twin-motor's performance, the equivalent Polestar 2 Performance Pack is faster, better to drive and costs about the same.