New 2022 Volvo C40 Recharge electric: single-motor version on sale from £44,800
A cheaper version of the C40 Recharge electric coupe-SUV is now available to order now direct from Volvo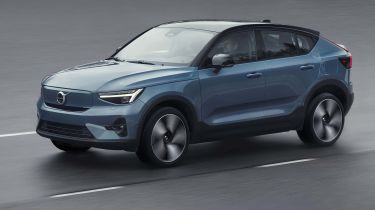 The Volvo C40 Recharge is now available to order directly through the brand's online store. The entry-level, single-motor model is priced at £44,800 outright, or £589 a month on an all-inclusive subscription package that bundles servicing, maintenance, wear-and-tear cover and road tax.
The brand's second pure-electric model is effectively a coupe-SUV variant of the more conventionally shaped XC40 Recharge – but unlike that car, it doesn't have petrol, diesel or plug-in hybrid sister models, instead being electric-only. Outside, the C40 bears some similarities to the XC40, but there's also a lower roofline, a reworked tail-light design and a new 'face' up front, with headlights that incorporate pixel technology.
It's only available to order online, but Volvo has simplified the order process by offering just three trim levels: Core (only available on the single-motor variant), Plus and Ultimate. The C40's rivals include the Tesla Model Y, Audi Q4 Sportback e-tron, Volkswagen ID.5 and Ford Mustang Mach-E.
The C40 Recharge has two drivetrain options to choose from; a single-motor variant with a 69kWh battery and a twin-motor model with a 78kWh battery. Like all Volvos these days, the C40 is limited to a top speed of 112mph for safety reasons. The entry-level model has an expected range of 269 miles, while the twin-motor variant can achieve between 273 and 286 miles depending on trim level.
However, with both models able to receive over-the-air (OTA) software updates, these figures could be improved even after customers take delivery of their cars. At the car's maximum charging speed of 150kW, the battery of the single-motor C40 can be replenished from 10 to 80% capacity in 32 minutes.
Inside, a range of colours and material finishes can be selected according to buyers' tastes, although for the first time on a Volvo, leather isn't offered as a seat-trim option. There are three trim levels on offer: Core, Plus and range-topping Ultimate.
On the practicality front, an identical wheelbase to the XC40 sees the C40 promise the same rear legroom as its stablemate, although in common with other coupe-SUVs, there's a reduction in headroom due to the sloping roofline. The C40 also has the same 413-litre rear and 31-litre front boots as the electric XC40.
As with the XC40 and models from Volvo spinoff brand Polestar, the C40's infotainment system will be based on the Android phone and tablet operating system, giving drivers access to Google functions such as Maps, Assistant and the Play Store.
Following on from the C40, Volvo plans to launch additional pure-electric models from 2025 to 2030; it's anticipating that 50% of its global sales will be pure-electric by 2025, with this proportion rising to 100% by 2030 – at which point the UK's ban on sales of purely petrol and diesel-engined cars comes into effect.
Vauxhall Frontera to arrive as Crossland EV replacement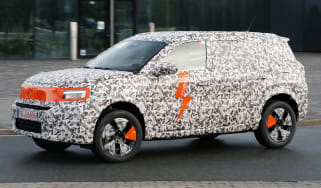 Vauxhall Frontera to arrive as Crossland EV replacement
The Vauxhall Mokka Electric will soon be joined by a chunkier, yet cheaper sibling that's set to revive a classic nameplate
New electric cars coming in 2023 and beyond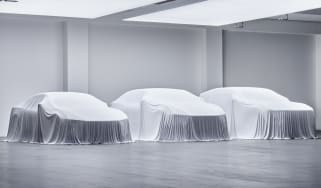 New electric cars coming in 2023 and beyond
With electric cars making up an ever-increasing proportion of sales, the industry is working flat out to launch new models – here's what's on the way …
Formula E-inspired Nissan Concept 20-23 previews hot electric Micra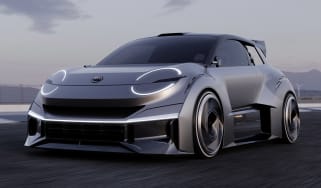 Formula E-inspired Nissan Concept 20-23 previews hot electric Micra
Nissan's latest concept car comes in the form of a high-performance version of its upcoming city EV