​Affordable Tesla 'Model 2' electric hatchback shown again
CEO Elon Musk has again teased Tesla's future MG4 EV and Volkswagen ID.3 rival – hinting two models may be on the way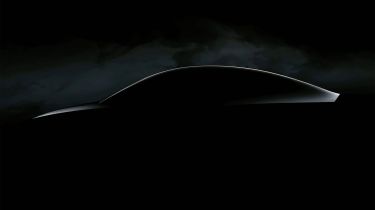 Tesla CEO Elon Musk has shown a darkened teaser image of the brand's forthcoming affordable electric car – dubbed Tesla Model 2 – at the 2023 Annual Shareholder Meeting in the US. Musk was expected to reveal the car in full at this year's Investor Day event in the spring, but once again appears to be holding out until the design and engineering is finalised.
"People always want to know what our next product is," Musk told the audience. "We obviously need to have a proper dedicated product launch. I just want to emphasise that we are actually building a new product, we are actually designing a new product – we're not sitting on our hands here."
During this speech, an image appeared behind the Tesla boss (above) showing the silhouette of the new car. Similar in its outline to the existing Tesla Model 3 saloon and Model Y SUV, the "affordable" model is expected to be more compact, with a smaller battery and shorter range than its Volkswagen-rivalling siblings.
However, Musk then hinted the company was in fact working on not one but two new cars. Possibly a pair of models to replicate what the brand has done with Model 3 and Model Y – as well as previously with Model S and Model X.
"So there are two new products that I think you'll be very excited about," Musk said. "Both the design of the products and the manufacturing techniques are head and shoulders above anything else that is present in the industry…
"[My] guess is that we'll make in excess of five million units a year of these two products combined," the CEO remarked.
While unconfirmed, it could mean we'll soon see both a small hatchback or saloon, plus a more practical compact SUV variant based on this new 'next-generation' architecture.
No rare earth materials will be used in the new vehicle's motor, according to Tesla's powertrain boss Colin Campbell, who added at the Investor Day that the new model's powertrain is compatible with any battery chemistry for better flexibility when it comes to sourcing.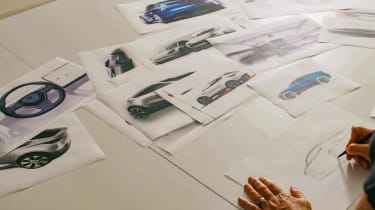 Tesla is still aiming to be able to produce the new car for half the cost of the current Model 3 saloon. But in addition to being more affordable to buy, CFO Zach Kirkhorn said the total cost of ownership for the baby Tesla per mile over five years will be significantly less than a base Model 3 or Toyota Corolla.
The next-generation vehicles will be produced at the new Tesla Gigafactory in Mexico, near Monterrey, but production will take place at some of its other plants as well.
A cheaper Tesla has been rumoured to be in development for years, and would sit below the maker's popular Model 3, rivalling the likes of the Volkswagen ID.3, Cupra Born and MG4 EV – the latter our reigning Car of the Year, and Best Value Electric Car for 2023.
No official images showing the car in full have surfaced yet, but sketches of what appears to be Tesla's smallest and cheapest model yet were featured in another video the brand shared recently. Among them is a side-profile of what looks like the cut-price Tesla, featuring extremely short overhangs at the front and rear, and a sloping roofline. Another is a concept drawing that first surfaced back in 2020 (above) previewing the company's first compact electric car, with the design closely resembling that of the Tesla Model Y.
Other than this concept art, details about Tesla's entry-level EV remain out of reach. Even the potential new car's name is still firmly under wraps – despite internet speculation suggesting the Tesla Model 2 badge could be used. However, CEO Elon Musk did share in an earnings call last year that the new model is "the primary focus of our new-vehicle development team. We're going to take everything we learned from [Models] S, X, 3 and Y, the Cybertruck and the Semi into that platform."
Partnership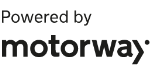 Need to sell your car?
Find your best offer from over 5,000+ dealers. It's that easy.
We expect the sub-Model 3 EV will come in around £25,000 – the same price range as the MG4 EV and the forthcoming Fisker PEAR. We expect the new baby Tesla to arrive sometime around 2025, though Musk himself has said "we don't want to talk exact [launch] dates" at this stage. 
This is most likely because the brand has just begun deliveries of its Semi electric lorry and is due to finally put the repeatedly delayed Tesla Cybertruck pickup and Roadster supercar into production later this year. There have also been reports of an updated version of the Model 3 coming soon, which will focus on cutting production costs and boosting the appeal of the now five-year-old saloon, and speculation about a facelift for the Model Y. 
Musk recently confirmed the Tesla Model S and Model X were once again available in the UK, though only in left-hand drive. The online configurator has been updated accordingly, with customers now given the choice of a regular round steering wheel or a steering yoke, which was the only option listed before.
New Fisker Ocean Sport washes up in the UK: £36k for a 288-mile range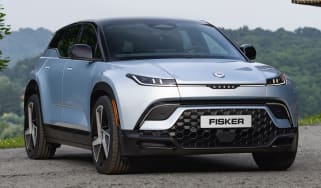 New Fisker Ocean Sport washes up in the UK: £36k for a 288-mile range
American EV startup Fisker has just launched its entry-level Ocean SUV in the UK, with a range of up to 288 miles
First contact: facelifted Kia EV6 will look even more like a UFO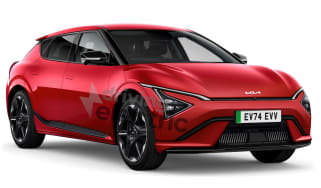 First contact: facelifted Kia EV6 will look even more like a UFO
Kia is readying an update for the EV6 crossover, which is set to include a new face and tech from the larger EV9
Big price cut: Electric Renault Megane prices slashed in time for Christmas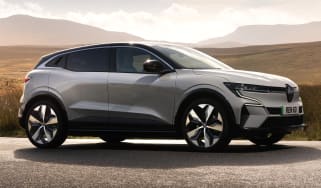 Big price cut: Electric Renault Megane prices slashed in time for Christmas
Renault Megane E-Tech gets a price drop of up to £3,500, bringing the starting price to just £34,495