New Tesla Roadster 2022: specs and on-sale date
A raft of upcoming projects for Tesla means the company's new Roadster model now won't go into production until 2022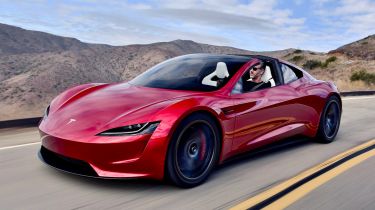 The new Tesla Roadster, first unveiled in late 2017 alongside the Tesla Semi truck, won't be on sale before 2022, according to Tesla founder Elon Musk. Musk confirmed on his Twitter account that production starts "next year", while also confirming that development will be completed this year with a "candidate design drivable late summer". 
A long list of other projects for the US firm are said to be pushing back the start of production for the sports car. These include beginning production of the Model Y, the construction of a factory in Berlin, Germany, and production plans for both the Semi and the Cybertruck pickup – both of which can be expected to sell in much greater numbers than the Roadster, as well be more profitable.
Speaking to the Joe Rogan Experience podcast, Musk described the Roadster as "the dessert" to follow all of those projects. At the time of the Roadster's launch, Musk said it was set to "give a hardcore smackdown to gasoline cars" by becoming the fastest-accelerating production car in the world.
Claimed performance figures for the car include a sprint from 0-62mph in 1.9 seconds and 0-100mph in 4.2 seconds. To put that into perspective, it's getting to 100mph quicker than a BMW M4 can get to 62mph.
And that's just the 'basic' model; Musk has already indicated that there could be a version with even greater performance. Charging details have yet to be revealed, although it seems likely that the Roadster will feature the CCS compatibility and 200kW rapid-charging available on the Model 3.
What's also quite a surprise is that the car doesn't a have a powered roof. Instead, the owner has to remove a section of the roof by hand, before stowing it inside the car.
We've yet to see what the Roadster looks like inside, but Tesla has said the two-plus-two car will be powered by a three electric motors: one motor works on the front wheels, while the other two work on the rears, making this a four-wheel drive car with.
Even more remarkable is that Tesla is claiming the new Roadster will return more than 600 miles of range from a 200kWh battery. For context, that's twice as much as anything ever seen in the Model S, Model X or Model 3. No electric production car has yet broken the 400-mile range barrier, let alone the 600-mile figure mooted by Tesla.
Despite the expected production delay until 2022, the company has already been taking orders for the Roadster in the US. Prices for the basic version start at around £151,000, with a limited-edition Founders Series model costing just under £40,000 more. Tesla has been taking customer deposits.