New Tesla Roadster electric supercar delayed until 2023
The delay in the second generation Roadster's arrival is the result of parts supply issues, according to Tesla CEO Elon Musk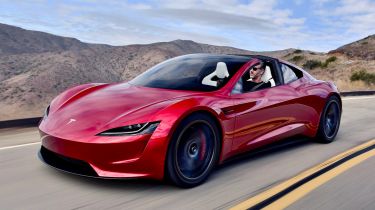 Speaking at the opening of Tesla's Texas Gigafactory, CEO Elon Musk insisted that the new Roadster electric supercar will be going into production in 2023. Both the company's Cybertruck pickup and Semi truck will finally enter production next year, too, according to Musk.
The second-generation Tesla Roadster was first unveiled way back in 2017, alongside the brand's Semi truck. The zero-emissions supercar's introduction has been pushed back previously due to a long list of other projects, including the commencement of the Model Y SUV's production and the construction of the American electric carmaker's new Gigafactory in Berlin, Germany, which is now operational.
Musk has previously said the Roadster was desgined "give a hardcore smackdown to gasoline cars", with its claimed performance figures, according to Tesla, making the new Roadster capable of 0-62mph in just 1.9 seconds, and 0-100mph in 4.2 seconds. To put that into perspective, the Roadster can reach 100mph in the same time it takes a Porsche 911 Carrera to hit 62mph. The Roadster's top speed is said to be over 250mph.
The Roadster will feature a tri-motor setup – the same as you'll find in the Model S Plaid – with one electric motor powering the front wheels, and one on each of the rears. The result, Musk claims, will be 10,000Nm of torque, with a horsepower figure to be announced later on; likely to be well in excess of 1,000bhp.
Tesla is also claiming that the Roadster will also be able to cover around 620 miles on a single charge thanks to a 200kWh battery. For reference, the longest-range production electric car currently on sale is the Lucid Air luxury saloon, which does 520 miles on a single, according to the American EPA test cycle.
We also expect, like all of Tesla's current models, the Roadster will feature rapid charging capabilities around or above the 250kW speeds the Model 3 can recharge at.
The Roadster is a four-seater, although the amount of space in the rear is unlikely to be overly generous. The two-plus-two sports car doesn't have a powered roof either, instead, you have to remove a section of the roof by hand before stowing it away.
Despite production being delayed until 2023 now, you can still reserve the Tesla Roadster on the brand's website. It costs £38,000 to reserve the base version of the new Roadster, which is likely to start from around £150,000 when it debuts. Tesla is also producing 1,000 Founders Series versions of the electric supercar, which requires a £189,000 reservation to secure. However, the final price tag for this model has to be disclosed.
When it does arrive, the second-generation Tesla Roadster will face heavy competition from the likes of the Lotus Evija, Rimac Nevera and Pininfarina Battista among other zero-emission supercars and hypercars on the way.